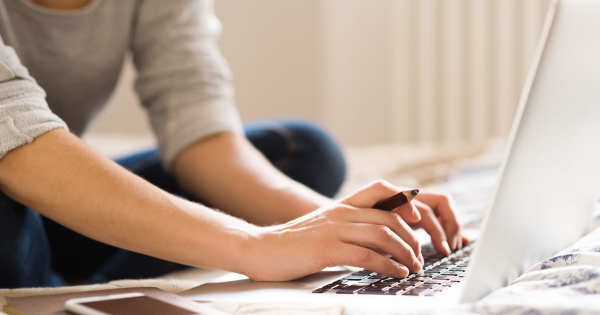 If you're looking to make a little extra money in the new year, you're not alone. Even before the COVID-19 pandemic, up to 27.7 million people in the U.S. were working part-time jobs. Of course, now that we're in a pandemic, it can be a little tricky to find part-time jobs that are not only available but also safe.
To make your part-time job search a little bit easier, we've compiled three COVID-safe part-time jobs that you can take on right from the comfort of your own home, no mask required.
1. Freelance Content Marketing Writer
When you type search terms into Google, your search results don't appear magically. Part of the process of a Google search is that Google's search crawler bots scan websites for the keywords you've typed into the search bar to deliver the best possible results for you. That means business owners rely on digital marketing specialists and content marketing writers to create web copy on their websites to optimize them for search engines. Organic search results that rank on page 1 of Google typically contain an average of 1,447 words. You can find either ongoing freelance work or one-time freelance gigs writing content marketing articles for a wide variety of businesses that either pay per word or per article. Even better, you can do this kind of work right from home using your own laptop or PC set-up.
2. Freelance Accountant
If you're great with numbers and math, becoming a remote freelance accountant may be a great part-time job for you. Accountants prepare and examine financial records and make sure that a company, or an entrepreneur's, records are correct. They also make sure that a company's taxes are accurate and paid on-time. There are different types of accounting, too, so you can find the field that works best for your experience. For instance, a staff accountant is a great option if you have a BA in accounting whereas a certified public accountant will need a CPA license. The first CPA exam was administered in 1896 and it qualifies accountants in numerous countries.
3. Video Editor
Video editing is becoming a popular freelance gig, and there are a wide variety of gigs you can choose from. From video editing for YouTube channels or editing for professional businesses, you can find a niche (or several) to make some extra cash. What's more, video editing is becoming even more important right now as many businesses are being forced to operate online. For instance, up to 44% of home buyers look online for properties even when there isn't a pandemic, but now home buyers are relying on virtual tours of properties because they can't safely view those properties in person.
It can be tricky to find part-time jobs right now that don't require you to work in not-so-safe environments. While you may not have blinked twice at taking on a part-time job at the local grocery store before 2020, now it might fill you with dread. Fortunately, there are many different part-time jobs you can take on remotely that allow you to work from home. Try out one of the jobs above in the new year to make some extra money in a way that's COVID-safe.