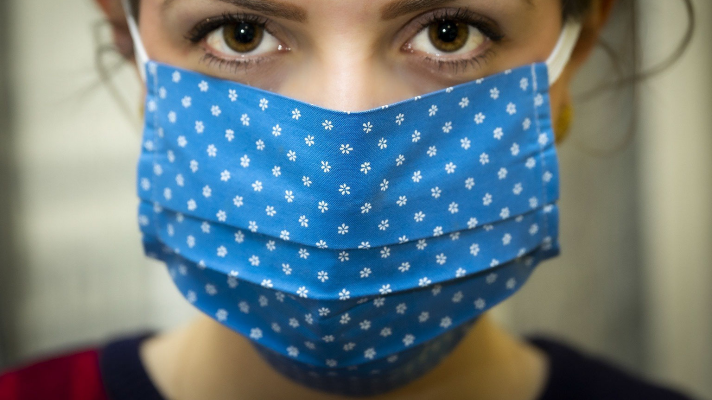 There's no doubt that the COVID-19 pandemic has changed the way we go about our days. While a condition like Lyme disease requires a tick to be attached to a host for 36 hours for transmission, the novel coronavirus can be transmitted much more quickly and from person-to-person — hence the need for face masks and other coverings. Since everyone cannot be vaccinated, it is important to wear a mask when leaving  your home.
Although these masks do keep us and our loved ones safer, they can wreak havoc in other areas of your life. If you wear glasses, for instance, masks can fog up your lenses and make it harder to see. Others are dealing with so-called "mask mouth," which might highlight foul breath issues. For some, however, maskne has become the new bane of their existence.
Maskne, as you might have guessed, is the term for breakouts and blemishes that pop up as a result of extended mask-wearing. While 50 million people in the U.S. are affected by acne every year, maskne has been known to impact those who have never really experienced skin issues in the past. And although 88% of women say their hair has a direct effect on their confidence, many people find that skin issues can have a major impact on their self-esteem.
Even if most of us are staying inside as much as possible, dealing with breakouts can take a toll. So how can you prevent maskne and keep your skin clear? Here are just a few tips to try as the pandemic rages on.
Use a Cleanser and a Moisturizer
Clean skin sounds like a no-brainer, but you'd be surprised how many people forget to wash their face after wearing a mask. Use a mild cleanser to remove dirt and debris twice a day or after you arrive home and take off your mask. You'll also want to follow up the cleansing stage with a moisturizer. You might assume that sweating in a mask all day would mean your skin doesn't need any more moisture. But if you can't drink as much water throughout the day, this can actually trick your skin into producing excess oil — and that can cause breakouts. Adding a moisturizer before you put on your mask can actually create a barrier and prevent friction, which can also lead to skin irritation.
Launder Your Masks
If you own reusable cloth masks, this is generally a more sustainable option for the environment (and for your wallet). However, it's important to wash your masks properly in order to keep them and your skin clean. You should wash your mask daily or after each use. If you have sensitive skin, use a mild soap or even a baby shampoo. Steer clear of harsh detergents if you're already worried about breakouts.</P
Avoid Wearing Makeup and Synthetics
If you know you're going to be out and about, it's best to skip the makeup. It's fine to focus on your brows and your eyes, but go easy on the foundation, powder, and concealer. Wearing makeup underneath your mask can clog your pores and stain the fabric, so it's best to avoid it when you can. You should also pay attention to the materials out of which your mask is made. Synthetic fibers can cause skin irritation and can often be less breathable. Opting for 100% cotton is usually your best bet.
Maskne is yet another vile development brought to you by the year 2020 — but it's at least one that we can control to a certain degree. By following these tips and consulting with your dermatologist, you should be able to get a handle on your skin while still staying safe.