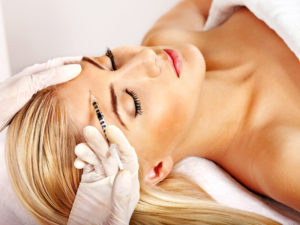 From tabloid headlines to general chatter with your friends, you have likely heard plenty about Botox. But due to the horror stories of botched procedures and embellished photos of celebrity profiles, this cosmetic procedure is subject to its fair share of rumors. As with many rumors, these are often not true.
"I say this all the time–if they would have named it something other than 'Botox,' it would have gotten a better acceptance, and it got a bad twist early on," Dr. Stafford Broumand, a plastic surgeon, said in a statement to InStyle. "It's all about moderation, and should be viewed more as maintenance, to look the same, rather than a way to look dramatically different."
So, what is the truth about Botox? The following are some simple facts to help you understand more about this popular procedure.
1. Botox has several medical applications.
Botox, or Bolulinum toxin if you're being fancy, was first used in the 70s and 80s to treat stabismus,
a condition involving the eye muscles. As a bacterial compound, it is injected into your muscle where it binds to the muscle receptors. Scientists have discovered that it is highly effective in treating excessive sweating and migraines. It can even be used to treat conditions like incontinence as well.
2. Only qualified professionals should perform Botox procedures.
Most botched Botox jobs happen when people go to a unlicensed practitioner for the procedure. If you are interested in Botox, you should go to a plastic surgeon or licensed medical spa for the treatment. These professionals know the anatomy of the body and will inject the Botox properly.
3. The procedure is more popular than you may think.
According to Refinery 29, Botox has been the most common cosmetic procedure in the U.S. since 2000. And since 2015, more than 4 million procedures have been done. The procedure has also become popular with people of all genders.
4. Everyone does not have the same experience with Botox.
According to industry data, an estimated 82% of Botox patients report noticing cosmetic improvement within a week of treatment. But remember that not everyone chooses to get Botox injections for the same reasons. According to Refinery 29, practitioners will turn people away if they want premature injections or have unrealistic expectations.
5. It is completely your decision if you want to schedule injections.
As with any cosmetic procedure, getting Botox injections is 100% your choice. Botox's reputation as well as societal pressures may influence your choice, but it is not anyone else's business if you want to schedule a procedure. This is your body, and you do what you want with it.
If you have any questions about Botox, be sure to schedule a consultation with a licensed medical professional. These clinicians can answer your questions and help you decide whether this treatment is right for you.