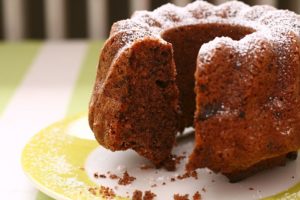 Everything old is new again, especially when it comes to baked goods. The Bundt cake, in particular, is experiencing a bit of a resurgence right now. Although its signature pan was invented in 1950, it wasn't until the '60s that these cakes really took off. Since then, pan inventor H. David Dalquist's cookware manufacturing company, Nordic Ware, has added designs and embellishments to their aluminum die cast molds. Then and now, aluminum remains a popular choice for this process, as it accounts for more than 80% of all die cast parts. And considering that more than 70 million households currently own a Bundt pan, it's clear this dessert isn't going anywhere for a long time.
Although Bundt cakes are traditionally given as a welcome gift to new neighbors, they're also a great way to welcome the new season. If you're want to perfectly capture the bounty of autumn in a dessert, here's a great recipe anyone with a sweet tooth will love.
Autumn Spice Bundt Cake
This treat from Lets Dish Recipes literally contains sugar, spice, and everything nice. As an added bonus, it's great for those who aren't huge fans of the two most popular fall fruits (pumpkins and apples). You'll need:
Bundt pan, stand mixer/handheld mixer, two bowls (one large and one small), knife, spatula, wire cooling rack
1 1/2 cups butter (softened)
8 oz. package cream cheese (softened)
2 cups sugar
1 1/3 cups packed brown sugar (divided)
1 teaspoon salt
5 eggs
1 tablespoon vanilla
3 cups all-purpose flour
2 tablespoons and 1 teaspoon pumpkin pie spice (divided)
1/2 teaspoon baking powder
1/2 cup finely chopped pecans
Caramel sauce (for serving)
Instructions:
Grease and flour your 15-cup Bundt pan.
Beat butter and cream cheese in a large bowl for three to four minutes until fluffy. Add sugar, 1 cup of brown sugar, and salt. Beat on high for eight to 10 minutes, making sure to scrape sides of bowl. Add eggs individually, beating well after each egg is added.
Add in vanilla, four, 1 teaspoon of pumpkin pie spice, and baking powder. Mix until smooth.
Stir together pecans, remaining 1/3 cup of brown sugar, and remaining 2 tablespoons of pumpkin pie spice in separate, small bowl.
Spoon half of batter mixture into prepared Bundt pan and sprinkle pecan mixture over the top. Add in remaining batter over the top of the pecan mixture.
Use knife to create swirl in batter, pulling blade back and forth. Smooth top of batter with spatula (or the back of a spoon).
Place cake in cold oven and set temperature to 300 degrees Fahrenheit. Bake for approximately 1 hour and 20 minutes, or until the "toothpick test" (inserted near the center of the cake) comes out clean.
Let cake cool in pan for 10 minutes, then turn upside down on wire rack to cool completely. After it's cooled, slice and serve with caramel sauce.
Dessert trends may come and go, but the Bundt is here to stay for now. Hungry for more autumnal Bundt cake recipes? Check out this Brandied Apple Bundt Cake or this Pumpkin Chocolate Chip Bundt Cake for even more deliciousness.