One food I that I can never give up eating is BREAD! I can eat bread by itself but it can be fun to also get creative when making your own. Below you will find a recipe that you will want to try out if you are a bread fan like me and also love cranberries.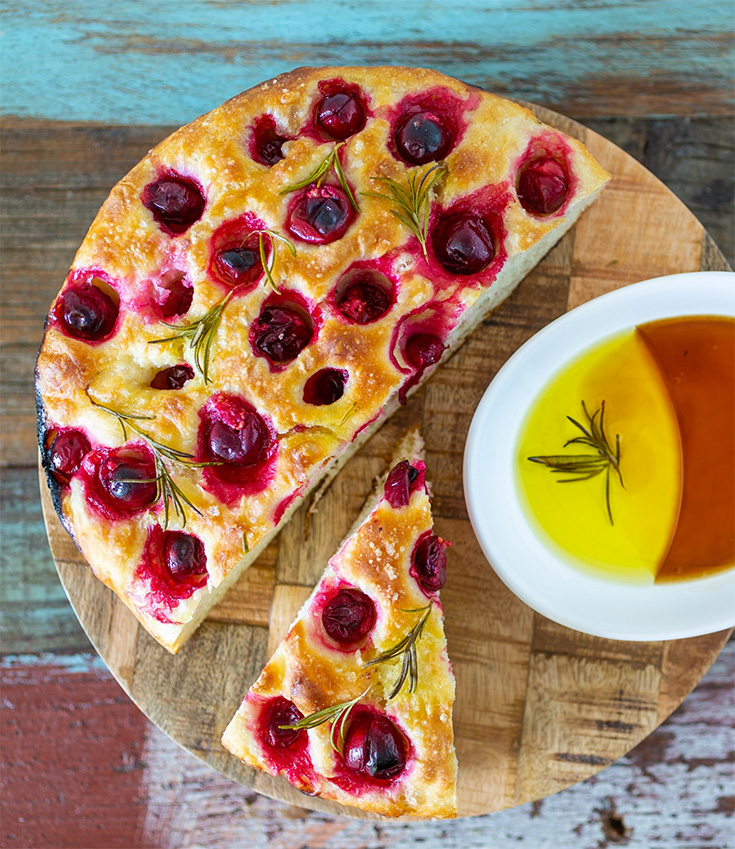 Did you know that many people consider cranberries a superfood? This is because of their high nutrient and antioxidant content. Find the instructions below to make your own Cranberry Rosemary Focaccia Bread which is AMAZING when dipped in Balsamic vinegar and olive oil.
Cranberry Rosemary Focaccia Bread Recipe
Ingredients:
2 Cups All Purpose Flour
1 Tsp. Kosher Salt
1 1/4 Tsp. Instant Yeast
1 Cup Warm Water
1 Tsp. Butter For Greasing The Pan
2 Tsp. Olive Oil (Divided)
1 Sprig Fresh Rosemary
flaky Sea Salt
2-3 Tbsp. Premium Olive Oil
premium Extra Virgin Olive Oil
white Or Regular Balsamic Vinegar
Directions:
In a medium sized bowl, combine flour, salt, and instant yeast. Stir well. Add the warm water. Using a sturdy wooden spoon, mix until all of the flour is well incorporated. Cover the bowl with a plastic wrap and refrigerate for at least 8 hours and up to 24 hours.
Pour one tablespoon of olive oil into a clean medium sized bowl. Remove the dough from the refrigerator and form it into a ball, turning the edges under until smooth on top. Place the dough ball into the oiled bowl. Cover with plastic wrap and allow to rest in a warm place until the dough is doubled in size.
Lightly butter a baking sheet and top with parchment paper. Pour one teaspoon of olive oil into the center of each pan. Dump the dough out onto the parchment paper and form into an 8 inch round, popping any large air bubbles as they form. Use your finger to press dimples all over the surface of the dough. Press a cranberry into each dimple.
Drizzle 2-3 tablespoons of good extra virgin olive oil over the top of dough allowing it to seep around the cranberries. Generously garnish the top of the dough with fresh chopped rosemary or small torn sprigs. Generously sprinkle the top with flaky sea salt. Let the dough rest at room temperature until it just begins to rise again.
Pre-heat oven to 425°. Place the the baking sheet on the middle rack of the oven. Bake for 18 to 23 minutes, until the tops are golden and the undersides are crisp.
Remove pan from the oven. With a metal spatula remove bread round from the pan and transfer to a cooling rack. Sprinkle with additional flaky sea salt if desired.
Serve warm or at room temperature with small plates or shallow bowls of equal parts Balsamic vinegar and olive oil for dipping.
This is just one of many recipes that you can use with the Cape Cod Select Cranberries. For more recipe ideas, visit: https://www.capecodselect.com/recipes