Last night me and my 4 kids went to Monster Jam and it was a BLAST! We have been fans for years but haven't been to a Monster Jam show in a few years because of covid. It was AWESOME to get back into the arena and see some of my FAVORITE monster trucks!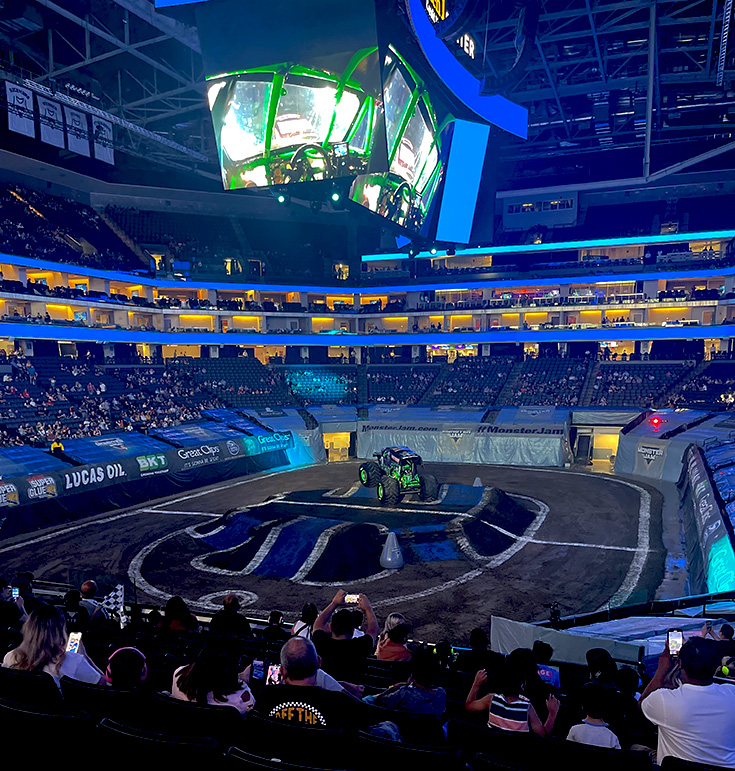 I will always have LOVE for Grave Digger but now I am also a FAN of the Monster Mutt Dalmation monster truck that is driven by Bailey Shea. I remember when she first started driving the Scooby Doo truck back in 2015 and I thought it was so awesome that a female was driving one of these humungous trucks in the arena.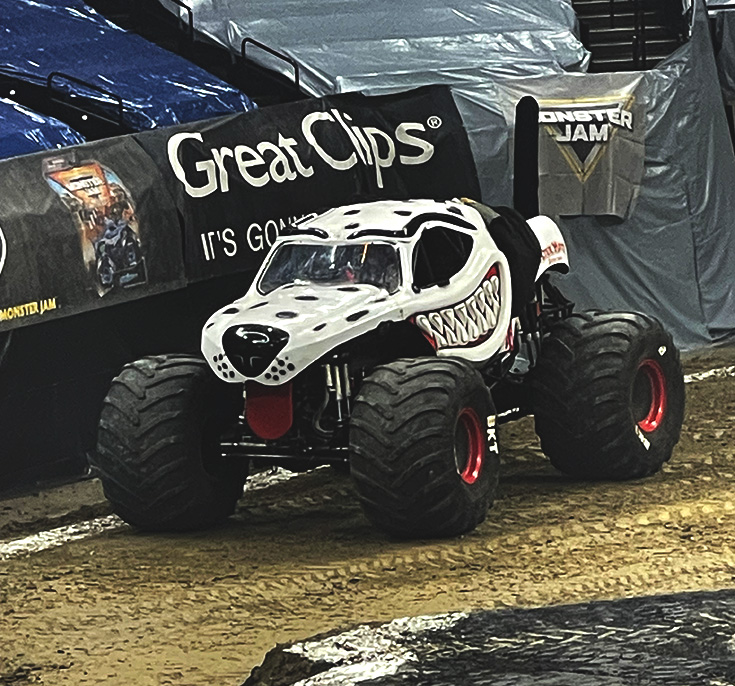 This is an event that can be fun for the family. It can be loud and I did see many children wearing the ear muff headphones to help protect their ears. I also seen so many kids having a blast routing on their favorite monster trucks. The crowds for these types of events always are having so much fun.
Every time you go to these shows you are sure to see something new. Last night was the first time I seen the Velociraptor monster truck in action.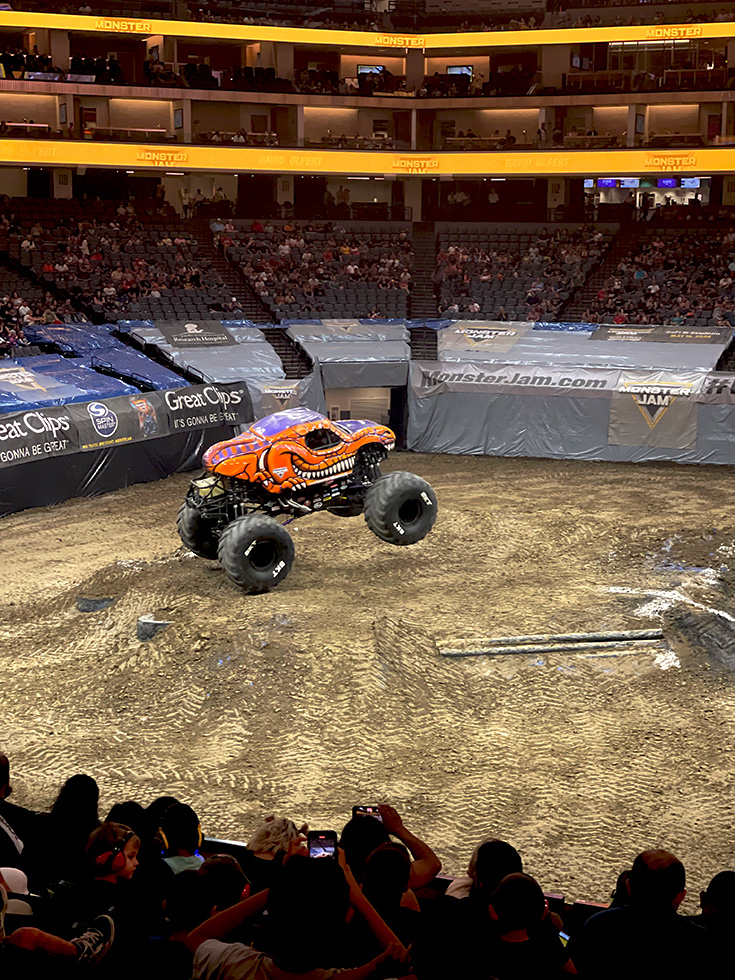 I want to talk about Megalodon! Last night this monster truck was being driven by Ashley Sanford who is a rookie to the Monster Jam family! She is from California and shares the same birthday as one of my daughters so I will be keeping an eye out for her next time!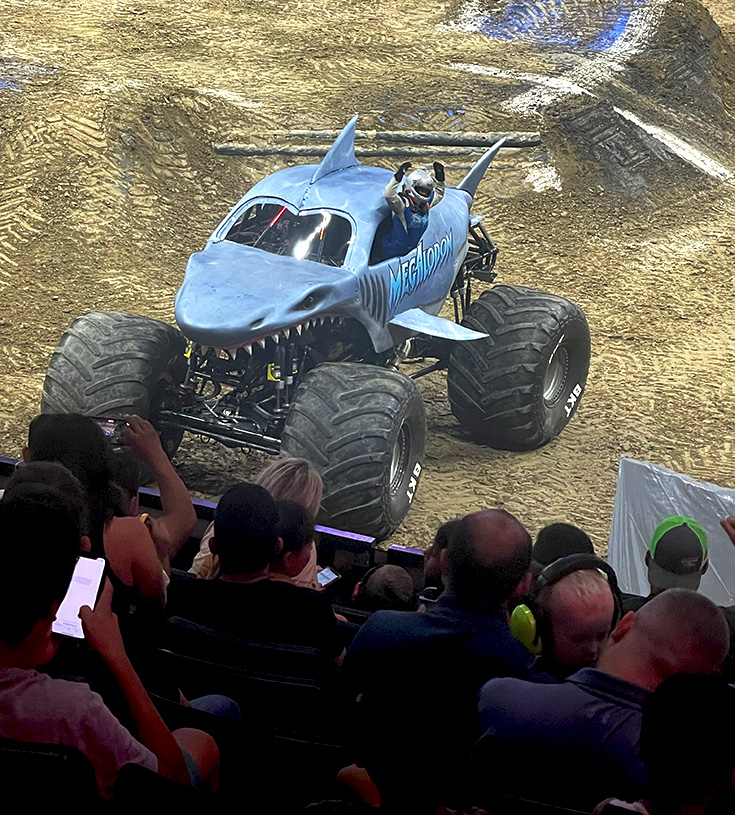 I mentioned before that I LOVE Grave Digger. Last night Tyler Menninga was driving the Grave Digger monster truck in the Golden 1 Center arena last night and gave us such an awesome show. Take a peek at one my my favorite parts of the show last night.
This wasn't all the trucks we seen last night. We also seen Scooby-Doo, El Toro Loco, Jurassic Attack and the Earth Shaker in the arena showing off their moves. I have always been a fan of the El Toro Loco truck. Take a peek at El Toro Loco in action below.
You still have time to get in on all the Monster Jam fun. See event details below for show times and ticket information:
EVENT DETAILS:
WHEN:           
Saturday, August 12, 2023
Ø  Event Time – 7:00 PM
Ø  Pit Party open from 4:30 PM–6:00 PM (Sat. 7pm Event Ticket & Pit Pass required for entry)
Sunday, August 13, 2023
Ø  Event Time – 1:00 PM
Ø  Pit Party open from 10:30 AM–12:00 PM (Sun. 1pm Event Ticket & Pit Pass required for entry)
More info >>> https://www.monsterjam.com/en-US/events/sacramento-ca/aug-10-2023-aug-12-2023
---
Want to SAVE on your tickets? Use PROMO Code: G1CMJ23 and SAVE 20% off select seats/shows. Tickets and Pit Passes will be available for purchase online at Ticketmaster.com

What is your FAVORITE Monster Truck? Leave me a comment below…