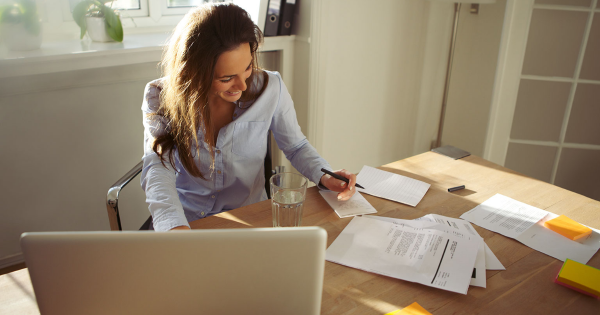 It's no secret that working from home can make you more productive. In fact, several studies have shown that employees who work remotely are actually 47% more productive on average with the right technology. Unfortunately, with COVID-19 keeping us isolated at home, working remotely doesn't have the same appeal anymore. Those who work in the creative sector are especially struggling. After all, how can you create something that connects with others when you're disconnected from others?
The good news is that there are a few key ways you can make your home office a more productive place to work even with the pandemic trying to take the wind out of your sails.
Make a separation between home and work
If you weren't working from home prior to the pandemic, you may not actually have a specified home office area. Instead, you might find yourself answering emails on your phone from your bed or working on your couch. While this kind of work might seem convenient and more comfortable compared to sitting at a desk, blending home and work too much can actually make you feel more stressed when you clock out for the day.
Create a designated home office area in your house where you only work and then close the door on your office once you're done for the day. This will not only help you feel more relaxed at the end of the workday but it will also make you more efficient and productive while you work. If you don't have a designated office area, consider converting the guest bedroom or the basement into an office suite. A home office not only has an 87% return on investment but a finished basement also has an ROI of 77.6%, so you'll not only be productive but also raking in that cash later on.
Invest in a desk you actually want to sit at
It's understandable to make do with what you have when you're creating a home office on a budget. But making do doesn't mean you have to be miserable when you set up to work for the day. If your desk makes you depressed just looking at it, consider investing in one that makes you happy and lets you spread out. Consider the equipment you use for work. If you're working on just a laptop, a chic secretary desk could be just what the work-doctor ordered. If you work in IT and business services, which is the number one market right now, an L-shaped desk might be more your style because it can fit multiple monitors.
Have fun with wall and desk decor
It can be hard to work when your desk is too clinical. Think of interior design. The interior design industry generates $10 billion in revenue every year and there's a good reason for that. Whether it's an entire home office or a desk, styling the space to make it your own (and make it fun) can make you want to sit down and get your work done. Let yourself go down a Pinterest hole to get some ideas of how you'd like your desk and home office to look. You don't need to go over your budget, either. There are plenty of Dollar Store finds and cheap desk accessories you can find in the clearance sections of Target, Marshalls, and TJ Maxx that are definitely chic enough to motivate you.