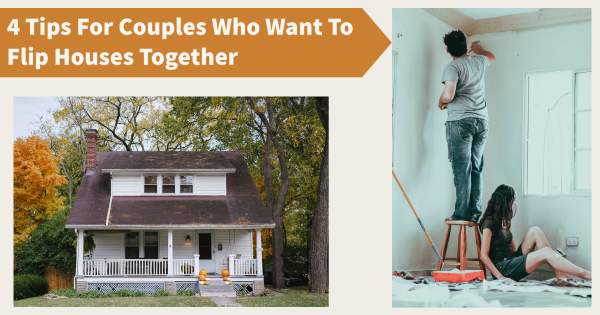 Flipping houses is a popular topic in this day and age, perhaps especially after the 2008 recession, during which many people lost their homes and the practice became more common. We see ads for companies that flip houses on a regular basis, and there are multiple television shows about flipping houses airing right now. But you don't have to be backed by HGTV or a company in order to begin flipping houses. In fact, it's an idea that many couples have considered doing, and with good reason. As more and more Americans begin seeking out alternative means of income, either as a side job or in the pursuit of becoming their own bosses, house flipping has emerged as an opportunity uniquely appealing to couples. But it's not an opportunity for the fainthearted. Entering into any sort of business with your partner can be fraught with peril, as about 70% of all business partnerships ultimately fail. With that being said, let's look into what all couples should know before trying their hands at flipping houses for profit.
1. It's Not For Everyone
As a quick review, flipping houses refers to the process of investing in a home or property, renovating it and conducting necessary repairs, and then selling it for a profit, all within a relatively short period of time. Real estate prices are rising in some areas, as in North Texas, where median home prices hit a record $273,000 in 2019; this was up 3% from 2018. As you can imagine, not just anyone can go around investing in real estate. Obviously, you will need the initial capital necessary to buy a home. But you also need great credit to begin with. Unless you have cash in hand to not only pay for a house in full but cover all the necessary renovations and repairs, you'll need some kind of loan. Due to the American financial crisis a little over a decade ago, lending requirements are now stricter than they once were, and the fact is that flipping a house is associated with financial risk. Be ready to check your credit score, and if it's low, begin building it up by paying down your debts, paying your bills on time, and keeping your credit card balance low. This will make it easier for you to get a loan, and one with lower interest rates at that. If you're attempting to flip houses with your partner, this will count for both of you. You'll still need a good amount of cash, too. Cash will be used for repairs, and it's a much better idea to have repairs paid for outright than it is for you to put those on a credit card. You never know when the house will sell for certain, and you could end up with hefty bills hanging over your head. Think about building up your savings through an automatic savings plan, like Acorns.
2. Scout Properties Carefully
Don't invest with your heart when investing in a property that you're going to flip. You're not looking for a property that will accommodate your tastes or long-term needs; you're looking for a house that will appeal to a broad range of people. Obviously, you'll be looking for a great deal. Many flipped properties were initially bought by investors during a foreclosure auction, as this is often the best way to buy a home cheaply. But you need to weigh the deal that you're getting against the repairs and renovations needed, as well as the potential gain you can receive once it's placed on the market. Location is one of the most important things for flippers to consider. Repeat flippers are frequent; in fact, 89% of people who have invested in real estate have indicated that they will invest again in the future. And most of them rely on location above anything else. No matter how great a house looks once you're done with it, appearance and amenities can't compete with a great and safe neighborhood. You should look for a neighborhood that is either already prominent and popular or on the rise. Look at areas with rising population growth and real estate sales, and for that matter look into crime rates. At the same time, make sure that you don't invest in an area wherein inventory is low and demand is so high than flippers are over-investing.
3. Don't Over-Repair
Yes, a lot of the houses that are flipped are typically at least somewhat damaged. This is what keeps the price low, and flippers can make affordable repairs that will add to the house's value with a high return on investment. But there are some repairs that can be too much to take on, and ultimately result in the property being something of a waste of both time and money. For example, renovating a bathroom is one thing; but going through and gutting the plumbing system of an entire house is another. Consider that the plumbing industry made over $107 billion in revenue in 2018 alone. If there is anything seriously hazardous in the house like mold, for example, that may be too much to take on for a flipping project, especially your first flip as a couple. Have the house surveyed by an expert before you commit to it.
4. Keep The 70% Rule In Mind
What is the 70% rule? It's a golden rule for house flippers to follow, whether you're working as a couple or not. You must think about how much you can afford in general, as well as how much you can afford to lose. House flipping is high risk and high reward. You have to be prepared for the potential for a loss, as well as the potential for a great gain. Therefore, the 70% rule dictates that you should pay no more than 70% of the estimated "after repair value" of the home, minus the cost of repairs. A lot of this is dependent on estimates, yes. But it will keep you much safer on a financial level.
Flipping houses isn't easy, especially the first time around. It can be stressful and is more personal than other business models. But it can be remarkably rewarding on both a personal and financial level, especially for couples who do it together. Be dedicated and prepared for a challenge; but get excited, too. This can be an amazing adventure for the two of you!