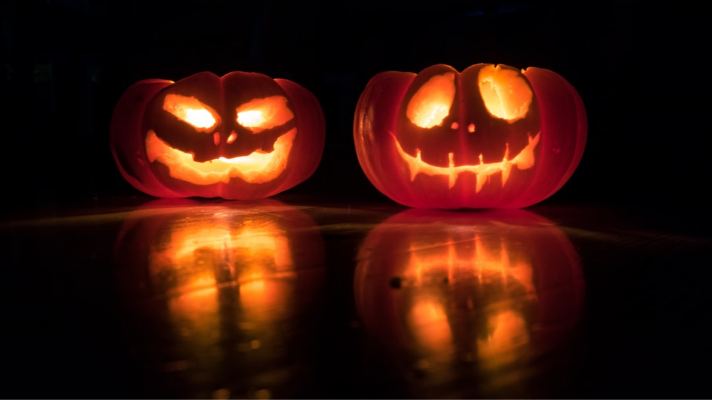 With Halloween only a month away, it's time to start planning the perfect dishes for the occasion. This is especially important since many people will be staying home or modifying their Halloween festivities this year. After all, the COVID-19 pandemic is still a serious concern for families across the country. While trick or treating might be off of the table, there are still plenty of dishes to serve to celebrate one of America's favorite holidays. Just be sure to brush your teeth after — as many as four million Americans wear braces.
If you're stuck trying to think of things to make, look no further! Here are some easy Halloween recipes that the whole family can make and enjoy.
Witch hat cookies
This is a simple recipe that even children can participate in! All you need is your favorite type of cookie, some Hershey's kisses, and some decorating gel to make adorable witch hat cookies.
You can invest in fudge stripe cookies to make this a little easier since they already have chocolate-coated bottoms. All you need to do is affix a Hershey's kiss to the bottom of the cookie. Since the top of the chocolate kiss already comes to a point, this recipe is seamless. You can affix the kiss to the cookie by heating up the chocolate bottom of the kiss or by using a dab of honey for a touch of sweetness. When they're firmly placed together and dried, use your favorite color of decorating gel to draw a bow or buckle around the base. Adding decorations here will also blend the bottoms together for a streamlined look. This recipe won't take you long and it's a great appetizer or snack as you watch your favorite scary movie.
Keep in mind that you can also invest in a different kind of cookie if you're not a fan of fudge options. All you need to do is dip one side of your preferred cookie into chocolate and repeat the process above. Just be careful if you're making your cookies by hand. Your home appliances, including your oven, will continue to use electricity when it's turned off. Save power by only keeping your appliances plugged in when you need them.
You can also substitute the Hershey's kisses for other cone-shaped options. There are plenty of kiss flavors out there but you can even invest in candy corn or chocolate-dipped bugles if you want. The only barrier is your creativity — don't be afraid to have fun!
Bake a creepy cake
If you're looking for something a little darker, consider baking a creepy slasher cake. Pairing red velvet with strawberry jam will give the cake an oozy feeling that reminds you of your favorite slasher flick. Here are some of the things that you'll need:
Red velvet cake mix
A ¾ x 340g jar of strawberry jam
White fondant icing that's ready to roll (or a white frosting of your choice)
Buttercream with a dash of red food coloring
This is the shortened version of the recipe, but you can make it from scratch using the link above if you want. Just be sure to use distilled water or filtered water in your mix, otherwise, your cake might taste a little off. As many as 13 million U.S. households rely on wells for their drinking water, but this doesn't always have the best taste. Filter your water before you start using it in baking.
Once your cakes are made, slice the cakes into halves to add the buttercream and strawberry jam. Since your cake will have four halves, use one-third of the jam mix in each layer for that delightfully oozy look. Put the cake back together and top with the fondant (or frosting of your choice). Fondant will have a cool effect if you want to add slashes on the outside of your cake. In this case, adding the strawberry jam will make it look cleaner. But you can achieve a similar effect if you're careful with your frosting.
Keep in mind that red velvet is actually a little different from chocolate, too. While both cake mixes use cocoa, red velvet is typically much smoother and richer. This means that your creepy cake will taste all the better when it's time to dig in.
Peanut butter bites with chocolate
This one is a real crowd pleaser. If you're inviting any close friends or family members over for Halloween, just be sure to ask about peanut allergies!
This recipe uses some of your favorite Halloween staples to make delectable peanut butter bite balls. Here's what you'll need:
2 cups of candy corn
1 bag of chocolate chips
1 and a quarter cups of peanut butter (creamy)
Optional chocolate melts for decorating
Start by microwaving the candy corn until it melts. You can do this by using a glass bowl and routinely stirring the candy corn against the sides of the container. Try to do this about every 30 seconds for a minute and a half until all the chunks in the candy corn melt are gone.
As soon as it's melty, add the creamy peanut butter and stir it together. Once it's well-blended, plop dollops of the mixture onto waxed paper in little balls to freeze for about 15 minutes.
Perform the same process of melting the chocolate chips like you did with the candy corn. Once it's melted, all you need to do is roll the frozen balls into the chocolate and place them in the fridge to cool. You can also use your additional wax melts to add more decorations, but these are good as they are!
Celebrating Halloween safely
With the COVID-19 pandemic still impacting our communities, we need to be safer than ever. If you have creative energy that you need to get out, consider flexing your baking skills to stay safe and eat something delicious.