For those in, around or going to be in the Sacramento area soon, you are in for a treat if you like to watch movies outdoors! Quarry Park Adventures announced a brand-new program "Drive-Ins At The Quarry" to bring some fun to the Quarry after dark every weekend through Halloween starting last night (Sept 25th).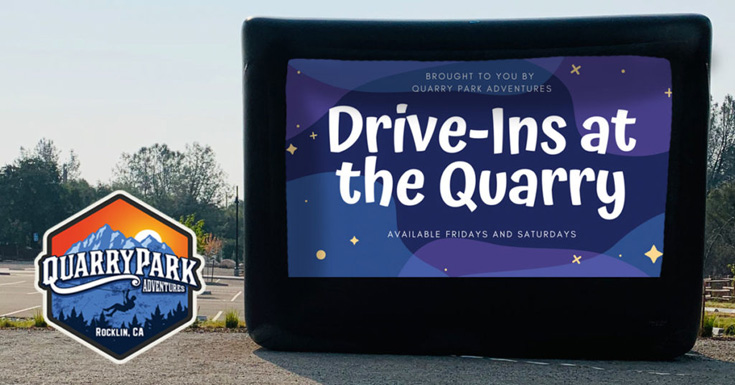 The movies start at 7:30 p.m. and tickets can be purchased online for $25 per car. If you are interested, purchase your tickets when you can because spaces are LIMITED in the parking lot which has been converted on Drive-In weekends in partnership with City of Rocklin.  Don't worry because all the cars will be socially distanced and masks will be required outside of your vehicles. They will have snacks that you can purchase but brining your own are encouraged!
Here is the Drive-Ins at the Quarry movie lineup: Dates (movies are subject to change)
Showtime 7:30 p.m.
Sept 25 – Jurassic Park (original 1993)
Sept 26 – Moana
Oct. 2 – Jumanji: Welcome to the Jungle
Oct 3 –The Incredibles
Showtime 7:00 p.m.
Oct 9 – Guardians of the Galaxy
Oct 10 – Trolls
Oct 16 – Rogue One: A Star Wars Story
Oct 17 – Shrek
Oct 23 – Coco
Oct 24 – Ghostbusters (1984)
Halloween weekend
Oct 30 – The Nightmare Before Christmas – 7:00 p.m.
Oct 30 – Beetlejuice – 9:00 p.m.
Oct 31 – Hotel Transylvania – 6:30 p.m.
 Oct 31 – Hocus Pocus – 9:00 p.m.
Showtime 6:30 p.m.
More dates/films to be announced!
Learn more here: https://quarrypark.com/drive-in-movies-at-the-quarry