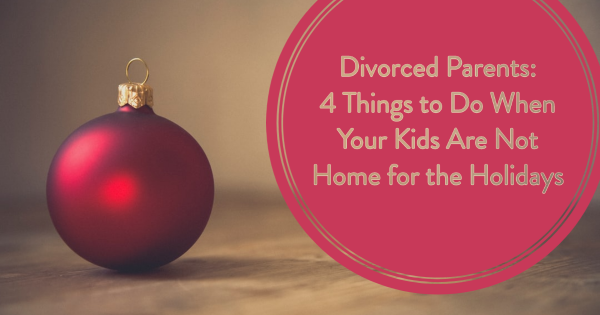 Breaking up after a serious, long-term relationship, whether or not you were married, is always difficult. There are a lot of issues to work through, both practical and emotional. Even an amicable breakup is hard to handle, especially when you're breaking up with someone with whom you share children. Kids always complicate any breakup, and the fact is that it can be difficult to stay emotionally steady when you're facing a change in your entire family unit. Where you were once used to seeing your kids whenever you wanted, you'll now have to split time with your ex. Though there are definitely benefits to be found in this kind of system, as you can often provide more quality time for your children when they're less accessible, it's nonetheless something that many single parents grapple with over time. Perhaps the biggest challenge of splitting up when you have kids together is handling the holidays. Every family deals with holidays post-split differently. Your situation could be dependent on the kind of custody situation you and your ex-partner have. If one parent is the custodial parent, while the other parent has visitation only, the non-custodial parent may end up spending fewer holidays with the kids. On average, the non-custodial parent will have 88 days with the child per year.
But for the many parents who split custody, this will involve splitting the holidays, with the kids spending every other holiday with one parent. This would ultimately mean that every other year you get Christmas, every other year you get Thanksgiving, and so on. The issue is that this creates an inevitability wherein you spend some of the holidays without your children. What do you do with that time? The best idea is to avoid wallowing in your sorrows and potentially becoming depressed. Just because a holiday is without your kids doesn't mean that it has to be a bad day. With that being said, let's look into some of the ways you can spend your time while your children are away from you during the holidays.
1. Travel
If you can't be with your kids during the holiday, you can focus on your personal growth on that day so that you can be an even better parent when you next see them. For a lot of people, this is best accomplished through travel. Think about all of the places that you'd like to travel which might not be ideal for the kids. These are the types of places that you may want to target with your travel plans over the holidays. In fact, the holidays may be a great time to do take this kind of trip; airfare can often be cheaper during that time. Doing something you enjoy can be a great way of turning a sad time into a happy one.
2. Spend Time With Friends
Traveling may be out of your budget; and at least right now, it can be somewhat difficult for everyone, though not necessarily impossible. So why not spend time with friends when you aren't able to spend the holidays with your children? This has already become popular at Thanksgiving, when a lot of people who can't spend time with their family spend time with friends in what is called a "Friendsgiving". Now, the kinds of friends that you spend time with is up to you, if you feel comfortable asking them to spend time with you during the holidays. If you don't have any single friends and don't want to be around children during the holidays, that is understandable. Now is the time to get out and mingle with people who are at a similar point in life as you. Though half of American adults are indeed married, not everyone is, and you should take advantage of your time as a single person and see it as a positive, rather than a negative.
3. Enjoy Your Adult Time
Think about how often, when you were married, you were denied your own time and solitude as an adult. Being a parent is amazing, but it does often mean that you have to accommodate kids, rather than paying attention to your own needs. Enjoy the time that you have to yourself. Prepare holiday-themed cocktails; go out to a restaurant or a bar and enjoy their holiday celebrations. A great example of something that you can't do with your kids during the holidays is Black Friday. Black Friday offers the best sales of the year, but it can be difficult to really enjoy those sales with your children in tow. They're hard to focus on and chaotic enough without kids. Why not go crazy on Black Friday during the holiday in which you don't have your kids with you? For that matter, you may want to think about buying their Christmas presents at that time!
4. Volunteer
Why not make something productive of the time that you don't have with your children? A lot of people feel ashamed about divorce, and not seeing their kids during the holidays as much as they might like. But you shouldn't feel bad about not seeing your children during the holidays, or being divorced; about one divorce occurs every 36 seconds in the United States, with 2,400 divorces per day, 16,800 per week, and 876,000 per year. But if you feel like you need to do something positive and good with your time away from your kids, trying volunteering! Give back and think about, perhaps, donating your time to a soup kitchen or a women's shelter. If your self-esteem took a hit after your divorce, you should do this to benefit yourself.
There are so many things that you can do during the holidays that you miss with your children. Don't take for granted that you have to sit around, be sad, and hope for the next holiday. It's okay for you to enjoy yourself, and you should!