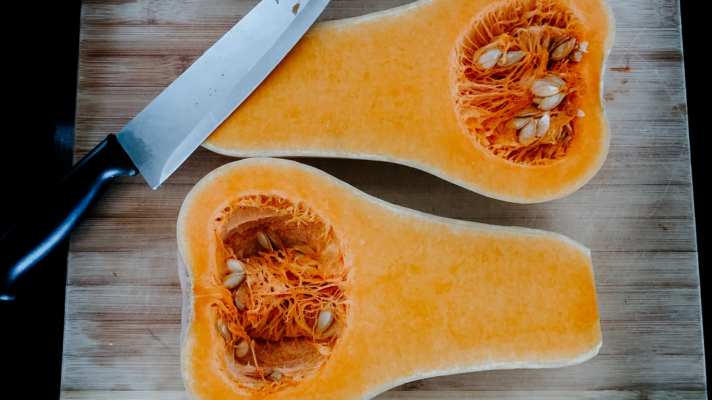 Over 80% of the products that we purchase — including the food we eat — are delivered by truck. Theoretically, that means we have access to virtually any type of food product at any given time. But one of the best things about eating what's in season s the chance to celebrate the flavors of the harvest (all while supporting growers in your area, if you choose to shop locally).
Chances are that you're probably still spending quite a bit of time at home. And if you're like many Americans, you may be cooking more frequently now than you did prior to the pandemic. It isn't always easy to get your kids excited about home-cooked meals, but the following three recipe ideas will make good use of fresh, seasonal ingredients while appealing to your kids' palates this fall.
Squash, Cider, and Cheddar Soup
There's nothing like homemade soup on a chilly autumn day — and this recipe features two fall favorites: butternut squash and apple cider. Combined with cheddar cheese goodness and garlicky croutons, this soup will be one the whole family will love. Although the original recipe calls for pumpkin or apple ale, we've left that out for this kid-friendly dish.
Start by preheating your oven to 350 and cut the top off two heads of garlic. Drizzle one teaspoon of olive oil over the garlic and sprinkle with salt and pepper. Then, wrap your garlic in foil and roast in your oven for around 40 minutes. After it's cooled, you can squeeze the garlic out of the heads and set them aside.
Now, take a large pot and heat it on medium. To the pot, add one tablespoon of softened butter, five cups of diced butternut squash, 1 cup of diced onion, 2 minced garlic cloves, and two teaspoons of salt. Saute your ingredients for about seven to eight minutes or until they become slightly soft. Next, add two cups of chicken stock and two cups of apple cider. Simmer the mixture for 10 to 12 more minutes and transfer into a blender. Puree the mixture until smooth and return the soup to the pot. Then, add one cup of shredded extra-sharp white cheddar cheese. Stir until the cheese melts and turn the heat down to low.
Lastly, it's time to make your croutons. Heat a medium-sized, non-stick pan on medium and spread butter onto four slices of ciabatta bread. Add cheese to make a grilled cheese sandwich and cook until golden brown. Finally, cut the sandwiches into small squares and serve on top of your soup.
Maple Glazed Salmon
Although there were 11.6 million youth fishing participants in 2017, not every kid likes the taste of fish. Salmon is typically a fan favorite, however, since it's quite sweet and not all that "fishy" in flavor. This recipe features a few fall staples, including maple syrup, pecans, and even pumpkin pie spice, with citrus and rosemary for balance.
Start by toasting one-eighth cup of pecans over medium-high heat, making sure to stir until lightly browned. Remove them from the heat, allow to cool, and chop. Next, mix a half-cup real maple syrup, two teaspoons orange zest, one teaspoon chopped rosemary (fresh, if possible), one-quarter teaspoon salt, and one-quarter teaspoon pumpkin pie spice into a bowl. Pour this mixture over one pound of fresh, wild-caught salmon in a shallow baking dish and marinate for one to four hours in the fridge. Rotate your salmon about halfway through the marinating time. When you're ready to cook, preheat your oven to 400 degrees and place your salmon skin-side down on a baking sheet lined with parchment or foil. Top the salmon with slices from one orange and bake for eight to 12 minutes or until the center is cooked (cooking time will depend on the fish's thickness). Top your fish with the chopped pecans and salt, if needed, before serving. Take the opportunity to make some seasonal veggies (like brussels sprouts or zucchini) to serve on the side!
Caramel Apple Crisp Bites
Sweet stuff is easy to come by during this time of year. And for the 4 million Americans who wear braces, chewy candy is a no-no. But you can get that luscious caramel flavor without dental fear with these adorable little desserts! Plus, this recipe will give you a great opportunity to use all those apples your family picked this season.
Preheat your oven to 350 degrees and grease a pan with non-stick butter spray. Then, melt 12 tablespoons of butter and slowly mix it into a medium-sized bowl that contains two cups of graham cracker crumbs and one-half cup powdered sugar. You'll then want to evenly distribute your mixture into a mini-muffin cup pan. You should have enough for 24 cup molds, which will act like miniature pie crusts. Bake these for five minutes and allow to cool completely.
While they're baking, chop four cups of peeled and cored apples into small pieces. Next, mix your apples with one-third cup sugar, one-quarter cup brown sugar, two and one-quarter tablespoons flour, one-half teaspoon cinnamon, and one-quarter teaspoon nutmeg in a bowl. Turn up your oven heat to 375 and bake this mixture in a baking dish for around 15 minutes or until the apples have softened slightly. Then, scoop a generous teaspoon of the mixture into each of your crust cups. Turn your oven back down to 350 and sprinkle any leftover graham cracker crumbs on top of your apples. Bake your apple-filled cups for five minutes and allow to completely cool. Loosen the apple crisp bites from the pan and drizzle with some store-bought caramel sauce (or make your own!). It'll be just like a candy apple and apple pie combined, without the mess!
With these recipes in your arsenal, you won't have to worry about whether your kids will like what you're making for dinner. Plus, the whole family will love to experience the celebration of flavors that come with the fall season.