The fact is that kids don't have as much to occupy them as they did before the COVID-19 pandemic. They can't go out and play outside with their friends as they once did, they can't go to birthday parties as they once did, and they need to spend a lot more time inside than before. While they go to school, whether it is virtual or in person, they of course have their time occupied. But once they have free time at home, whether they're on their own or not, parents often have to think of other things for them to do. This is especially true for parents that need to work at home. It can be difficult for them to find the time to handle their responsibilities while also occupying their children. This can understandably cause parents a good deal of guilt. But giving your children something to occupy themselves with for an hour or two after school doesn't make you a bad parent.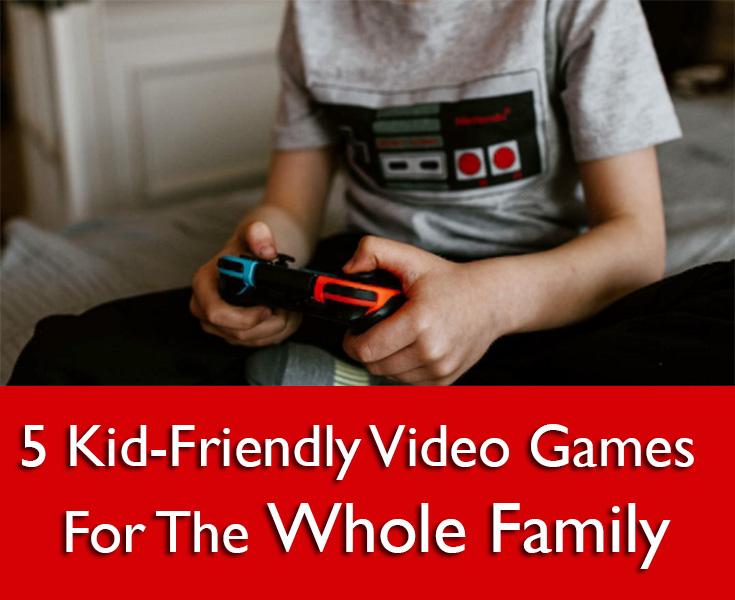 Video games have long been dismissed by some as the "wrong" type of preoccupation. It's easy for parents to feel as if they're doing the wrong thing, therefore, when they let them play video games. But this isn't the case at all if you find the right video games. The right types of games allow kids to stretch their creative muscles while at the same time having fun. A classic solitaire game, for instance, is great for developing logic and strategy. In fact, they can even inspire kids to pursue their interests in the arts. After all, a lot of graphic designers of today started out as young video game fans! But not all video games are of the same quality, and for that matter not all video games are appropriate for children. It's the responsibility of parents to find those that are if they choose to allow their children to enjoy video games as past times. So: what are the best video games for children anyway?
5 Kid-Friendly Video Games For The Whole Family
1. Minecraft
If you're a fan of video games, chances are that you've heard of Minecraft. It's hugely popular, especially among kids, and with good reason. A sandbox game, it's taken over the world across the past decade, fueled in part by walk-through tutorials posted on Youtube. As children begin Minecraft, it's fairly simple and accessible for them. Its worlds are randomly generated, but they can be controlled by seeds for those that want a specific type of outcome. This means that as the players grow up, the game grows with them. Therefore, people are able to enjoy Minecraft for the long term, not just when they're young children. In that sense, it's the perfect starter game for kids that want to start playing with games that are more grown-up, without wandering into anything too mature for their own good.
2. Rocket League
Many video games meant for adults are based around sports leagues, so it only makes sense that children want to play similar games. Rocket League is a perfect option for them, as mixes extreme sports with racing and soccer. Yes, we do mean that it combines them all into one game itself. That game essentially has cars attempting to hit a large ball into a soccer net, which may seem a bit silly to some older people. But the game has been remarkably successful, drawing in millions of fans. The game is known for its sense of humor, which means that it appeals to older and younger kids alike. Parents will appreciate the fact that it reminds them of old-fashioned arcade games, and it's incredibly addictive at that.
3. Plants vs. Zombies
Plants Vs. Zombies, or more specifically Plants vs. Zombies: Battle For Neighborville allows young players to feel as if they're playing something more unique and grown-up. It has something of a horror-driven edge, with the addition of zombies. Of course, zombies are popular at the moment, and therefore not quite as spooky as they once were. But the game is still fun with an edge and offers the further advantage of being playable via local split-screen. This means that families with multiple children can enjoy it without issue, and children can challenge each other within the game.
4. The Legend of Zelda: Link's Awakening
The Legend of Zelda is in itself something of a legend within the gaming community. Enjoying immense popularity for decades, the game makes itself more available to a younger, newer audience through The Legend of Zelda: Link's Awakening. This is actually a total remake of the original Zelda Game Boy game, complete with a new art style. Link is now depicted as a little wooden figurine, adding to the game's overall more simplistic approach. It's easier for children to understand and play, while at the same time offering the same Zelda adventure style. It's not too easy for children so that they can still feel challenged. Therefore, the youngest kids might find it a bit too challenging. But once they're old enough, they should definitely try it out!
5. Luigi's Mansion 3
If we can't complete this list without a Zelda game, nor can we complete it without a Mario game! Luigi's Mansion 3 has the game on home consoles, making it more accessible for a lot of kids. The game has Luigi searching for Mario, Peach, and a couple of Toad friends following their kidnapping and transformation into paintings. It takes place inside a hotel, giving a zany spin that kids will love. This one features puzzle games and a good bit of action. Furthermore, kids can switch to a multiplayer option to play with each other.
As of 2019, the U.S. consumer electronic market was worth about $301 billion. There are clearly a lot of options available for kids that want to play a video game and get to work on challenging themselves and expanding their imaginations. Really, finding the right game is less a matter of searching among the many available, and more a matter of simply talking to your children and finding out what they like. The options are limitless!