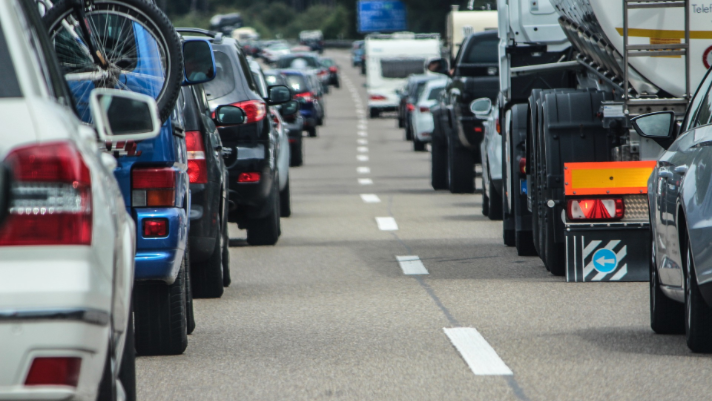 Rush hour traffic. We all know it and probably hate it, but is there a way to survive, dare we say, thrive in a city where you need to make your way to and from work in rush hour traffic? The commuters in Washington D.C., who spend almost 11% of their total driving time in traffic, might tell you no.
Fortunately, we know better. Whether you're looking to avoid rush hour entirely, just survive the hectic event, or thrive in spite of it, these tips are for you.
If you want to avoid rush hour traffic…
Leave Earlier Going to/from Work
The best way to avoid rush hour traffic is to be on the road well before it begins. For some people, this might mean waking up a little bit earlier than normal or shortening your morning routine. It may also mean working with your employer to set up a schedule that's easier on your long commute. Consider going for 8 AM to 4 PM instead of 9 AM to 5 PM.
Change Your Route Up
If you can change up your route to work, this is a great opportunity to avoid rush hour traffic. GPS was introduced in cars in 1996. Now you have it on your phone! No excuse not to find a better path. You might even find a more scenic route that you like better. Something to consider: alternate routes may seem longer, but the right one won't have you in stop-and-go traffic every day.
If you just want to survive rush hour traffic…
Give Yourself Extra Commute Time
Making plans after work, but you know there's going to be rush hour traffic delays? Give yourself some wiggle room! Making sure your friends or your date is aware of the traffic situation can help. A hands-free call to notify them of any delays is always a good idea, as well. Going to an afternoon wedding? Make sure you can leave work early enough to make it.
Slow Down
When rush hour hits, there are more cars on the road. As a result, you'll already be slowed down. It might seem like a good idea to drive a little faster to avoid any significant delays, but in reality that can do more harm than good. Be patient and drive slowly to ensure your safety and the safety of everyone around you. You don't want to be one of the 3% of people who need to be diverted to an emergency room for treatment.
Stay in Your Lane
Weaving from lane to lane might make you feel like you're progressing through traffic faster. Newsflash: you're not. In fact, you're actually putting other drivers in danger. Other drivers can't predict what you're going to do and you don't know what other drivers are doing, so it's ultimately safer to stay in one lane unless you absolutely need to change lanes. And while we're on the topic of safety, make sure you have the right tires on your vehicle.
If you want to thrive in spite of rush hour traffic…
Make a Great Playlist
Nothing makes the mood lighter like a good "go get 'em!" playlist. Whether you're driving to or from work, your favorite tunes can make any situation more enjoyable. Even if you're on your way to meet with a real estate agent for the umpteenth time. A real estate sale might pass up to 86 hands before the process is over, but nothing can get you down with a playlist this good.
Invest in Audio Books
Not a huge music person? Listen to a podcast or some audiobooks on your drive. It's easy to feel like you don't have time to read because you're always wasting time traveling to and from work. Why not turn that time into something you can actually enjoy and learn something from?
Carpool with Friends
Road trips are rarely fun without a pal to talk to along the way. Rush hour traffic is the same way. If you're going to be miserable about the traffic, you might as well be that way with a friend and a cup of coffee. Who knows? You just might start to enjoy your quality car time with a pal.
There are all sorts of reasons for rush hour traffic. Consider the fact that the construction industry predicted a 6% growth rate in 2016 alone. New construction projects, especially those along major roadways, can be a contributing factor to worsening rush hour traffic. So if you're looking to avoid, survive, or thrive in your city's rush hour, make sure you take a stab at one of these tips.