As more travel restrictions are lifted across the country (and the world), more and more Americans are getting back out there and exploring. I don't know about you, but after over a year spent inside, I'm more than ready to get back into the travel lifestyle this summer.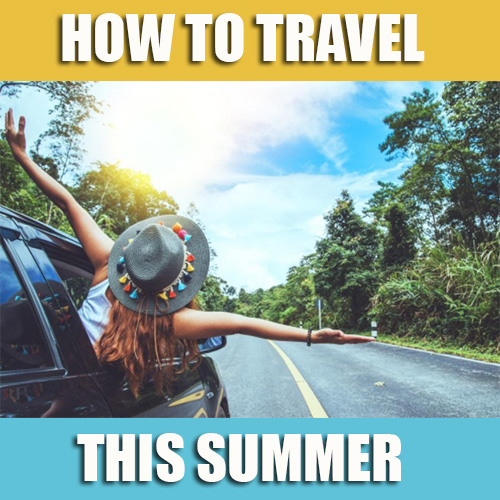 Of course, as a working parent, there are many factors to balance when you travel, especially in a time like this. Prioritizing the safety of your family is just as important as ever, and as you know, the work-from-home hustle never stops. So how can a working mom make a family vacation work this summer? These are our tips for planning low-stress and no-stress trips this summer. 
Plan in advance
For a hardworking parent, there are many reasons why planning ahead of time is good advice. First, it will allow you more time to figure out your schedule. When you know the dates of your travel, you can try to manage your workflow by getting ahead on projects or slowing down freelance work. The less you have to focus on work, the more free you are to really relax and enjoy quality time with your loved ones.
Second, planning travel in advance is just cheaper! The closer you get to your trip, the more expensive flights to Fort Lauderdale and other hot vacation spots become, so try to book early. This is particularly important if you're on a single-parent budget because you want to make every dollar go as far as possible.
Look for accommodations with a workspace
Many of us will be unable to get time off or reduce work this summer, but that doesn't mean that travel is impossible. Help make the experience easier on yourself by looking for vacation rentals or hotels with a workspace. Having a desk or table in a quiet spot will ensure that you can work effectively, leaving more free time for family fun. Alternatively, if you invest in a good lap desk, you can have a nice place to work no matter where you go.
Outside is still safest
The world is certainly a safer place as more folks get the COVID-19 vaccine. However, it is still important to protect your family by making low-risk choices for travel. In this regard, destinations that feature lots of outdoor activities are still your best bet for a safe family vacation. Our suggestion? Head to the mountains or the beach, whichever you prefer. Either option will give your family plenty of opportunity for outdoor excursions, time in nature, and safe fun in the sun. Better yet, reconnect with nature and go camping. Sleeping under the stars is certainly less work-friendly, but you'll make amazing memories with your family.
Set good work boundaries- and stick to them
If you work part-time from home, you are probably already familiar with the difficulty of setting good work boundaries. The temptation to take on just a little more or work beyond our paid hours can be strong, especially if you're personally invested in the work that you do. However, valuing yourself as a worker means that you have to sometimes set hard cutoffs for work time or negotiate specific work hours. This way, you can have a predictable schedule and you don't get underpaid for the quality of work. Work boundaries will be even more important when you travel. Don't be afraid to set an away message or turn your work phone off. Good customers and employers will respect your limits and reach you when you are available.
Take these tips to plan low-stress travel this summer. Of course, the absolute safest way to travel this summer is to get your COVID-19 vaccine when it becomes available. The COVID vaccines are safe and extremely effective, so get yours and help us all get back to normal soon!