The heart and soul of a well-functioning family is the mother, as she can make the kids and the husband happy. She knows what's good for everybody in the family, way before others even realize what they need. When it comes to moving, moms usually take charge of the whole process in order to ensure that at the end of the whole relocation, everybody is feeling wonderful.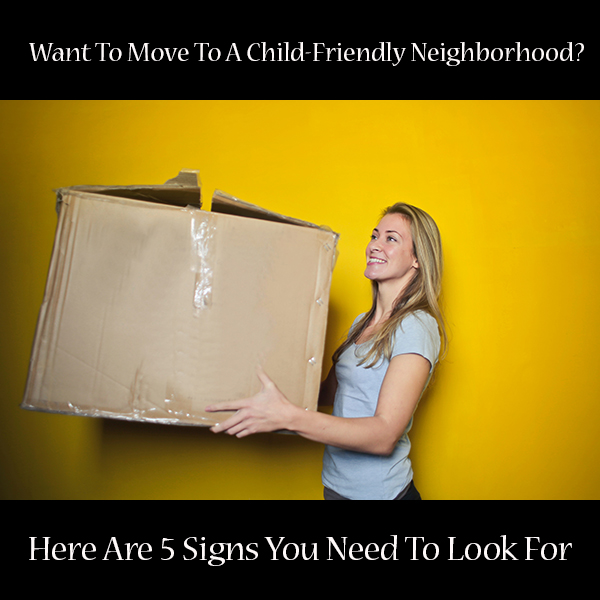 If you're a mom who's about to move with the family (husband and children), you want to find a neighborhood that is perfect for you. How to pick a place that has everything you could ever need? Look for these signs that signal that the neighborhood is child-friendly. 
1. Education
Education is one of the most important things when it comes to children. That's why you need a neighborhood that has great schools, skilled teachers, daycares, various educational programs and activities, and even tutors. The first thing you need to do is carefully research these and then evaluate all of them. 
Don't make the mistake of stopping your research after you've found out that the future school of your kids has a good reputation. There are other educational resources, too. You should not forget about daycares and educational programs in the area. 
Also, look into private tutors. Of course, you can rely on tutors from public schools, too, but if they feel swamped because a lot of students require their help, you need to go with private ones. With a great private tutor, your child can get that extra educational care that will help him excel at school. 
2. Green spaces
Our modern world tends to make us forget about the importance of nature. As a mom, you always have to keep in mind that green spaces are great places for kids to learn, learn new things, play, and simply be themselves. Going to parks, playgrounds, sport courts, enjoying time near lakes or in woods is an amazing activity, especially after being at school or learning for a few hours.
Also, your house's backyard can become a vital green space, too. If you have a dog, your kids will love to play with it in the grass. Also, your neighborhood should have big gathering areas that serve as a meeting place for kids, where they can have fun and also develop social skills.
3. Neighbors
If you want to do thorough research into the neighborhood, you can't rely just on the internet. You should take long walks in the neighborhood, do drive-bys, try to talk with the neighbors, get to know them a bit before buying the house. Also, you can ask the help of your real estate agent regarding neighbors, their kids, schools, and a lot more. If you feel like there aren't enough families living in the area, don't be afraid to give other neighborhoods a chance. The most important thing is to find a place that will make your kids happy.
4. Other activities
When you do your drive-bys and long walks, look for other activities, fun options for your children. See if your local businesses, restaurants, and other places are good for your kids, while also paying attention to cultural and sport opportunities, such as theaters and little league games. 
The most important thing to look for in this case if there are child-centric activities in the area: summer camps, programs at the library, or after-school activities. If you feel like the neighborhood offers plenty of options for your children, you've found the perfect place. 
5. Stress-free move
When you're looking for a home, you also need to find a suitable moving company that will help with the relocation all the way. With professional Manhattan movers, you won't have to stress about all the complicated details of the move.
A professional team will take care of everything, including, organizing, packing, transporting, and unpacking all your possessions. Thanks to their support, you can start your new life at your new house and neighborhood the right way.