If you're like many people right now, you're hunkering down at home a lot and will continue to for the coming months due to the COVID-19 pandemic. Trips away are off the cards for many families due to health concerns as well as economic ones.
This means now is the perfect time to get your backyard in shape. The more organized, set up, and lovely your yard is, the more effectively you and your kids can enjoy it as the summer progresses. Here are some jobs to put on your to-do list today to turn your yard into a haven.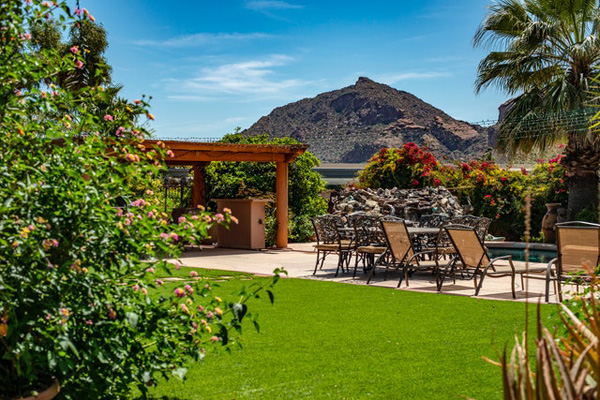 Ready Your Pool 
After the cold winter months, you probably need to look into how to get your pool ready for summer fun. For instance, reconnect any equipment that you packed up previously, such as the pool's pump, filter, automatic vacuum, heating machine, lighting, handrails, etc. Check that everything is working correctly and replace components as required.  
Lubricate seals, O-rings, and other hardware with lubricant, too. If your pool has stains from iron and copper or other metals that have built up over the winter, add a specific metal stain remover to the pool's water to remove these. Also, give the pool a thorough vacuum to get rid of waste and brush the walls and floors to say goodbye to algae and bacteria. 
Plus, test and balance the water chemistry so you and your family can use the pool safely. Attending to water quality will make your pool look more appealing, to boot. Don't forget, too, to test the fence around your pool, as well as the gate latch. You must ensure children and pets can't get into the water and hurt themselves when unattended. 
Declutter the Yard
If you haven't cleared out your yard for a while, it may be cluttered with all sorts of items you and your family no longer use or need, or that aren't in good working order. Take the time to declutter your backyard to help it look its best. Remove old, rusted swing sets, sandpits, and other play equipment, and get rid of, repair, or sell broken or no-longer-fashionable furniture. Add fresh new pieces to your yard to make the area look stylish for entertaining and boost comfort, too. 
Also, pick up discarded pet toys and replace old pet beds and other items with fresher bits and pieces. Plus, locate any damaged pots or old pavers, sleepers, gardening equipment, statues, fountains, and the like and repair what you can and sell, donate, or bin the rest. 
Work in Your Garden
It's also a good idea to spend time in your garden. You may need to trim any trees or shrubs that have become overgrown and remove plants that have died. Clear greenery away from your house, especially leaf-dropping trees, or vines or other plant-life growing close to or under roof tiles. These could lift tiles and cause leaks and other issues over time.
If, on the other hand, your yard is looking rather bare, add more color by way of plants. Even if you're not much of a green thumb, or don't want to spend many hours every week watering and otherwise caring for plants, you can find excellent drought-resistant and easy-care options to plant. It pays to stick with just two or three different designs and plant multiple of each in the yard to give things a consistent look. 
Get Your Lawn Looking Good
If you want to have not only a lovely lawn to look at, but also some beautiful lush grass that you can use when playing games with your kids, throwing the ball for your dog, or lazing about to get some sun, you must pay attention to the lawn. Maintenance is vital if you want it to be healthy and green.
For example, mow it regularly, though never too short at one time. If your area hasn't received much rain in recent months, water your lawn more often to help it thrive. Also, hire a machine to help you aerate the soil under the grass so sun, water, and nutrients can get deep down where needed. Plus, if you haven't done so for a while, fertilize your lawn to give it a boost. 
Other steps you might like to take to improve your backyard include adding outdoor lighting and more shade, attending to pest control, and cleaning or replacing your grill. Every element you work on in your yard will improve its look and feel and make you want to spend even more time outside enjoying it.