After celebrating one of the most precious moments in your life it's common for newlyweds to keep the festivities going with a honeymoon. Serving as the first official getaway as a married couple, it's also common for couples to select destinations that span far beyond the borders of the United States. It's quite the experience, but in order to really enjoy yourselves, it requires extensive planning.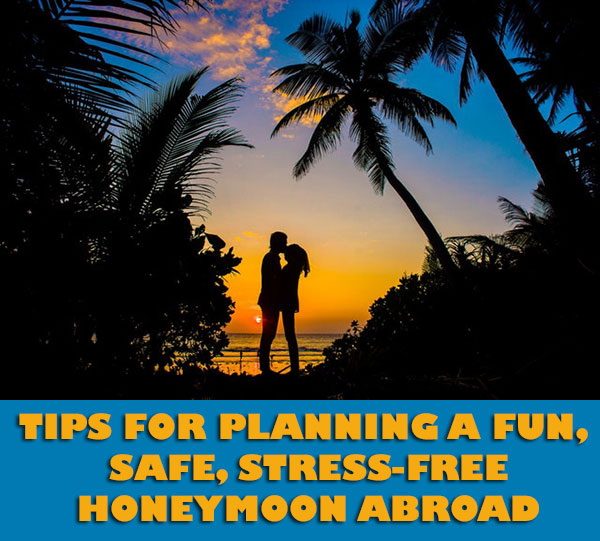 Traveling internationally is a lot different than traveling domestically. It takes a bit more research and preparation to ensure things go off without a hitch. To lend you a hand in planning your dream honeymoon trip, here are some tips to keep in mind: 
Apply for Your Passport and Visa
Since you'll be traveling outside of the United States you'll need to have the proper traveling documents. This includes a passport and in some cases, a travel visa. As these things can take weeks and even months to receive, you'll want to start the application process the moment you've decided where you're going to go on your honeymoon abroad. 
Research Your Chosen Destination
The idea of going to the Bahamas, Fiji, Paris, or Greece may sound great in your mind, but how much do you really know about traveling there? There are rules and regulations, cultural differences, and other factors you want to understand to ensure there are no issues on your trip. For example, some locations require you to have certain vaccinations and immunizations before you can enter. Others want you to pay for an entrance and exit fee. You also want to know things like basic phrases to communicate with locals, traffic laws, and laws that pertain specifically to tourists like areas to steer clear of. 
Get Your Finances in Order
You can't possibly enjoy your international honeymoon if you don't have the means to pay for things you want and need while you're away. So, before your big trip, be sure to get your finances in order. This means determining a spending budget, contacting your credit card companies to inform them of your travels, finding out exchange rates for local currency, and ensuring you have your credit cards and cash ready to go. 
Get Your Health Checked
Traveling takes a toll on your health. Not to mention, it's also very common for travelers to get sick when traveling abroad. So, before you and your spouse take off, schedule a visit to your doctor. Get a physical exam to ensure that you're in good health for traveling. Also, get any of your prescriptions filled and receive any necessary vaccinations or immunizations for traveling. 
Decide What You'll Do
Choosing activities is the fun part of planning your honeymoon. What kinds of things are you and your spouse interested in doing? Take a look at common things to do based on the destination you're traveling to. You can also review travel blogs and/or talk with travel agents as they'd be more inclined to know what activities are available based on your needs. If you plan on visiting tourist attractions or attending shows and live events, try to purchase your tickets in advance to avoid confusion once you arrive. Then, create an itinerary detailing what you'll be doing, and where you'll be going. Give a copy of the itinerary to someone back home so they know how to locate you should something go wrong. 
Play it Safe
It is not uncommon for tourists to become victims of robbery or worse crimes while traveling abroad. To keep you and your partner safe it is important to take certain precautions. For example, it may be best to purchase silicone wedding rings to wear instead of traveling with expensive jewelry. You should also make copies of your identification and travel papers and leave them in your suitcase just in case you get robbed or lose your wallet. Familiarize yourself with the contact information for the local authorities. Lastly, identify and avoid areas where high crime is more likely to occur. 
After all the stress and anxiety of planning your wedding, the two of you deserve some time alone to celebrate your union as one. International travel is an eye-opening experience that can really bring the two of you closer than ever before. You get to experience other cultures, step outside of your comfort zone, try new things, and connect without distractions from the outside world. If you're going to have a great time, however, it's important that you follow all of the advice above and plan well in advance.