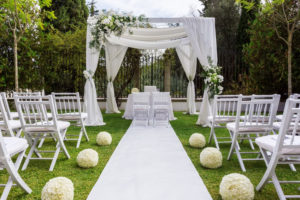 Congratulations, you're engaged! Your best friend asked you for your hand in marriage, and you can't wait to spend the rest of your life with them. Before you can start that journey, it's time to start wedding planning. Every weekend, an average of 44,230 weddings take place, and you're going to add to that number pretty soon. Here's a basic timeline for your wedding planning that should help you ease the stress and plan like a boss.
10 to 12 Months Out
Experts say that it takes about a year to plan a wedding. That's typical because certain aspects have to be planned well in advance. So, once you get engaged, there are some things you should plan almost immediately. You should set your budget, get a rough guest count, book your wedding venue, and set your date. Those last two really go hand-in-hand, so you can count them as one checklist item.
Six to Eight Months Out
Now that it's a little closer to the big day, there are some important details you have to work out. First, you need to start trying on wedding dresses and order your gown when you've found the perfect one. Then, start researching photographers and DJs and hire them. You should also have your hair and makeup trials at this time. Start searching for flowers that you like and book a florist. Finally, send out your save the dates so your guests can plan for your wedding day.
Three to Four Months Out
When it's three to four months before you say, "I do," you should have your bridal shower. Then, choose a flavor and order your cake. It might be hard to compromise between the two of you, so choose wisely. It's also time to start planning the groomsman attire. If you're renting tuxedos, the men need to be measured and the styles should be chosen. If you're planning on using a limousine service, it's time to book that now. There are more than 130,000 limousines currently in the country, and it's time to pick the right one for your wedding day. Finally, you should book your honeymoon at least four months before you embark.
Two Months Out
Now that you're only two months away from the big day, you need to send out your invitations. This will give your guests enough time to respond. Then, you need to book your makeup artist and hair stylist for you and your bridesmaids. Finally, you can start organizing your wedding favors and gifts for your bridal party and grandparents to give them at the rehearsal dinner.
Four Weeks Out
It's crunch time. You have to get your marriage license now. You also should confirm final details with your vendors. Additionally, one month before the big day, it's time to start your bridal skin care routine. In 2017 alone, more than 7.23 million Botox procedures were performed in the U.S., and more than 34.77 million people used a dermatologist. If you plan to do anything drastic with your skin, make sure you give it enough time to heal before your wedding day. A month out is also when you should get your hair cut and colored if you plan to do so. Finally, you need to put together the seating chart and tie up any other details and loose ends you might have.
After all this is done, it's time to get married. You've worked hard to get here, and it's time to relax and enjoy your big day with your new spouse. If this all seems overwhelming, you can always hire a wedding planner to help you through this process.