Carry-on luggage requirements continue to get smaller. At the same time, travel photos have only become more important with the use of social media. Packing light requires more care and consideration if you don't want to appear to be wearing the same outfit in all of your photos. This situation is made more difficult during those transition months of spring and autumn where the weather is less predictable.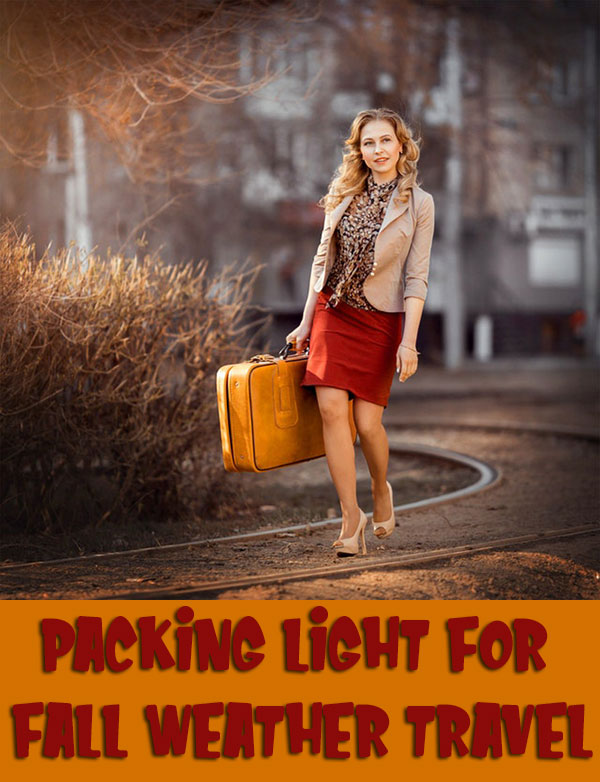 Even with all these factors in mind, there are still a lot of great options out there if you're willing to get creative. It's time to think about versatility in every item you bring and how you can layer these items to create different looks.
Embrace the Pashmina
A pashmina can be worn as a shawl or a scarf and can be fastened in different styles for different looks. When you're cold on the plane, it can double as a blanket. Make sure you choose a color or pattern that goes well with a lot of the other items you're packing. A solid color can be easier to match than a bold pattern.
Think Lightweight Cover-Ups
Avoid bulky sweaters and think layers. It's probably a good idea to pack one or two lightweight cardigan sweaters. They're a classic style that never goes out of fashion. What's more, cardigans look great on anyone, making them trendy plus size tops and ideal for smaller sizes too. You'll get the most mileage from your select choice of cardigans if you choose colors that go well with your other wardrobe choices.
Wear Your Heavy Clothes On the Plane
If you want to bring a heavier jacket, boots, or clothes made from heavy, thick materials, you can wear these on the plane. If you really want to bring as much as possible, consider wearing a jacket that has a lot of big pockets when you fly. You can pack items like thick socks or extra tanks in the larger pockets of your heavy coat. 
Leggings Were Made for Fall
Tights and leggings were made for fall weather. They will keep you warm, they fold down small for packing, and can be easily styled so it's not noticeable if you wear the same leggings over a few days during your trip. 
Bring a Warm, Stylish Hat
The hat will help you stay warm. It will also be useful for those windy, autumn days when your hair blows everywhere.
A hat can also be a great accessory for dressing an outfit up or down. If you want to wear the dress you have planned for a fancy dinner so you're ready for your evening activities, but feel a little dressed up for a day of sightseeing, you can use your cardigan, pashmina, and a hat to change the look completely. When it's the end of the day, remove a layer, freshen your hair and makeup, and you'll be ready for a classy restaurant for dinner.
Bring a Versatile Handbag
There are a lot of options here! You don't want to bring multiple handbags because they will take up a lot of space in your carry-on bag, but different purses are needed for nights out than a day of walking through museums. Luckily, bag designers are aware of this problem. You can find bags that convert when you move the strap. For example, you can find a simple, cute clutch that has hooks where you can attach a strap and turn it into a fanny pack or a cross-body purse, perfect for a day of sightseeing and keeping your valuables close.