Last week when I was in Hollywood for the Muppets Most Wanted Press Junket, we got the opportunity to take pictures with Miss Piggy and Kermit.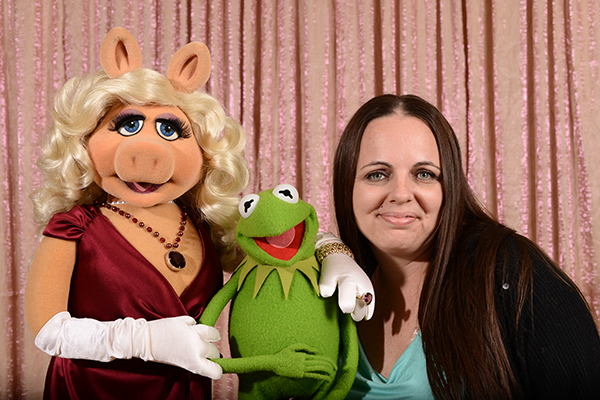 Now I have been jealous of all the other pictures of my fellow blogger friends with Miss Piggy and Kermit in the past. I have been a fan of the Muppets since I was a child and was excited to finally be able to get a picture with my two favorite Muppets myself. I was even able to get another photo of me trying to kiss Kermit when Miss Piggy wasn't looking with my iPhone.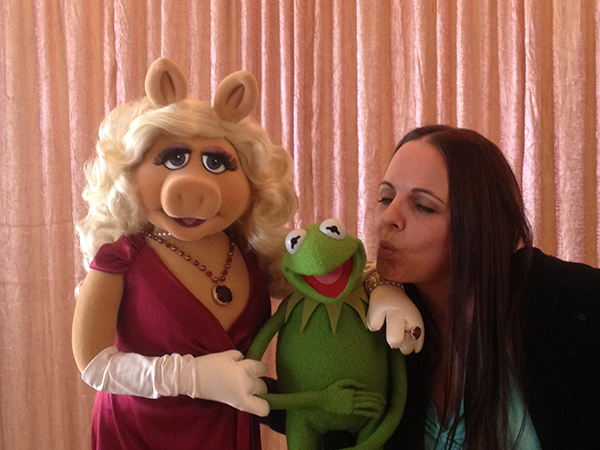 After we took our pictures and even got our nails done we were able to sit down in a special room at the Beverly Hilton and interview Miss Piggy, Kermit and even Constantine, the world's most dangerous frog!
This was one of my MOST favorite interviews ever.  Not only was this interview interesting, it was very humorous too! Even though we weren't allowed to film this special event, I have the interview recorded so that you can hear the interview rather than read the questions. Don't get me wrong, the interview would be funny to read but I think you would enjoy the audio version instead.
Hit play below to listen to the Mommy Blogger Interview with Kermit, Miss Piggy and Constantine.
Muppets Most Wanted opens in theaters tomorrow, March 21, 2014! For those of you on social media, be sure to:
Disclosure – I was invited to the #MuppetsMostWantedEvent. Costs and expenses for my trip were covered by Disney but all opinions expressed are my own.