Food is the heart of get-togethers and celebrations like birthdays. Are you thinking of what to serve guests at your son's or daughter's birthday party? How about a plant-based menu for the kids and adults? You can say that the vegan diet and lifestyle, in general, are gaining acceptance among the general populace. This brief guide to throwing a vegan-inspired birthday party for your kid is proof.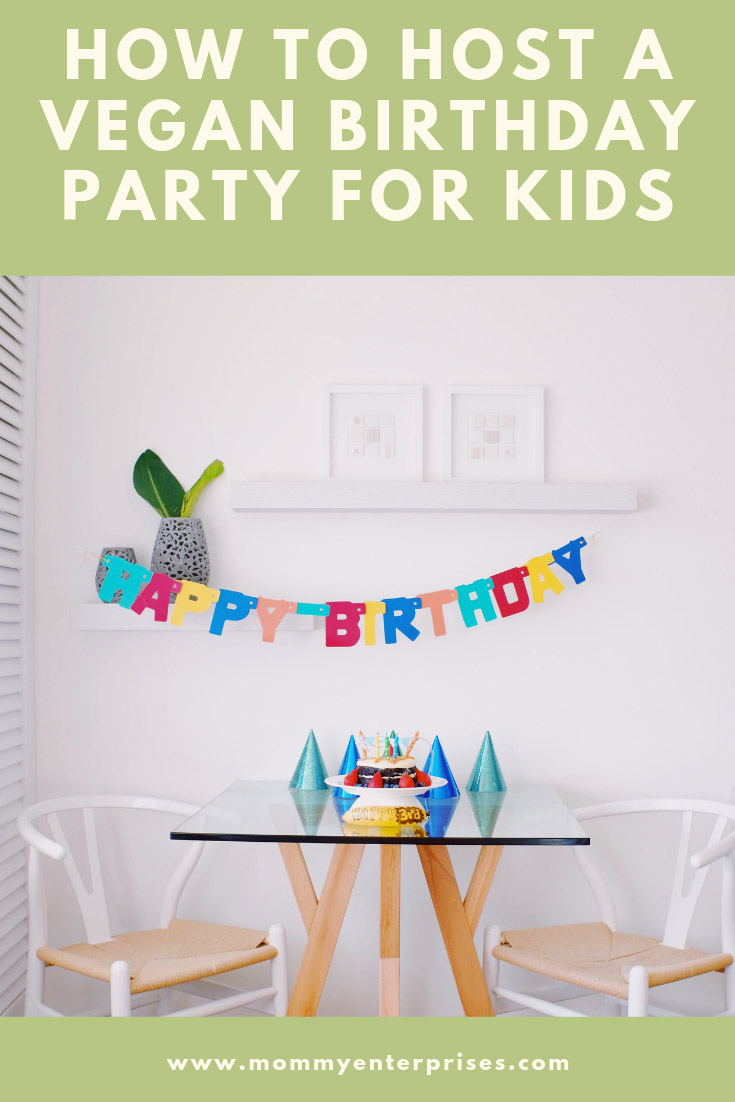 The Vegan Birthday Party for Kids
Make your child's vegan birthday party merry with nutritious yet delectable treats, colorful yet sustainable decorations, and thoughtful yet tasty favors everyone can appreciate.
Let's get the party started.
The Food
Vegan food seems to run against the ideal image of a birthday spread mainly for children until you realize that you can prepare or present sweets and treats in a novel yet healthy way without scrimping on the flavors.
The birthday cake is the centerpiece for the celebrator and his or her friends. This time, go homemade—do it yourself, or look up bakeries that whip up custom vegan goodies. You'll come across a variety of chocolate, cheesecake, and vanilla-and-buttercream party cakes with these recipes that look invitingly good, are iced and topped with rainbow sprinkles or fruits, and taste rich with nutritional value.
Feed the kids' energy for games with sugar-free snacks and vegan ice cream. Drinks from freshly squeezed fruits or vegetables will quench their thirst and keep everyone refreshed.
Combine fresh and festive on chips, fries, wedges, sticks, and bites paired with home-cooked dip, salsa, and sriracha for fellow parents. You can also put a vegan spin to your signature dishes or your child's favorites.
Pro tip: Vegan and vegetarian belong to the same spectrum, but they vary at a certain point when it comes to food or its ingredients. You can look up what the plant-based diet has and what it does not include to help you go about your food preparation and cooking—e.g., gluten-free, soy-based, and raw, among other variations.
Moreover, communicate with your guests beforehand about the food. This detail is essential so that (a) they know what to bring if you are having a potluck and (b) you can prepare food for those who may have food intolerances and allergies.
The Theme
It's an experience to walk into a room or venue that sets you up for an exciting adventure or a celebratory mood. A children's party is not without dinosaurs, aliens, dolls, or famous characters from movies, books, and TV shows.
You can ask your child outright about the theme to remove the guesswork and go straight into the planning. Or if you want to surprise the celebrator, look into his or her desk or shelves for recent interests.
With the theme determined, you can start putting the pieces together by working on a list of cheap party supplies. Decorate and design the place with banners, danglers, and swirls. And level up the food presentation in line with the overall decoration.
Pro tip: The party hats don't have to bear the party's chosen character, and you can reuse them. The same goes for tableware with solid colors; they complete the theme without overdecorating the place.
Indeed, vegans are particular about their actions' impact on the environment. So instead of discarding party decorations, save them for future use, recycle, or give them to parents or friends.
The Mood
Vegan or nonvegan, the party is ultimately for the kids to have fun with plenty of running, screaming, and playing.
Games always get the party started and enliven the atmosphere. Let the kids play the classics—musical chairs, treasure hunt, and pin the tail on the donkey. You can also look up activities that will pique the interest of your child's age group.
Send guests away happy with party favors that include some of the bite-sized snacks, stickers, or surprises inside loot bags.
Pro tip: Use eco-friendly materials like paint and paper in your party games. Also, steer clear of any activities that will harm animals.
Parties can be stressful for your pets. Ask a neighbor or friend to look after them while the party is ongoing.
Create an experience for your little one on his or her birthday. Notwithstanding the nitty-gritty, this vegan-inspired party is like any celebration, with effort and attention put into planning, sorting out the details, and making sure everything is carried out to fruition on the day itself.