Cooking family meals together can be very rewarding. It provides you with quality time together while also teaches your children a necessary life skill. The only problem is, with limited time during the week, trying to get a satisfying meal on the table can be difficult. This is especially true if you add the kids to the mix. The good news, however, is that there are plenty of easy and quick meal ideas you can create together. Check out a few ideas below.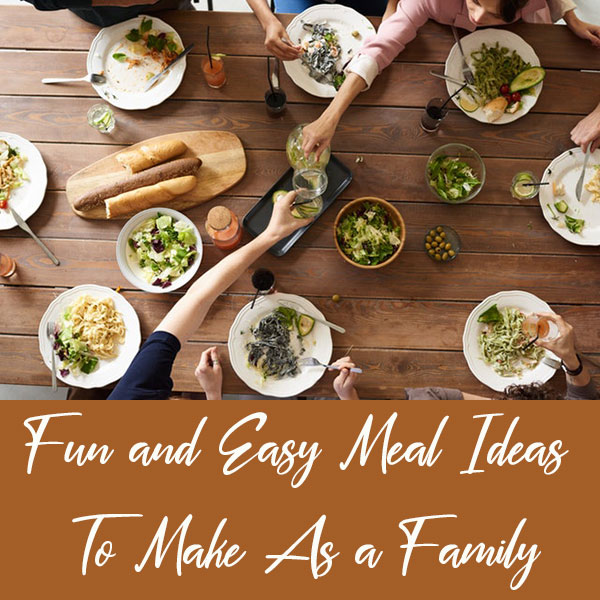 Spaghetti and Meatballs
You can never go wrong with spaghetti and meatballs for dinner. This simple yet fun and quick dish will be enjoyed by the entire family. You'll need pasta which can be purchased in many forms depending on your diet. You can get whole-wheat, veggie or other types of pasta to suit your tastes and needs. You'll then need to select the appropriate sauce. There's nothing wrong with getting canned spaghetti sauce when you're trying to get dinner on the table in a hurry. Lastly, decide what kind of meat you'll use (chicken, beef, pork, or turkey) to make the meatballs.
Start a pot of water and add pasta once it's rapidly boiling. Stir occasionally so noodles don't stick together and then remove once they've reached the desired texture. Next, grab a medium saucepan and put the spaghetti sauce on a low simmer. While that's cooking, have the kids wash their hands and make meatballs. You can incorporate whatever kinds of seasonings you prefer, then let the kids roll them into balls. Add them to the sauce and continue simmering until the meat is cooked all the way through.
Pancakes
Looking for something other than breakfast cereal to eat in the mornings? Pancakes are a perfect idea. They fill you up pretty quickly and only take a few minutes to make. You can purchase baking mixes online or in stores depending on your preference and diet. Also, be sure to grab some other ingredients like blueberries, strawberries, or bananas to add as a topping.
Pull out a skillet or the griddle. Mix the pancake baking mix and add it to the griddle making nice-sized circles. Flip after seeing air bubbles to allow the other side to cook. Remove them from the heat and add your favorite toppings and a bit of syrup or honey to taste.
Homemade Pizza
Here's another family favorite that is enjoyed by all ages – pizza. This is probably one of the most fun yet quick and easy recipes to try with kids. You'll need to purchase pizza dough which comes in various types including traditional, wheat, and gluten-free. You will also need to purchase tomato or alfredo sauce along with some mozzarella and other cheeses. Finally, let the kids go crazy choosing their favorite toppings.
Divide the pizza dough into small portions and provide a piece to each family member. Apply a bit of flour to the pizza pans to keep the dough from sticking then roll them out into the shape of a circle, square, or rectangle. Next, apply as much sauce as you'd like. Then, sprinkle cheese all around. Finally, add your chosen ingredients to the pizza. You can lightly brush the crust with some garlic butter for extra taste. Place them in the oven and before long you have delicious homemade pizza ready to eat.
Tacos
Who doesn't love Taco Tuesdays? They are very easy to make and can be diversified to meet the tastebuds of everyone in the house. You'll need hard and/or soft taco shells, taco seasoning, cheese, lettuce, tomatoes, and sour cream. Then, decide which types of meats you'd like to incorporate whether it's fish, shrimp, chicken, beef, or turkey, they'll taste great.
Using a few skillets, start by preparing the meat for the tacos applying seasoning to taste. While that's cooking, begin washing and cutting your veggies. Once the meat is prepared and the veggies are chopped, give everyone a few hard or soft taco shells and let them put together their very own tacos.
Soup and Sandwiches
When time is of the essence or you're just feeling a bit drained, there are still quick and easy recipes you can make with your kids. Soup and sandwiches, especially when the weather is cold can be great comfort foods. Allow everyone to pick out the can of soup they'd prefer. Then, grab ingredients for sandwiches.
Turn on a saucepan for each type of soup and cook at a simmer until done. Clear off a big space on the counter and let everyone make their own sandwiches. You can even use kitchen appliances like a panini press or a griddle to make warm sandwiches like ham and cheese melts or grilled cheese.
Family mealtimes are an integral part of your overall health and wellbeing. If a lack of time has been preventing you from being able to provide your family with home-cooked meals on a regular basis, consider turning to quick and easy solutions like those listed above.