If you like spending time in your kitchen, it is important to take special care of the ambiance. For example, if you like listening to music while you are preparing your meals, or you are listening to podcasts or watching recipes on YouTube, it can be pretty frustrating if your smartphone or tablet speakers are not loud enough. Struggling to hear what the speaker is saying or the song sounding muffled is something we want to avoid.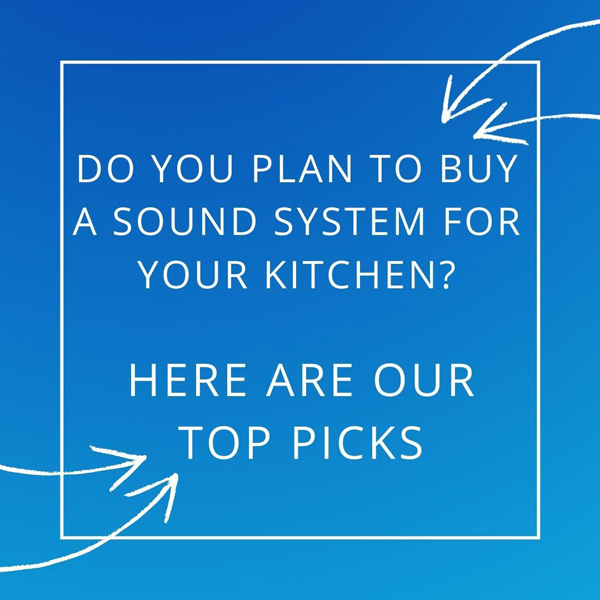 Having this in mind we have selected some speakers you can use in your kitchen that will greatly improve your listening experience. What we want to avoid are bulky speakers or complicated surround sound systems. Instead, we are looking for a compact good-quality speaker that can be easily moved when necessary and still powerful enough to fill the kitchen with sound. Well, maybe we will recommend one in the end but the main reason for that is that we want the best in our kitchen.
So, let's begin!
Williams-Sonoma Smart Tools Bluetooth Speaker & Kitchen Stand
Another speaker on this list packed with some excellent features is the Williams Sonoma Bluetooth speaker. It is designed to sit steadily on your counter thanks to its non-slip silicone base. Besides the excellent design and powerful sound, you will find the two charging ports pretty useful in the kitchen, just as its speakerphone function. There is no need not to take a call while you are in the kitchen, this will make it easy to prepare your meals and make calls at the same time. You can also get a stand you can attach on top of it and you can attach your smartphone or tablet with it.
UE Boom 2 Wireless Speakers
If you are looking for an affordable speaker that can deliver a crisp and clear sound the UE Boom 2 is the best option. On top of that, it just looks amazing with its bright color and cheerful 360 design. Don't let its size fool you. Although it is a pretty compact speaker it can deliver high volume audio. It is also shockproof and waterproof which is a great advantage in the kitchen. It was initially designed for outdoor activities, so it will easily handle any situation in the kitchen.
ILive Under Cabinet Radio with Bluetooth Speakers
The iLive under the cabinet radio will be excellent for your kitchen if you like listening to the radio. It has integrated speakers and you can easily mount these under-cabinet radios under your kitchen cabinet and enjoy your favorite radio programs while you are busy in the kitchen. The iLive also supports Bluetooth 5.0 connections so you will be able to pair it with your audio devices with no problems. 
Sonos Home Sound System
The Sonos Home Sound System is definitely the best and most powerful sound system on this list and the best thing is that it doesn't have to be limited just to the kitchen. You can easily control it from your smartphone or tablet thanks to the dedicated Sonos app. You can choose which songs to listen to or create your playlists, control the volume, and even choose whether you want to listen to your music in the kitchen or maybe in another room. There are several systems to choose from if you decide to buy a Sonos Home Sound System and we are sure that you will easily fit into one of the available price categories. 
KB Sound System
If you are more interested in sound systems the KB sound system is a pretty good choice because of its in-wall/in-ceiling speakers. This makes it practically invisible and knowing that some kitchens are pretty small the KB sound system is a good choice. You can pair up this system with your Bluetooth enabled audio devices and on top of that, you can use its integrated FM streaming options. The KB sound system will deliver high-quality and powerful sound.
We are aware that there are some huge differences between the options presented in this article, starting from the price, design, features, number of speakers, and so on. This makes us sure that you can find the option that suits you best. Finding the perfect sound system for your kitchen will make you and everyone around you feel great.