Are you giving your kitchen a makeover this year? Maybe you already considered luxurious sinks and are ready to tackle a variety of other upgrade options.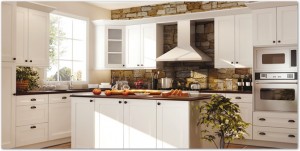 Frameless Cabinets vs. Framed Cabinets
There are two standard types of kitchen cabinet constructions, frameless or framed.
Framed Cabinets
These cabinets have face frames. The doors attach to the frame. The face frame will have vertical styles and horizontal rails. Three variations make up this form of cabinetry. There's traditional overlay, inset and full overlay. The difference between these categories is the face frame.
Frameless Cabinets
Frameless, or European, cabinets don't have a face frame. Hinges are fastened to the interior of the cabinet. The door overlays the cabinet box so when the door is closed space is minimized. Maximizing drawer width and interior storage space, this construction offers a symmetrical look between door and drawer lines and easier access to the interior. Cabinet lines can vary with the door tightly hinged to the side panel. Frameless bottom cabinets may have legs.
Frameless Cabinets vs. Framed Cabinets
Framed are more common. The biggest disadvantage to utilizing this construction is that the trim boards tend to block access. That makes it a little difficult to fit large sized containers in them. You also won't be able to install cabinet width pull out drawers.
Frameless cabinets will require greater stability. That's because of the lack of trim boards that are standard in framed construction. Frameless cabinets will have thicker side panels. They also offer better accessibility to any contents.
Many contractors prefer frameless construction. For the eco-conscious, it's considered green as it reduces the number of trees harvested for construction. The standard framed cabinetry project can use up to 30 board feet of wood. That's about one-third of a tree. As the frameless doesn't require that installation, it reduces the impact on forests and our carbon footprint.
On the other hand, with the three styles that framed cabinets offer there are more options for a unique look. You can choose overlay, full overlay or inset and then pick one of the many different styles and details to enhance the look. While frameless may have the same detail availability, they all come with the standard overlay look. Yet, it can still have a variety of appearances that include contemporary, country and traditional.
Ultimately, if it is frameless cabinets vs. framed cabinets, the bottom line is going to have to be personal preference and budget. Neither is particularly less costly than the other and both come with durability and quality. It's simply two forms of construction that will look different.