Whether you're on the hunt for a new back-to-school wardrobe or about to brave the annual Black Friday sales for those winter boots she asked for, shopping for clothes with your tween girl can be an intensive process. She is right on the cusp of her teenage years but still not quite old enough to shop on her own. So she needs your help to navigate the clothes racks and put together outfits that are stylish but not too mature for her age.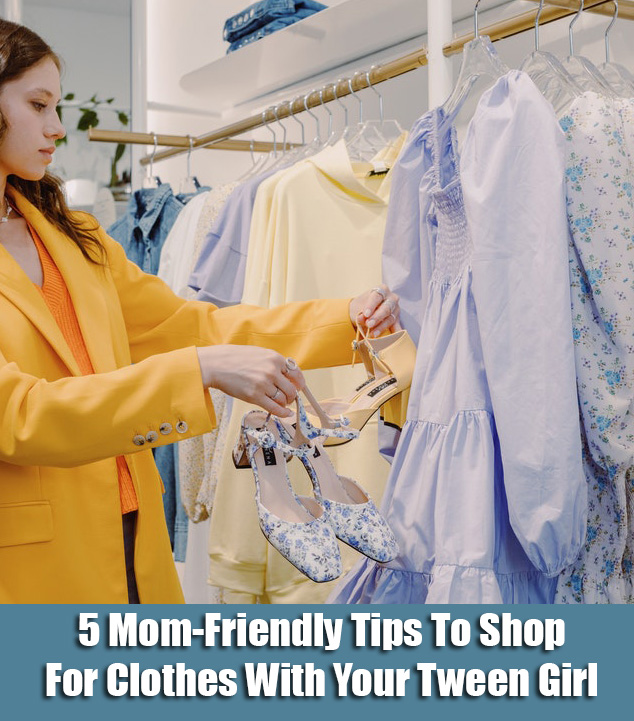 Before you head off to the stores for some mother-daughter retail therapy, here are five tips to make shopping for clothes with your tween girl as low-maintenance and enjoyable as possible. If you keep these strategies at the forefront, the whole experience will feel bonding, rather than frustrating. So if your tween girl could use some new clothes, here's how to make the shopping trip a success for both of you—not to mention, for your wallet.
Be Conscious of Your Budget.
Depending on which retailers you shop at or the amount of clothes your daughter needs, the overall costs can escalate quickly. So with this in mind, make sure to budget for all the items you plan to purchase ahead of time—then stick with that budget once you're in each store. This will maximize your dollars and help curb that temptation to spend more than you can afford. Also, don't forget to check for various discounts to stretch your budget further. Look out for closeout sales and even deals on old collections, holiday promotions, tax-free weekends, end-of-season clearance racks, and other opportunities to save money on the clothes your tween girl wants.      
Build a Look with Basic Pieces.
Are you aware that most girls and women only wear about 20 percent of the outfits they own? It's true—your daughter's closet could be overrun with clothes that she rarely gets actual use out of. So this is where helping her create a capsule wardrobe will come in handy. All she needs are some basic pieces in a few coordinating colors, made from high-quality materials that will last a long time and scale to fit her comfortably. For example, a black or gray trousers, a white blouse, classic jeans, a pencil skirt or dress, a statement jacket, neutral shoes, and some fun accessories are the basis for many functional and fashionable outfits.  
Give Her Some Independence. 
Fashion is a form of self-expression for your daughter to show off her own creative, unique personality. So it's important to give her freedom to experiment with the styles of clothing she is drawn to. When you empower a tween girl to choose her own style—within age appropriate boundaries, of course)—this can increase elevate her mood, increase confidence, and even feel stronger in her own skin, according to research from Karen Pine, author of the book Mind What You Wear. If she wants to rock a bold pattern, a fun graphic, a vibrant color, or a pair of quirky combat boots, encourage her to play around with that sense of style. 
Consider School Dress Code.
While it is a healthy part of the growth process for your tween girl to make her own outfit choices (again, within reason), you also need to take her school's dress code rules into account. Some schools might not allow straps that are too thin, lengths that are too short, or waist bands that are too low, for instance. Be sure to familiarize yourself with those rules before the shopping trip to avoid purchasing any clothes that she likely will not be able to wear all that often. Once you know these dress code parameters, it's easy to adjust your search. So instead of buying her those low-rise jeans, help her find a pair that rests snugly on her torso. 
Keep the Focus Off Her Body.
Finally, remember to make the whole experience a body positive one for your daughter by emphasizing comfort over size. Focus on how she feels in an outfit, rather than how it looks in the mirror, and help her understand that it's always possible to find clothes that will flatter her own unique body shape. A tween girl's physique will often change drastically as she starts to become a young woman—and that transformation is perfectly normal. So as a mother, you can minimize any insecurities that your daughter could feel about her appearance by showing her how to dress for the body shape she has, instead of trying to hide it.