Choosing the right bottoms to wear per occasion isn't just a matter of comfort—it's also a matter of style. The correct fit, fabric, and cut can transform your entire outfit for the better. This is no small thing if you're keeping up a professional image, or if you're the kind of person who values dressing for any occasion. And one pro tip that any fashionable dresser should know about is the difference between leggings and tights.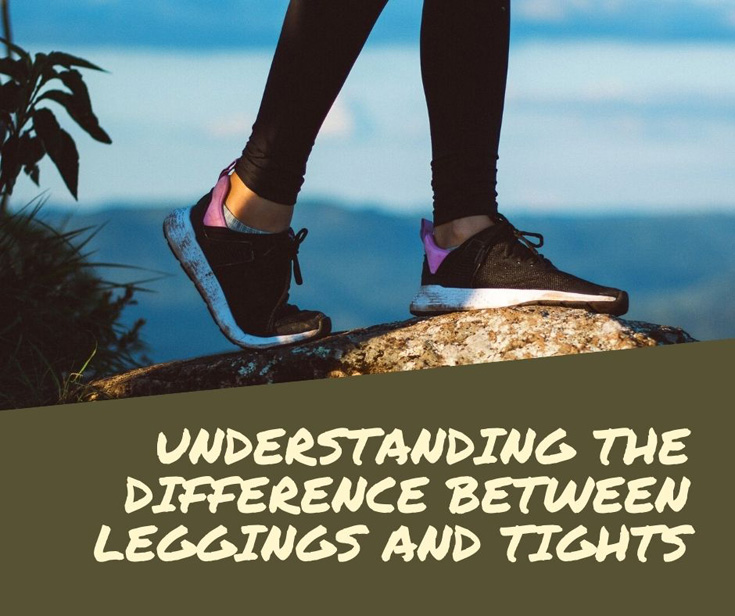 Both leggings and tights are more form-fitting than a regular pair of pants. But often, this is where the similarities end. The two garments are meant to be worn differently and paired with different types of clothing. Buying what exactly it is that you need is the secret to upgrading your wardrobe. So before you shop for tights today or look for new leggings, read on to learn about all things related to these types of hosiery:
Leggings: Covered Up in Style
The easy shorthand all women should know about leggings is that they can be worn like normal pants. They're made of a thicker fabric than tights, typically cotton or spandex. In terms of length, leggings are mid-calf at the shortest and ankle-length at the longest. They're "footless" bottoms or bottoms that don't cover the feet in fabric. Maintaining a good pair of leggings is also very easy. Most pairs require that you put them through an ordinary wash cycle.
Leggings are best worn with longer tops, like oversized T-shirts, polo shirts, or tunics. You can wear your leggings with any of these if you're conscious about them emphasizing your butt. However, you can also wear them as a standalone bottom, similar to how you would don a pair of skinny jeans.
If you're shopping for leggings, you don't have to limit yourself to the plain variety, either. You'll be able to find a number of eye-catching patterns by browsing the online catalogs of reputable fashion brands. A great pair will highlight your feminine curves without being too revealing. You should also trust your leggings to last you more than a few wears.
Tights: An Outfit's Second Skin 
Tights, on the other hand, aren't standalone garments. They should always be worn under a dress, a skirt, a pair of shorts, or a thigh-length tunic. They're meant to be a sort of "second skin" under these items of clothing.
Many varieties of tights are also made of transparent fabric. The cloth base can be either sheer, opaque, or woven in a fishnet style. Tights can also be classified according to their panty style. There's the shaping type, which compresses your stomach without the feeling of strain. There is also the control type, with sections that reinforce your thighs and your waist. And lastly, there's the sheer to waist type, which has low waistbands and no delineation between the panty parts and the leg parts.
In terms of length, tights often cover the whole foot, although there are also footless varieties available on the market. Tights also require extra care when being washed, meaning most pairs should either be hand-washed and dried or washed in a laundry bag under a gentle cycle.
Generally speaking, many fashion experts encourage people to embrace the uniqueness of their bodies when shopping for tights and other types of form-fitting garments. When you look and feel good in your second skin, it'll make a world of difference to your entire deportment.
Tips for Dressing Up with Tights and Leggings
Whichever it is that you're looking to buy, you'll want to make your purchase worth it. Here are five things to keep in mind when you're shopping for pairs of leggings or tights:
Choose According to Your Body Type
Neither leggings nor tights are supposed to sag, but they're not meant to cut off blood circulation in your legs, either! When shopping, you should refer to each brand's size guide to ensure you're getting the right fit. That way, you can buy a flattering but comfortable pair that you can wear confidently and without hesitation.
Choose the Best Complement to Your Favorite Clothes
You're more likely to enjoy your leggings or tights if they match perfectly with clothes that you already wear. For example, what if you're the type who loves dressing in denim shorts, but you now want to add a bit of panache to your usual T-shirt, shorts, and sneakers ensemble? If so, then you may want to consider buying sheer to waist tights so that you'll have a uniquely patterned pair that can do just that.
Dress for the Occasion
What will you be buying a new pair of bottoms for? Will you need it for work, exercise, or leisurely trips out? Be sure to get a pair that looks and works appropriately for the situation. You can also research what most fashion experts would recommend when it comes to using your new tights or leggings.
Don't Be Afraid to Mix and Match 
Shopping for bottoms doesn't have to be boring. Keep your outfits from looking drab by mixing and matching patterns, colors, and textures. You can accompany plain tops with smart-looking twill leggings, and solid-colored dresses with animal print or geometric print tights.
Take Good Care of Your New Bottoms
Lastly, if you want your new pair of bottoms to have a long lifespan, maintain them according to the manufacturer's instructions. Many brands will provide customers with tips on how to wash and dry their products.
Now that you know the difference between tights and leggings, it should be much easier for you to pick which one to include in each of your outfits. And with these tips and tricks, you're sure to pull off wearing them with style!