Getting a wood floor installed in your home is a big decision. It can be a great way to add value to your home, but the installation process can be incredibly invasive to your home. Before you have wood flooring installed, you must take into consideration several factors about your home and the flooring itself. If you'd like to learn more about some of the things that go into making this decision, keep reading for seven things that you should consider.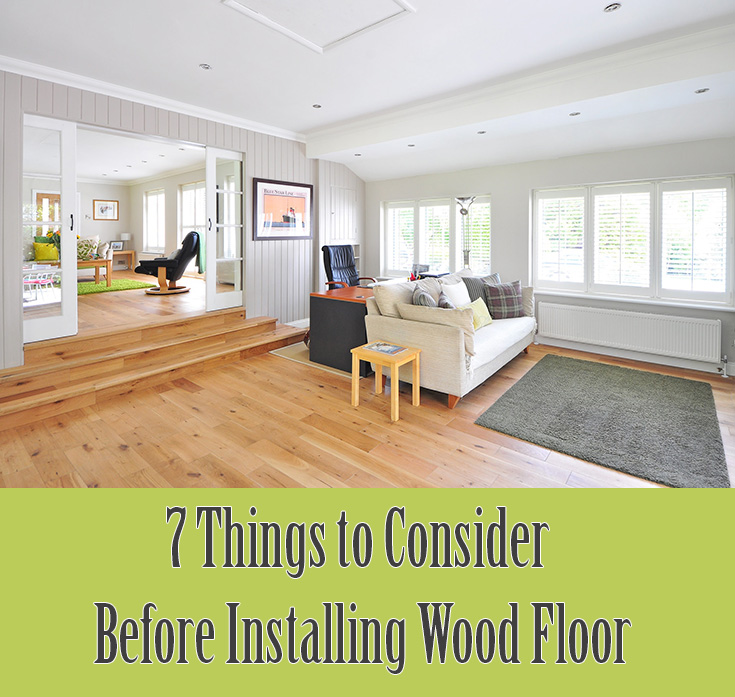 State of Your Subfloor
What does the subfloor of your house look like? What kind of material was used when your home was built? Understanding the state of your subfloor is critical to the durability and longevity of your wood floor. If you have particleboard subfloor, areas that need repairs, or even a concrete slab can determine the method of installation as well as additional costs that might be attached to installing a new wood floor. 
A leader in the wood floor industry in North Carolina, Tri Point Flooring says, "Not all subflooring provides a suitable foundation for solid hardwood floors. For example, particleboard does not hold nails well and causes hardwoods to loosen and shift." They go on to say that you should have your particleboard subfloor removed and install plywood to improve the structural integrity of your wood floor.
Budget
Do you know how much you're going to pay for your installation? Before you get too deep into planning your wood floor installation, know how much you can afford to pay. This will help create realistic expectations for what you can get installed. You would hate to fall in love with a beautiful dark oak engineered wood floor when what you can really afford is vinyl. Figure out what you can pay then start shopping for your wood floor.
Something to keep in mind while you're setting your budget is that the installation will most likely cost more than what you were originally quoted. Whether it's because your subfloor needs extra work or some tricky areas need additional materials, you need to account for the unknown. It's recommended that you build in about 10% of your budget for unexpected costs. This way, if everything goes smoothly and you don't end up spending that extra money, you're not out any extra.
Installation Areas
Where are you planning on installing the wood floor in your house? Areas of the home that have a high amount of foot traffic, are at risk of taking a lot of spills, or get a lot of water and debris tracked in from outside will all have different needs regarding durability. Take into account the area of your home where you're going to be installing your flooring. 
Areas like hallways or the living room are going to get a considerable amount of foot traffic. This can wear on the subfloor and the underlayment, which might eventually need to be replaced. A durable wood floor can take the punishment of constant traffic. 
If you're sticking mainly with the kitchen area, look into a wood floor that can handle spills well. There are some types of wood floors that can take a spill and you have a minute or two to get it cleaned up. Others aren't quite as reliable and need a quick clean up or you're quickly at risk of the wood warping.
There are types of wood flooring that are better to have installed throughout your home as they are more versatile and dynamic in taking the daily punishment that is normal for your flooring. Ask your installation contractor for recommendations about the species of wood you should use as well as the type of wood flooring is recommended for your needs.
What You're Paying For
What kind of flooring are you going to be paying for? Know the flooring that you're getting and the quality. As with most things in life, you'll be getting what you're paying for with a wood floor installation. This includes everything from the materials to the costs of the labor itself. While you might have to wait a few months longer to get the wood flooring you love to help with your budget, it can be worth it as the more expensive types of wood flooring are often much more durable and have a longer life. Vinyl and laminate flooring will look nice, but nothing lasts like the real thing. 
Look at Your Options
What options have your contractor presented you with? It might be much easier to choose a single type of wood floor and have it installed in every area of your home that you're considering. However, there's nothing wrong with mixing and matching flooring to create a certain aesthetic. In fact, you can mix types of flooring from room to room to serve a specific purpose. 
For instance, if you'd prefer to have a less expensive wood look vinyl floor in a playroom, waterproof hardwood in the bathrooms, and engineered hardwood in the main entryway, you can. The possibilities are endless and you can have exactly the wood flooring that you want. Consider all the options available to you before making your final decision because it's easier to do it all at once than get your contractor to come back another time.
Amount of Traffic in Your Home
Do you have a large family with pets living in your home? If you have school-aged children, you probably have other kids from around the neighborhood coming into your home. This means that amount of foot traffic in your home multiplies as more and more people come over to your house. Additionally, pets create an added amount of wear and tear on your wood flooring than what people are going to create. Certain woods and finishes don't dent as easily or won't show them as prominently as others. We recommend looking into these options if you have kids or pets at home.
Climate
What's the weather like where you live? Take into account the climate that you live in because the air can have a tremendous effect on the life of your flooring. Yes, your flooring materials will be delivered to your home several days before the install to acclimate to your home. Although, ask your contractor what kinds of concessions need to be made with your flooring to account for environmental conditions like humidity and average temperature of where you live.