The typical American Taco Tuesday involves ground beef, chopped lettuce and shredded cheese. That approach can be tasty, but you shouldn't be afraid to expand your horizons. There are endless ways to change your tacos so that they're even better. Plus, it's never a bad idea to experiment with drink choices and side dishes.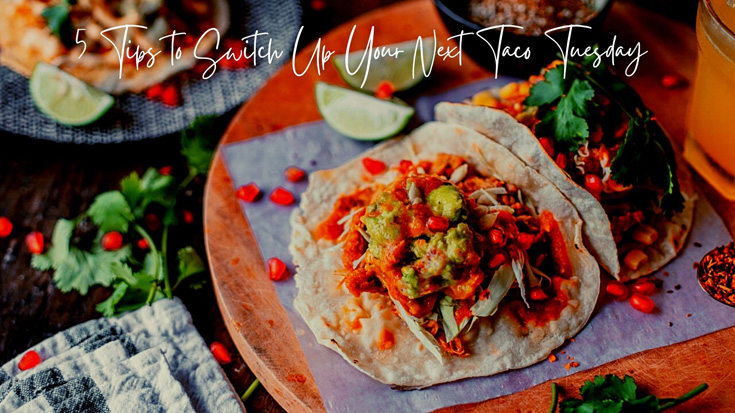 Here are five ways to add a little pizzazz to your Taco Tuesday spread. 
1. Make Homemade Salsa and Queso
A canned salsa or queso may taste alright, but you can do better. The traditional Mexican salsa comes in various forms. That said, you'll most commonly find salsa roja and salsa verde, or red and green salsa, respectively. The difference between both options lies in their tomato base. Additionally, it's typical for red salsas to be smokier than their counterparts. They can be as spicy as you wish. 
The same idea applies to queso. If you buy a jarred product from your local grocery store, you should try a more authentic take. You can choose from many cheese types, but it's best to use Asadero or Oaxaca because they melt easily. You'll be able to adjust your queso's heat level through how much jalapeno you add. You can use your dip as an ingredient for burritos and quesadillas, as well.
Feel free to make your own tortilla chips for a truly traditional approach.
2. Add Different Vegetables
What vegetables do you use for your tacos? Picks like onions, lettuce and peppers are terrific choices. That said, you can take your selection to another level. You'll want to explore ways to transform your available ingredients. For instance, you can turn lettuce into slaw or onions into pickled onions. A different cooking method will be a straightforward yet delicious trick to transform what you already have on hand.
You can try a similar approach when you make sauces. An avocado creme could put those leftover avocados to use. Experiment with creative toppings ideas to be as authentic and unique as possible. You never know what may taste good.
3. Try a New Protein
It's perfectly alright if your favorite protein for tacos is ground beef. But it's worthwhile to explore new ideas, too. A taco tastes fantastic with chicken, pork and tofu as a base. You can even use seafood as a protein if you want to be a little more adventurous. In any case, it's fun to experiment with traditional recipes for meats. It may or may not come as a surprise that Mexico has extensive national and regional options that include:
Carne asada

Barbacoa

Chorizo

Adobaba

Carnitas

Tripas

Al pastor

Birria
These taco types are only a glimpse at what Mexican cuisine has to offer. There are a few recipes that may be a bit intensive, but you can easily make most. If your family doesn't eat meat, you can choose vegetables like sweet potatoes. A simple refried bean spread works well, too.
4. Balance Flavors and Textures
There are countless flavors and textures that can complement your tacos. You may hesitate to incorporate something you've never tried. But you should remember that there's a reason why certain components are popular. An item like fruit probably doesn't seem like it'll pair well with savory flavors. Still, it's common to include mangos, pineapples and more in salsas.
A similar notion applies to texture. How much better would your taco taste if it wasn't entirely soft? Your palate will respond to different textures. A hard tortilla is a great way to start. You can also add crunchy slaw and other ingredients to create those layers. Even a creamy sauce or spread should help you achieve a balance.
5. Experiment With Drink Choices
You can't have Taco Tuesday without cocktails! You likely have your favorite margarita recipe memorized. But what about other Mexican beverages? You should try a few new drinks for your next dinner. The most popular versions feature tequila and beer as central ingredients. Try your hand at some authentic recipes to find an option that you and your friends will enjoy. Your feast should taste 10 times better.
If you don't drink alcohol, you can experiment with other ideas. Have you ever tried Mexican Coca-Cola? This product tastes different than a regular Coke, as it uses pure sugar cane rather than corn syrup as a sweetener. You should be able to find Mexican Coke at a nearby specialty store. You may also want to buy Jarritos and Tepachito brands if you're going to explore additional authentic Mexican soft drinks.
Use These Tricks to Make Your Taco Tuesdays a Hit
You can find endless ways to jazz up your taco spread. From drinks to vegetables to sauces, you can create a meal that's more authentic and overall delicious. You can even make a Taco Corn Bread Casserole if you really want to switch things up!  Try these tips to make your Taco Tuesdays even better.