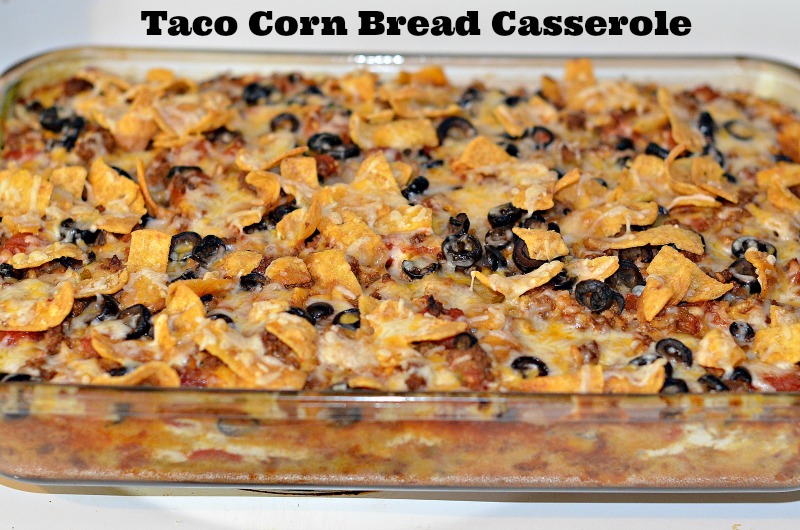 Now that the weather has finally cooled down, I have really been using my oven. I have been making a lot of homemade breads since I learned to make bread at school but I have been making a lot more! I am a big fan of casseroles and had been wanting to try a recipe I found a few months ago in my Taste Of Home magazine.
Since the recipe turned out YUMMY and I plan on making it again, I thought I would share the recipe here too.
Taco Corn Bread Casserole Recipe
Author:
Prep time:
Cook time:
Total time:
Ingredients
2 lbs. ground beef
2 envelopes taco seasoning
2 cans (14 1/2 oz. each diced tomatoes, drained
1 cup water
1 cup cooked rice
1 can (4 oz.) chopped green chilies
2 pkg. (8 3/4 oz. each) corn bread/muffin mix
1 can (8 3/4 oz.) whole kernel corn, drained
1 cup (8oz.) sour cream
2 cups corn chips
2 cups (8oz.) shredded Mexican or cheddar cheese, divided
1 can (2 1/4 oz.) sliced ripe olives, drained
Shredded lettuce and chopped tomatoes, optional
Instructions
Preheat oven to 400°. In a Dutch oven, cook beef over medium heat 8-10 minutes or until no longer pink, breaking into crumbles; drain. Stir in taco seasoning. Add tomatoes, water, rice and green chilies; heat through, stirring occasionally.
Meanwhile, prepare corn bread mix according to package directions; stir in corn. Pour half of the batter into a greased 13×9-in. baking dish. Layer with half of the meat mixture, all the sour cream, half of the corn chips and 1 cup cheese. Top with remaining batter, remaining meat mixture, olives and remaining corn chips.
Bake, uncovered, 55-60 minutes or until cornbread is cooked through. Sprinkle with remaining cheese; bake 3-5 minutes longer or until cheese is melted. If desired, serve with lettuce and chopped tomatoes.
Here is what it looks like once you cut into this delicious casserole….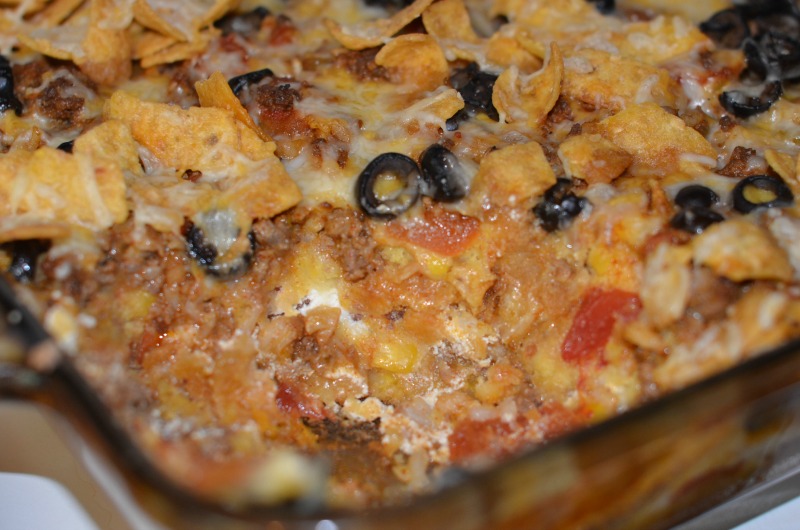 What else would you add into this casserole? Or maybe remove?