I have been a fan of Hot Wheels since I was a little girl. I wasn't too much of a tom boy but I did love to play with cars! Toy cars were fun but video games that simulate driving a car FAST has always been fun too! I will never be too old to play some race games!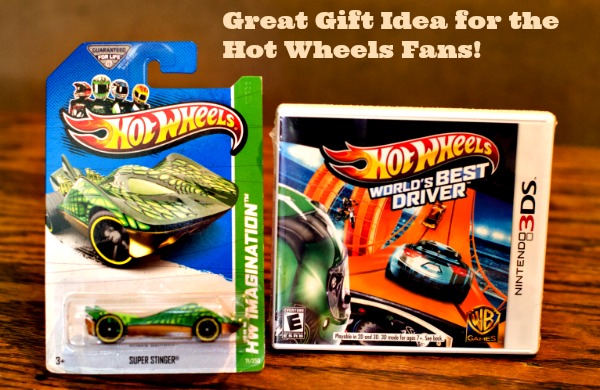 All of my kids have their own Nintendo DS and 3DS game systems as my whole family loves to play games! Let's just say I was a little excited to get a copy of the Hot Wheels World's Best Driver for the Nintendo 3DS game system to check out.
In Hot Wheels World's Best Driver, players join the ranks of Team Hot Wheels™ and compete in dozens of unique, fast-paced, replayable challenges highlighting the driving styles of the different teams. Featuring 24 outrageous and iconic Hot Wheels vehicles and set in four under-the-radar test facilities around the world, the game pushes players to their limits to see if they have what it takes to become Hot Wheels World's Best Driver.
Since I enjoy playing video games that involve racing and driving, I think this game is fun. I think it would be more fun if I was able to play it on a large screen. My son who is only 5 wanted to give the game a try. He said he liked it but it was kind of hard.
Take a peek at the Hot Wheels Best Driver video here:
Here are some features of the game:
Some thrilling vehicle experiences that include extreme motocross, freestyle stunts, drifting and more
24 cool and customizable vehicles.
High-definition visuals where vehicles are brought to life on HD platforms.
Go behind the curtain and unlock the secrets of the Hot Wheels Test Facility, an ever-changing hub world where players can practice their skills before showtime on the circuit.
Want to play the game? You can buy Hot Wheels World's Best Driver
on Amazon!