When Mother's Day comes around the corner, it brings feelings of deep appreciation for one of the most important people in our lives. With the chance to show our unconditional love to our moms, it's only natural that everyone flocks towards special presents to deliver them on the day itself.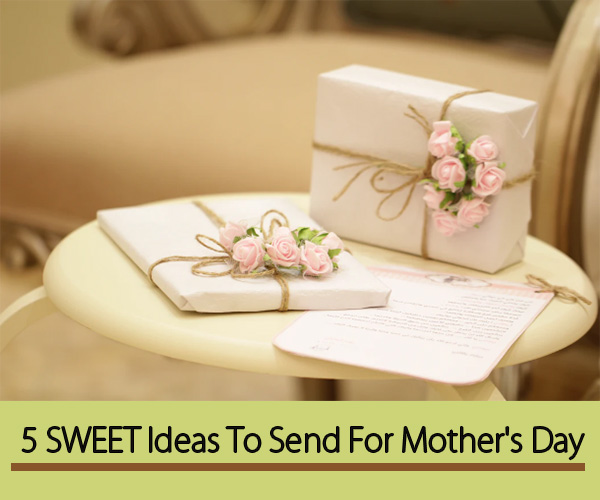 But when you live in another city or can't see each other on Mother's Day, the situation gets a bit more challenging. The gifts that you pick not only have to be available online, but also need to be delivered on time. With this in mind, the sooner you schedule your deliveries, the more it ensures a smile on your mom's face.
To help you through the gift-picking process, here are 5 sweet ideas to send for Mother's Day.
1. Make Something By Yourself
One of the best ways to celebrate Mother's Day is by making a DIY Mother's Day gift from simple items. These presents are created through basic craft supplies and only require simple skills. But they still provide your mom with a sense of appreciation that comes through your emotional investment in the occasion and the present itself.
These gifts especially work wonders when you make them with your children. This shows your mom that even her grandkids are appreciative of her presence, and the thought turns the simple offering into an amazing gift for the special day.
2. Send Over Some Delicious Cookies
When it comes to sweet gifts, not many items can do it better than Mother's Day cookies. When you purchase them through a reliable vendor, they provide a deep sense of flavor that is only matched by the level of appreciation you hold for your mom.
By making your booking ahead of time, you can ensure that these treats are delivered to your mother on time. With their special packaging and personalized presentation, these cookies make for an excellent gift. If you and your mom ever bonded over baking cookies together, the reference adds yet another layer to this sweet offering.
3. Get Some Simple Yet Sweet Jewelry
If you want to go a step ahead, you can buy jewelry such as a pillar bar necklace. Most of these jewelry pieces can be customized for your mother with the name of you and your siblings, or with her own name. This is a great present for those moms who enjoy their accessories and appreciate their fashion's value overtime.
Taking your cue from classic Holiday gifts for women, you can also present a delicate jewelry stand to your mom. These devices show that you care about her to the point where you acknowledge her daily activities, and want to do your best to make her life easier.
4. Buy a Photo Frame
When you live far away from your mom, not many things can replicate the comfort of reliving old memories. That is why one of the sweetest gifts on Mother's Day comes in the form of a customizable photo frame that lets you both gaze back on special moments from your childhood.
Photo frames are now available in a wide variety, which even includes a crystal laser photo frame. With an extensive range of options to choose from, you can easily find something that appeals to your mother's home decor style and personal taste alike.
5. Purchase a Skincare Kit
If you are aware of your mom's skincare regime, why not put that knowledge to good use? By choosing a skincare supplies kit that suits her skin type and regular routine, you can outline that you care about her wellbeing in more than one way.
When you select a range of products that goes right in line with your mother's preference for self-care, it goes beyond the surface-level delivery of a present. In addition to highlighting that you pay attention to her preferences, it also shows a sweet encouragement for her to take better care of herself with each passing year.
These suggestions can help you get the most out of Mother's Day. As long as you make a swift decision, you can ensure that the delivery gets made on time and brings the level of joy to your mother that she deserves on this special day.