The birthday of your best friend is a special occasion that you will want to celebrate.  If you haven't got a gift yet and are thinking of birthday gift ideas for best friends, choose from the list of these awesome gifts that will put a smile on your bestie's face. Make the birthday of your best friend special by giving them from these gifts and making them happy.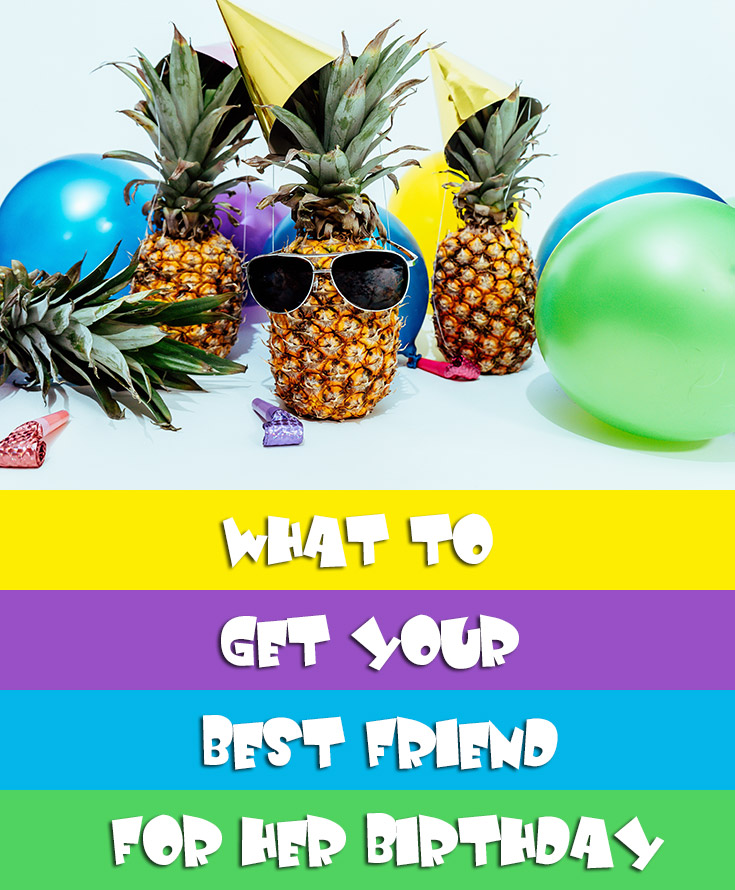 Awesome Birthday Gifts For Your Best Friend
1. Knock-Knock Bestie Journal
This is a fun journal that for your best friend to fill in. It lets her fill up things about you and why you are best friends. This is one of the personalized gifts that you can give your best friend on her birthday. A sweet and a fun journal that is for the keeps for your best friend and reminds of the memories of you to together. Something that she can carry along with her wherever she goes and have you in her memories and remember everything fondly.
2. A pillow with a friendship quote
Gift a throw pillow on the birthday of your best friend that has the friendship quote printed on it. It lets her know that she is a true blessing in your life and that you will be there through her thick and thin. A room decor item that she can place on her couch and remember you for gifting it to her. A wonderful gift that she can cherish and have it for the keeps remembering you fondly.
3. Friendship quoted wall plaque
This is a wall plaque that is made in chinaware and adds to the beauty of the decor when you gift it to your best friend. It has a beautiful quote about friendship and lets her remind of how good friends you are. You can place it in your living room or your office. A nice gift that lets your friend look at it every day and remember all the wonderful things you two have done together and made wonderful memories.
4. Where The Crawdads Sing- New York Bestseller
A bestseller that has a beautiful story and is reviewed by the Hollywood actress, Reese Witherspoon. For your best friend who is a voracious reader and loves fiction, this is the best gift you can give for her to spend time doing her favorite activity, that is reading. Where The Crawdads Sing is the story that is said to have moved your emotions to deeper levels and makes you think for many days about the story and its characters. There are many moments in the story that touches your soul. A beautiful gift that you can give your best friend who is drowned in the world of books and imagination.
5. Set of Rom-Com Dvd's
Rom-coms over the weekends is one of the favorite things your best friend would love to do. Gift these set of DVDs that have 2 sets of rom-com movies that she can enjoy over the weekend. Awesome films that have women themes and mushy stories. These are a collection of gem films for the romantic heart who loves all things sweet and nice. Your best friend will adore you for giving this gift. A collection of movies that they can add to their collection of other favorite items and things that they love to do over the weekends.
6. Novelty Socks With Funny Quotes
A funny pair of novelty socks that have funny quotes printed on them is a cool gift to give your best friend on her birthday. These are simple and awesome gifts that your best friend would love to receive on their birthday. These socks are comfortable to wear while reading or watching television. They come with soft material and can be worn for a longer duration of time. They keep the feet warm during the cold seasons and work as a nice gift idea for giving your best friend on her birthday.
7. Wall Decor and Photo Frame
Gift this simpatico wall decor and a photo frame combination to your best friend on her birthday. It lets her hang all the beautiful pictures on the wooden frame that comes with clips. It makes a great gift that lets her display beautiful memories and brings a smile on her face. It comes with a minimalistic design and has an adjustable rope length. A unique gift for your best friend that she can use and decorate her room with. If you are unsure what to get your best friend for her birthday, gift her this wall decor-photo frame combo.