Guys, if your female friend's birth anniversary is coming up and you're looking for a special gift, think of flowers for birthday presents.  You probably think that a bouquet looks beautiful, but they're not functional. Like most males, you believe that you should give her a practical item instead of something that'll wither in a few days.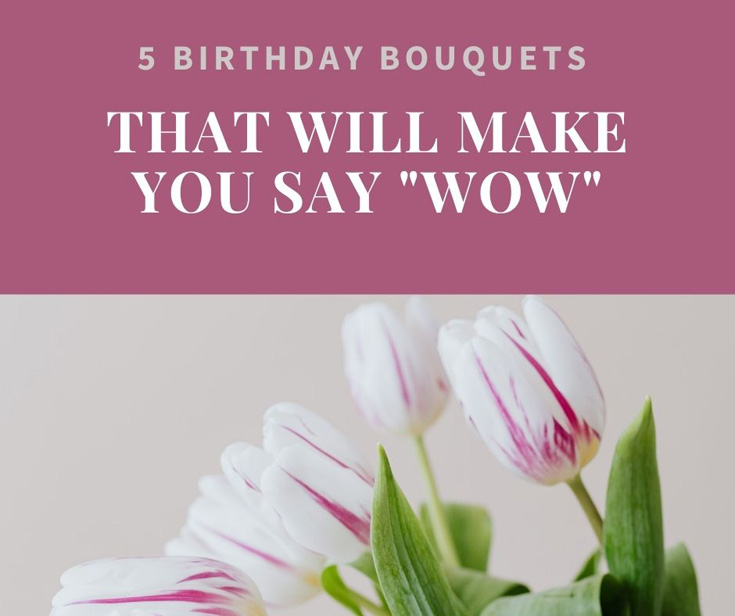 While there are ladies who feel the same way as men, the reality is that most women adore floral presents because they symbolize romance. Have you seen how their faces light up when presented with blossoms?
The reason for this expression of joy is that every bloom has a meaning, some dating far back in history. It's not merely a gift; it's a message.
These days, you have many options such as fresh flowers and live plants when you visit a quality floral store.
However, don't just pick a bunch off the shelf. You should be more creative and adventurous to express your love. An experienced florist will put together an arrangement that'll get your message across.
An Association for Psychological Science article says that most people choose gifts that delight and surprise the receiver.
So, here are five birthday bouquets that will make her, and you, say "wow!".
But first, let's take a look at the most popular flowers for the special occasion:
If you're a traditional romantic, nothing lets your beloved know you care as well as roses do.
Does your significant other love plants? Then, orchids are an excellent choice.
Light up the special day and the celebrant's face with bright sunflowers.
For someone born in April, choose daisies as they represent that month. They're also perfect gifts for any time of the year.
The perfect birthday flowers are lilies, as they symbolize rebirth.
Carnations will make a stunning bouquet as they come in many colors.
Bouquet #1 – Alstroemeria
This bouquet is a floral arrangement combining rainbow-colored Alstroemeria (Peruvian Lily). These lilies are beautiful and have a powerful meaning.
It's the perfect bloom to express your feelings toward your partner. Although each color has its specific meaning, they always represent love, friendship, and mutual support.
As the blossoms also symbolize strength and devotion, they'll convey the message that you've got your loved one's back.
What's more, each of the six petals has a different characteristic such as humor, patience, commitment, understanding, empathy, and respect.
Bouquet #2 – Pink Stargazer Lilies
An arrangement containing bold and bright pink stargazer lilies will brighten anyone's day. Their fragrance will announce their presence before they appear.
The lilies have different meanings, such as success, passion, commitment, and dream fulfillment, depending on their colors. White is usually associated with purity and innocence.
The pink ones represent romance, which makes this floral arrangement the ideal gift to someone you love. The blossoms also convey the advice for people to remain true to themselves and never give up hope.
As these flowers stay fresh longer, so does the emotion it gives the receiver.
Bouquet #3 – Carnations, Lilies, and Blue Thistle
If you're looking for suitable flowers for any occasion, carnations are an excellent choice as they're a symbol of love and affection.
The message the blooms convey is as unique as the receiver. Every color of the blossom has a different meaning, so you can personalize the feelings you want to express.
These are the hues and what they mean:
Red: The dark tone represents love and affection, while the lighter shade symbolizes admiration.
White: Purity and good fortune.
Pink: Mother's endearment and gratitude.
For birthdays and other special occasions, it's best to avoid sending carnations with the following colors as they have negative connotations:
Yellow: Disappointment or Rejection.
Purple: Capriciousness.
Striped: Rejection or Regret.
Bouquet #4 – Rainbow-Colored Tulips
As with most flower types, tulips also have lots of meanings. Red ones are perfect for expressing your deep, unconditional love for your partner.
The pink blooms are also associated with affection, but in a non-romantic manner, and therefore are more suitable for family and friends.
Besides affection, the blossoms mean rebirth as they sprout at the onset of Spring. This symbolism is ideal for birthdays as it marks the beginning of a new phase of life. Folklore states that if you dream of white tulips, it's a sign that you're about to have a new adventure.
You could combine red with yellow flowers for your loved one as the latter is known for cheerfulness and hope.
Fun Fact: Most people think that tulips originate in the Netherlands, but they're wildflowers from Central Asia.
Bouquet #5 – Sunflowers, Roses, and Spider Mums
Who doesn't love the sunflower with its exceptionally bright yellow petals? Here are more reasons to add the flower to your bouquet.
It has several meanings, but many link the behavior of the bloom facing the sun to mean unwavering loyalty and adoration.
The flower is also a symbol of happiness, which makes it fabulous for joyous celebrations such as birthdays.
The rose is a familiar symbol to express love, so that's a perfect addition to your arrangement. You can use an assortment of colors to craft a unique message for your loved one.
Spider mums are usually used in weddings, especially if they're white because that means purity. The flower is included in this birthday bouquet to represent liveliness.
On a lighter side, be careful when sending these blooms to casual friends by personal delivery because it's known in tradition to mean, "elope with me."
Birthday Month Flowers
Another way to delight your special person with beautiful and meaningful flowers is to choose the bloom that symbolizes the birthday month. They're as follows:
January: Snowdrop and Carnation
February: Primrose, Iris, and Violet
March: Jonquil and Daffodil
April: Daisy and Sweet Pea
May: Hawthorne and Lily of the Valley
June: Honeysuckle and Rose
July: Larkspur and Waterlily
August: Gladiolus and Poppy
September: Morning Glory and Aster
October: Cosmos and Marigold
November: Chrysanthemum
December: Narcissus, Holly, and Poinsettia
Make it a Birthday to Remember
As you can see, there are so many blossoms you can mix and match to come up with a bouquet that'll sweep her off her feet.
If you can't choose, the flower specialist you talk to will be able to advise you. Be sure to ask, even if you're buying the blooms online.