Mother's Day is only FIVE days away.
This Sunday is the day for celebrating moms and a day that I always look forward to. Usually this is a day when us moms get to relax and maybe take the day off from cooking and maybe get a little spoiled.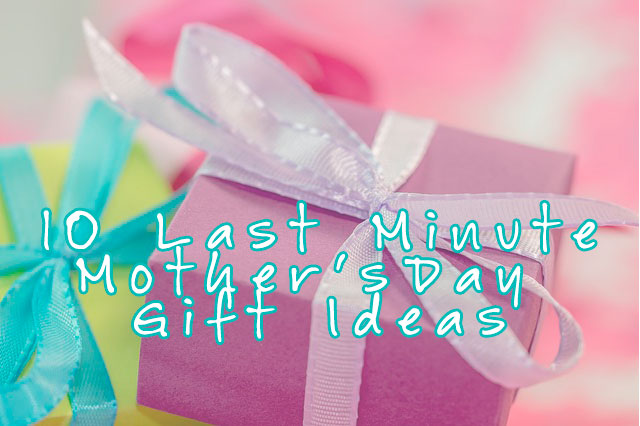 There are many different gifts that you can give to your mom that doesn't have to cost a fortune but will make her smile and know you care. If you are looking for some ideas on what to do for your mom on Sunday below are 10 of my Mother's Day gift ideas that won't cost a fortune.
Flowers – You can never go wrong with flowers. These can be free, expensive and can cost you depending on what you want to give her.
Chocolate Dipped Strawberries – While you can buy these online and have them delivered, they are really EASY to make and mom would love them more if she knows they are handmade.
Pedicure – One thing that many woman love is a pedicure because they are relaxing and usually very affordable. You can spoil mom with a gift certificate or maybe take her on a date and both of you get one. If you really want to spoil mom, make sure she gets both a mani and pedi!
Something With Her Name – One thing that many people love receiving is personalized gifts for all occasions. Why not make her feel special and get something like that says #1 Mom or maybe even #1 Grandma!
Make Mom Dinner – Do you know how many children have never cooked for their mom. If you got skills in the kitchen but have never cooked for your mom, this would be a great day to start.
Put Together A Photo Collage – If you have pictures of you and your mom, make copies and put together a photo collage to bring back all the wonderful memories you shared together.
Make A Homemade Gift – There are so many inexpensive and great gifts that you can make at home for mom that she will love. One thing you might want to make is my homemade bath bombs.
Make A Coupon Book – When you are a mom you are never too old to get a homemade coupon book from your child. This coupon book could include coupons for things like a movie night, dinner night, bowling, etc.
Lunch And A Movie – Make plans to take your mom to an early lunch and hit a matinee movie after.
Spend The Day With Your Mom – If you are one that is busy and never gets to spend time with your mom set aside this day just for you. I bet that the time that she spends with you is better than any gift you can give.
Have you already planned on what you are doing for your mom on Mother's Day?