Underneath all our logic, everyone has a creative instinct. It's what we tapped into when we were kids, but as we get older, we often start to suppress our creativity. We often make the mistake of thinking only trained artists can make amazing things, but what if you could unleash your creativity with some fun and simple projects of your own?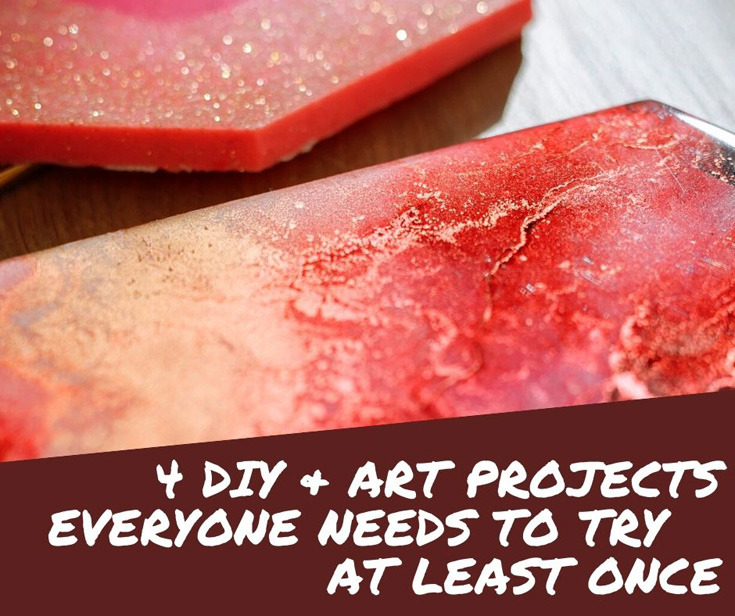 The world of DIY and art is actually so easy to navigate with the help of tutorials. You don't need to sculpt a museum-worthy piece to be considered an artist. One of the coolest things you can do is create things that enhance your home and make it more reflective of your personal style. Here are some amazing and simple projects you can do at home. 

Digital Prints 
Not all art projects need to be done on a canvas, sometimes digital printing can be where we flex our creative muscle and create something great. Sublimation ink and printing projects are great for projects like printing t-shirts and other items. 
Whether you want to create a customized t-shirt for your children and yourself, gifts for friends, or use prints that can be applied to items to make them more special, the possibilities are endless. 
Cosmos Ink is a great place to stock up on all your printing needs, and you can even buy and download their great prints for t-shirts and mugs. You have the chance to create amazing pieces that make the statement you want. 
Acrylic Pour 
You don't have to be a trained artist to make some great artwork on canvas. Acrylic pour is a liquid painting technique that's become a huge trend all over the internet. What you need is acrylic paint in the colors that you like, a pouring medium to give it the right consistency, a canvas and a large place to work with an old cloth or plastic sheet laid down to protect the floors. Make sure the surface you're working on is flat so there are no issues. Once you've got all your colors ready in separate cups, take a much larger cup and pour the paint colors in it, layering one on top of the other. 
Once you have a full cup, pour the contents in the center of your canvas. You can let it spread or you can carefully pick up the canvas and tilt it from side to side to get the paint to fill the canvas. 
Bear in mind that some of the paint will go over the edge of the canvas, which is why you need to prep the floor or table you will be using. While acrylic pour is a bit more challenging, it's a fun art project that you will really be proud of if you pull it off. 
Faux Ceramic Paint Effect 
This DIY trend is all over YouTube and Pinterest because it's not only fun, it's easy and can be applied to so many things. All you need is some baking soda to turn a smooth paint into a chunky and textured paint that you can apply to old glass vases. 
This creates a textured ceramic paint look which can turn an old boring piece into something modern, interesting and expensive looking. The great thing is the base items needed for the projects are quite inexpensive. Thrift stores are a great place to find pieces that would be really good candidates for a ceramic makeover! 
You can buy old glass vases and bowls there, mix the paint color of your choice with baking powder until the paint thickens. Then all you need to do is grab a paint brush and apply it to the vase and let it dry. You can also apply extra coats for a more textured look. This is a fun and affordable project you can do as a family, starting with the process of hunting for glassware that has a unique shape and just needs a little face lift. 
Epoxy Resin
Epoxy resin is a polymer which is mixed as a liquid but cures to a smooth and shiny surface. When poured into a mold, it takes its shape, and people use it for a multitude of projects. People use epoxy resin to make items like coasters, and even to pour over a wood surface to make it look shiny and polished. 
Epoxy resin comes in two parts, the epoxy itself and the hardener that actually sets it. You have to combine the two in order for the process to work. If you want to make coasters, the process is quite simple. 
You will need to buy the molds for the coasters which are actually quite easy to find online. You can also buy pigments to add color to the epoxy resin. Once you have these items, mix the epoxy and the hardener in a cup. You can separate the solutions into different cups so you can mix different colors. 
Once everything is mixed, pour it into the mold, and allow it to set for up to 24 hours. You can use gold acrylic to paint the edges for a really polished final look. With epoxy resin, it's really important that you wear protective gear like a respirator mask, gloves and safety glasses. Remember, even in art, we have to be safe!