New York City is one of the most iconic travel destinations in the United States; with attractions such as the Empire State Building and the Brooklyn Bridge, you'll be able to experience some of the best parts of the USA.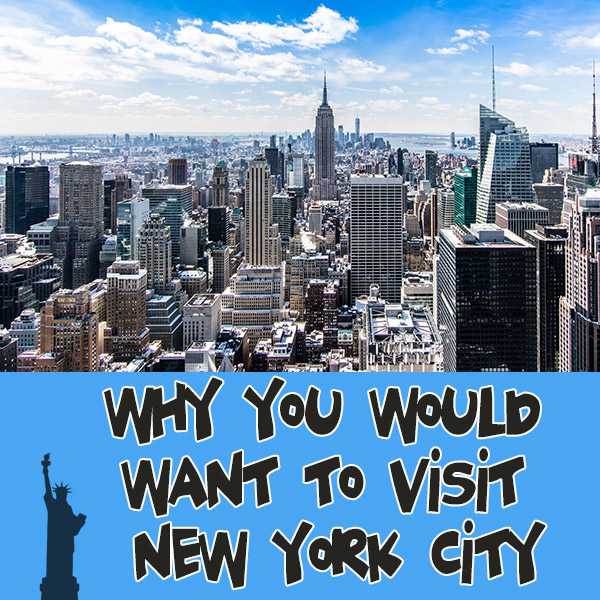 Day or night, New York City is full of attractions and things to do. If you're an early morning person who enjoys a bit of excise, you can go for a jog in Central Park. If you're a night owl and want to find the best parties, New York has a vibrant nightlife scene. If you're still uncertain about New York City, here are a few of the top reasons to come here for your next vacation.
A Holiday Celebration
New York is one of the top places to visit during the holidays. From the fantastic Christmas lights to the amazing annual New Year's Celebration in Times Square, you're certain to have a memorable time if you travel to New York City for the holidays. If you happen to be visiting during Christmas, another popular winter activity is to go ice skating on the outdoor rink. You'll be treated to the magical sight of snow falling and the lights of New York City surrounding you.
Art and Culture
With the amazing art scene in New York City, your vacation is certain to have an exciting vibe. Visit the Metropolitan Museum of Art, one of the most important art museums in the United States with over 2 million works of art. From sculpture to paintings to photography, the Met has something for everyone to see and enjoy. New York City is also famous for Broadway and the Theater District. The best of the best perform on Broadway and at one of the various theater venues you'll be able to enjoy a truly memorable evening. Even if you don't have the chance to see a show, you can still walk the area to see the sights. If you have a personal photographer in New York City, the Theater District is a fun place to take photos and feel a bit like a star yourself.
On the Natural Side
Just because New York City is busy and full of traffic doesn't mean you have to miss out on nature and the outdoors. Thankfully you can visit Central Park, which is a great way to escape the traffic and crowds of New York City. In the summer you can enjoy a walk or bike ride around the pathways and in the winter Wollman Rink is a popular place to go ice skating. The Central Park Zoo is a fun attraction, especially for small children who can enjoy an afternoon of walking around to see the various animals and take part in the shows and interactive events.
Whether you're traveling to New York City for a solo weekend break or for a summer family vacation, you're certain to have an experience of unforgettable memories. There's a lot to see and do in New York City, and to help you better plan your vacation experience you can hire a local photographer like the ones from Localgrapher who can make sure your vacation is preserved in professional photographs as well as give you tips about the best places to visit and things to do based on the time of year you come to New York City.