This holiday season, instead of making the same old sugar cookies, try something out-of-the-box like Terra's Kitchen's White Chocolate Ginger Cookie recipe. Combining the unusual, yet delicious flavor of ginger with the sweetness of the white chocolate chips, these cookies are sure to be an instant classic with friends and families.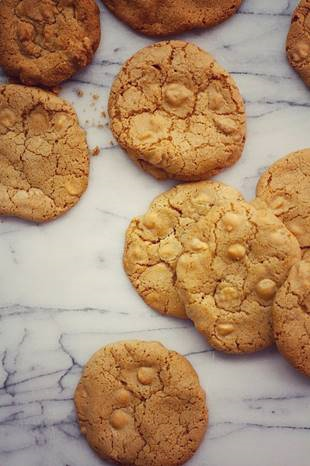 Want to try these delicious cookies full of flavor? Print the White Chocolate Ginger Cookie Recipe below…
White Chocolate Ginger Cookie Recipe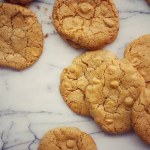 3 cups all-purpose flour
1 teaspoon ground ginger
1 teaspoon salt
1/2 teaspoon baking soda
3/4 cup butter (softened)
3/4 cup sugar
1 cup brown sugar
2 eggs (room temperature)
1 teaspoon vanilla paste (can substitute vanilla extract)
2 tablespoons minced fresh ginger (we suggest using a microplane)
11 ounces white chocolate chips
Preheat oven to 350º F. Line a baking sheet with parchment paper and set aside. In a large mixing bowl, whisk together the flour, ginger, salt and baking soda.
In the bowl of a standing mixer fitted with the paddle attachment, or using a hand mixer cream together the butter and sugars. Add the eggs one at a time, mixing until fully combined. Add in the vanilla paste and ginger, mixing until just combined. Gradually add in the flour mixture 1 cup at a time. Add the white chocolate chips.
Drop by the heaping tablespoon full onto the prepared baking sheet and bake until lightly golden (12-15 minutes), cookies will appear still slightly soft in the middle, but will set up firmly as they cool. (Note: For smaller less decadent cookies use a teaspoon measure and bake for 8-10 minutes). Using a spatula, remove cookies from the parchment to cool. Repeat with the remaining cookie dough.