It's a parent's worst nightmare. Locking a child in the car by mistake. Maybe you left the car running, or you turned the engine off. Whatever the case, you opened the driver's side door, absent-mindedly engaged the car locks, got out, and shut the door. That's precisely when the cold chill ran up your backbone.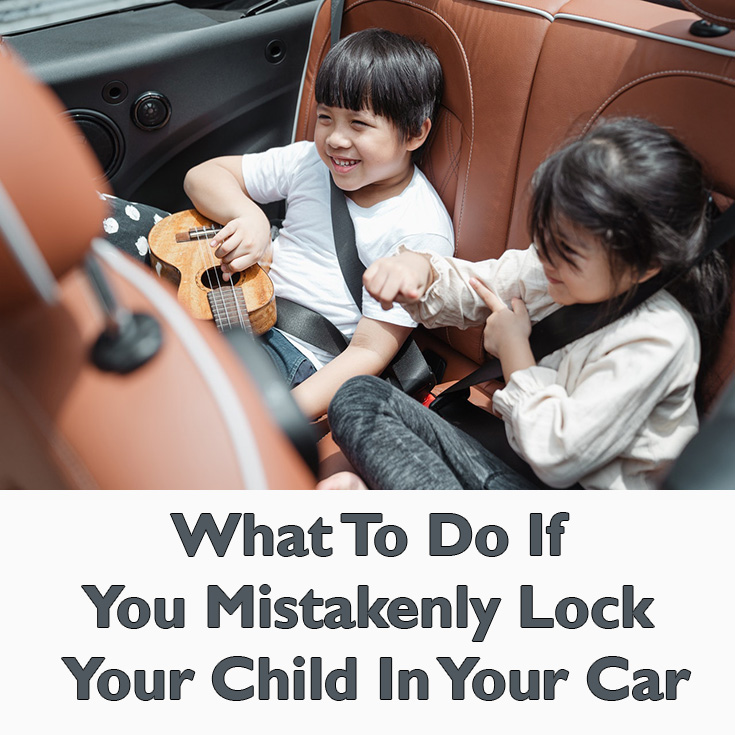 A recent article states that there are very few more stressful situations than locking a young child like a toddler or a baby inside your vehicle. The stress will be compounded dramatically if it happens during a hot summer's afternoon as the temperature inside the car can rise at a rapid, very dangerous rate.  
Says the car key experts, Car Keys Pro, a locksmith in Chicago, you should always keep an ignition and/or key fob replacement handy in a safe place or on your person. This ensures that if the worst happens, and a small child gets locked inside the car, you can easily rectify the situation. 
But if you don't have a spare you need to immediately contact a mobile car locksmith who works 24 hours per day, seven days per week, including holidays. They not only have the equipment necessary to unlock your car, their technicians are trained to get your car unlocked in just a few seconds.  
Problem is, with vehicle technology becoming so advanced with key-less entry and doors that self-lock, accidental child involved lock-outs are on the rise. That said, here are some important steps to take in the event you mistakenly lock your small child in your vehicle. 
Make a Call Before Attempting to Force Your Way Back into The Car
First of all, take a deep breath and don't panic. There are three main services you can call to get your car doors opened without breaking a window. You can call emergency services via 911, contact roadside assistance, or call a mobile locksmith. Once you've made the call and you can be certain help is on the way, you can choose to either wait it out, or break into the car on your own. 
If your child's life is not necessarily in danger, roadside assistance like AAA is a good choice. You don't even need a membership when you call since you can join right on the spot. A reliable mobile locksmith who can be on the scene in moments is also a good choice. But if you feel your child's life is in danger than calling emergency services is the best route. They will not only rescue your child from the confines of the locked car, they will provide medical services if necessary.  
Be Ready with the Details 
No matter who you call to assist with your lock-out situation, you need to know your precise location, and also the model and make of your vehicle. This information will save valuable time and allow services to arrive that much quicker. It also allows them to strategize early on regarding how they will manage to get your car unlocked, be it via locksmith or forced entry. 
Do Not Leave Your Car
If there is one golden rule when it comes to accidentally locking your small child in the car, it's this: do not leave your vehicle. If you should happen to leave your vehicle to seek help, and emergency services arrive, it will only delay their rescue efforts. During the hot summer months, a delay could make the difference between life or death. 
Don't Be Afraid to Ask for Help
Rather than leave the car to seek out assistance during a lock-out involving a child, don't be afraid to call out for help. If you've already made up your mind you are going to break a window (not always recommended since shattered glass can fly all over the place), then ask someone else to find an object that can be used to do the job rather than leaving the car to find it yourself. 
Wave
When either emergency services, roadside assistance, or a mobile locksmith arrives on the scene, make sure you wave at them to get their attention. By actively identifying yourself and your vehicle, you speed up the rescue process. 
It's also important to remain as calm as possible when the services go to work. If you are hysterical, it will only impede their efforts to safely rescue your child from the locked vehicle. This is especially true of newer, more technologically advanced vehicles that can't be broken into as easily as older models.