If you didn't already know how valuable your employees were to your business, hopefully, current times have enhanced your awareness. If not for their hard work and dedication, keeping your business alive in the middle of a global health crisis would be impossible. Despite the health and safety risks to themselves and those they love, they come to work diligently to continue servicing those in need.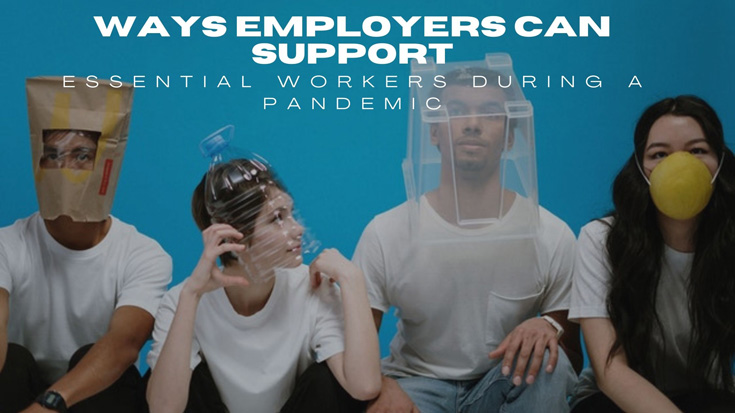 As essential personnel goes above and beyond for your organization, it's only right that business owners do more to show support during these uncertain times. Continue reading for solutions on how to express empathy and thanks to your team.
Prioritize Safety
One of the biggest fears for essential workers is contracting the coronavirus. They spend hours indoors interacting with customers, which increases their risk of exposure. Should one person contract the virus, it puts their family, other employees, customers, and the community at risk for an outbreak. As such, business owners are advised to do what they can to keep their employees safe. Below are some ideas:
Boost cleaning efforts

Allow high-risk staffers to work remotely

Provide all employees with adequate PPE

Comply with all state and federal guidelines during the pandemic

Create methods for regular COVID-19 screening and testing
Be Flexible with Employee Needs
Keeping in mind that there's a global health crisis going on, it is imperative to empathize with your essential workers. Unforeseen circumstances could pop up at any time, causing them physical, emotional, or financial overwhelm. While you still have a business to run, you can show support to your team by being flexible whenever possible. Here are a few ways you might assist an employee in need.
Host regular meetings to address employee needs both in and outside of the workplace

Offer flexible schedules or work from home options for employees struggling with the home-life balance.

Provide corporate housing for employees traveling to metropolitan areas like San Francisco or New York to enhance safety, comfort, and convenience while so far away from home.

Be open to investing in software, hardware, supplies, and equipment to streamline processes and lighten employee workloads.
Show Appreciation Regularly
Essential workers are under a lot of physical, emotional, and financial, pressure during these uncertain times. Each day, they're left to decide between providing a living and safeguarding their families' health and safety. There's no denying that this can harm their mental health. That's why employers are encouraged to show employees how much their efforts are appreciated during this time.
Send handwritten thank-you notes

Announce your appreciation on your company website or social media accounts

Treat employees to breakfast, lunch, or dinner

Give out gift cards for groceries or other essential needs

Offer free career development opportunities like training, certifications, or college courses.

Mail out care packages or gifts for employees and their families to enjoy (the packages might include board games, puzzles, snacks, wellness products, canned goods, or other pandemic necessities like hand sanitizer, household cleaners, and soap.)
Be Present
Last but not least, employers can show support to their essential workers by being present. Your team needs to know that you're in the trenches with them during the pandemic. If you own a brick and mortar business, make time in your schedule to show up. Talk with your employees in-person, find out how they're doing, and discover ways you can help improve their work or home life. For business owners managing a remote team, holding regular meetings, sending out emails, or interacting via chatrooms can give them the support they need.
Since the wake of the coronavirus pandemic, no one has worked harder than essential personnel. Everyday life has been turned upside down, and public health risks are significant, yet they clock in to make sure business is handled. Knowing how much they go through and sacrifice during these uncertain times should encourage employers to do more to show their appreciation and support. By considering the ideas listed above, business owners can make essential workers feel like the heroes they are.