Dining out provides the perfect opportunity to socialize with family and friends, celebrate an accomplishment or save yourself time. With so many restaurants reopening, you have the chance to enjoy these perks once more. However, life has changed dramatically in the last year, so it's crucial that you factor in ways to protect your family's welfare while dining out. As a parent, safety is always your first priority.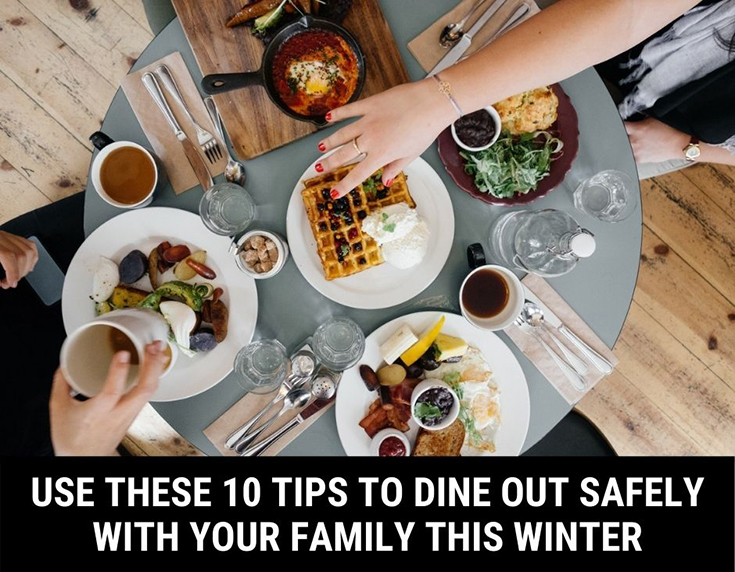 In 2019, a survey showed that more than 56% of Americans who eat out do so two to three times a week. During these pandemic times people are still going to go out if they are allowed. If you are one of those families that want to get out of the house,  be safe and take preventive measures. 
Here are 10 tips to reduce your risks and dine out safely with your family this winter. 
1. Do Your Research
Start by looking up your state's regulations. Every area is different, so research the dining requirements for your region. Most businesses are operating at reduced occupancy capacity, but you should check with the restaurant to know what to expect. 
Some places may only offer carry-out or outdoor seating, which can significantly affect your dining experience. Look up which restaurants are allowing indoor dining and check to see if they have reduced hours. You can call ahead or view their social media pages for more information. Doing research will help to ensure your family has a smooth transition to dining out again.
2. Check the Weather
Check the weather in advance before choosing a location. Some restaurants provide outdoor heaters or blankets for guests, but many won't have these measures in place. If it's cold or rainy outdoor seating may not be available at your chosen location. To keep everyone from getting sick, you should plan to visit a restaurant with indoor seating available if there's bad weather outside.
Use your best judgment if the meteorologists are predicting extreme weather. A seven-day forecast can accurately predict the weather 80% of the time, and five-day forecasts are reliable 90% of the time. It's always best to air on the side of caution rather than get behind the wheel in bad weather — even if only driving a short distance.
3. Make Reservations
Call in advance and make reservations at the restaurant of your choice. This will ensure that there is a table available for your family. Many dining establishments are using block scheduling to ensure their occupancy remains below capacity. Making reservations will ensure you have a table and don't have to wait in line.
4. Bundle Up
Make sure you wear clothes that suit the weather. It's best to plan an outfit with layers so that you can adjust as needed once you've entered the restaurant. A base layer will help to wick away sweat, while a middle layer will keep your body insulated. The outer layer will protect you from the wind and the elements.
Keep in mind that you may have to stand in line outside if there's an unexpected delay. If you keep extra hats, gloves and scarves in the car, you'll stay prepared for unforeseen events.
5. Wear a Mask
One of the best ways to protect yourself is to wear a mask. Select a cover that fits well on your face with minimal openings. You should wash it regularly or wear disposable masks that you can discard.
When out in public, keep the mask on at all times. You should only remove your cover once you have sat down at the table and are preparing to eat or drink. If you need to use the restroom, put it on again before standing up from the seating area.
6. Bring Hand Sanitizer
With germs and viruses running rampant during the winter season, it's best to carry hand sanitizer with you at all times. Do not assume that the tables have been sanitized or that the location will offer complimentary sanitizer for guests. While you should hope for the best — plan for the worst.
Consider keeping one in the car so that you have a spare.
7. Wash Your Hands Often
Washing your hands will help to reduce the spread of bacteria. Remember to rub your hands for at least 20 seconds using soap and water. Always wash your hands before eating or after using the restroom. You accumulate germs by touching people, surfaces and objects throughout the day — so when in doubt, give them a quick wash to stay safe.  
8. Prepare Your Children
Speak to your children before leaving so that they know what to expect from the dining experience. Many things have changed, and it's your responsibility to educate them on the new normal. It's vital that they wear masks and avoid unnecessarily touching objects or people. Children are far more likely to run off and go exploring, leading them to touch unclean surfaces. Ensure that they recognize the seriousness of their actions, so they are prepared to eat out.
9. Maintain Social Distance
The CDC recommends you maintain 6 feet of distance between yourself and others when out in public. Follow these guidelines by leaving space while in line or going to the restroom. Exercise patience and resist the urge to crowd in a single area. If employees allow you to choose your table, then select a spot far away from others.
10. Stay Home If Your Feel Unwell
If you or anyone in your family feel unwell, then stay at home. If you've come into contact with someone who is sick, then avoid going to public places.
It's your responsibility to self-isolate for 10 days if you test positive for COVID-19 and 14 days if you come into contact with someone who has coronavirus. 
Safety First
Use these 10 tips for dining out safely with your family this winter. Support local businesses and create unforgettable moments with your family. You can enjoy your favorite places without compromising safety. Simply remember to exercise caution. If you notice red flags like overcrowding, choose another restaurant rather than risk your family's health.