I'm sure you've played or seen those inflatable games at carnivals, fairs and parties before. But did you know that there are now inflatable games designed specifically for winter? That's right! These games provide a unique opportunity for outdoor entertainment during the winter season.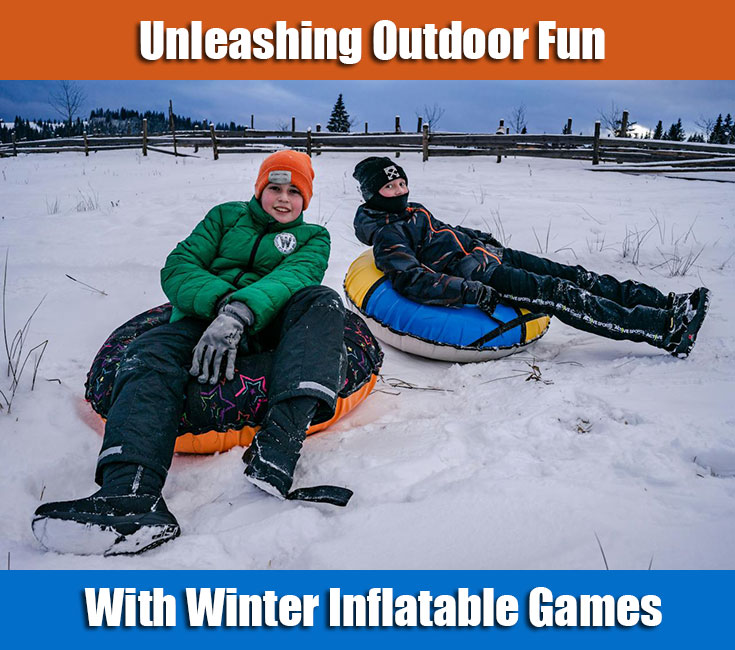 They are an excellent way to embrace the cold while having fun with friends and family. All you need is a winter inflatable and you are ready to have a lifetime of winter fun and memories. They come in various shapes, sizes, and themes, allowing people of all ages to partake in thrilling winter activities. They fit well into any party idea, events or play idea.
In this article, we will delve into the world of winter inflatable games and how they are bringing outdoor fun to the colder months.
Winter Inflatable Games for You
The winter can make you feel reluctant to leave your homes or engage in outdoor activities, but it doesn't have to be. You can enjoy the winter season with winter inflatable games. Trust me, they are a lot of fun. You can choose from a variety of inflatable game options or even make your own custom winter inflatables to make the experience even more personalized. These games are perfect for getting some outdoor exercise, enjoying the snow, and spending some quality time with your loved ones.
If you're looking to buss up your outdoor fun, here are a few winter inflatable games to consider:
Snowball Battle Game
Snowball fights are one of the most popular winter games that everyone enjoys, especially children. With an inflatable snowball battle game, you can mimic a wild snowball skirmish without the cold snow and chilly wind messing with your body. Compared to the regular snow battle game, an inflatable snowball fight set is even more exciting. It's much safer and more fun. 
The snowball set features a snowball bucket, a launcher, and snowball targets. Inflatable Snowball sets are available for rental, and they allow you to engage in a snowball fight without fear of getting hurt.
Snow Tube Racing
Have you tried snow tube racing before? Heads up; it's thrilling and adrenaline-pumping. The boys are going to love it. It's so easy to set up. With two inflatable snow tubes and a starting point at the top of a hill, you've got yourself a snow tube racing game for the crew. With a snow tube racing inflatable, you've pretty much got yourself a game. 
Giant Snow Globe
Another popular winter inflatable game is the giant snow globe. It's an inflatable game that features a large clear ball that can accommodate one or two players at a time. The ball functions as a snow globe, where participants are surrounded by snow. Inside the inflatable snow globe feels like winter with snowflakes swirling all around. 
You can use it for events during the winter or set it up for your children to have some casual fun with it. You should consider adding it to your winter holiday-themed events. 
Giant Winter-Themed Slide
If you want to hold a sports party, you might want to consider getting a winter-themed slide. A giant winter slide is an excellent way to take your outdoor fun to a whole new level. It provides a slippery surface that is perfect for sliding, and kids will surely enjoy it. Some adults may even join in on the fun. 
You can also personalize it with winter party themes, winter characters, or anything else you or your child likes. For example, if your child loves the movie "Frozen," you can have a slide decorated with pictures of Elsa and other characters from the movie. Contact an inflatable manufacturer and they will be able to create any design you want.
Winter Bounce House
A winter inflatable bounce house is an excellent option for families and kids. You can decorate inflatable houses with winter themes like snowflakes or Santa Claus and Christmas trees. They're perfect for entertaining children during winter parties and events. Winter bounce houses come in different sizes, and they're suitable for both indoor and outdoor use.
Inflatable Igloo
An inflatable igloo is also great for outdoor winter games. You can incorporate it into your winter-themed event as it has plenty of space for the kids. There are different sizes of inflatable igloos. Some come with built-in basketball hoops and other games to keep the kids busy. Others are large enough to accommodate kids.
Have a Blast with Winter Inflatable Games
Whether you're looking to break free from the winter hibernation routine or simply want to enjoy the frosty wonderland outside, these winter inflatable games are the perfect solution. With a variety of shapes, sizes, and themes, there's something for everyone to enjoy – no matter their age. Try them out today!