Having sturdy name labels before a school year starts will help you a lot. It will prevent you from having to stress over your children's missing articles. This is no small feat, considering parents have much more important things to focus on.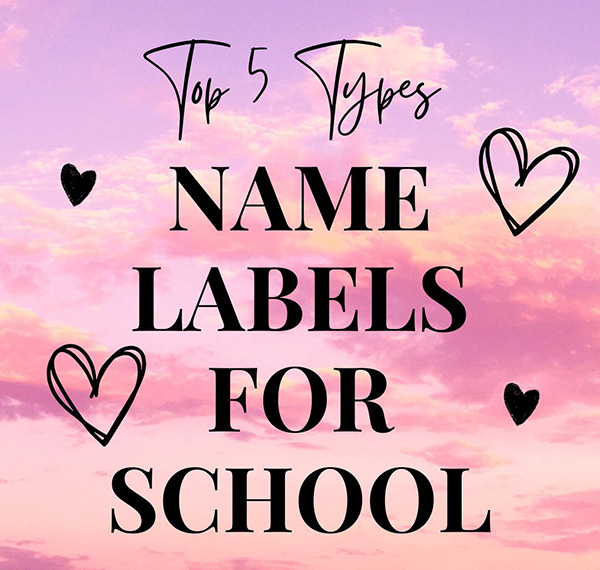 Luckily, there are many options to choose from when it comes to name labels. And they all serve different purposes. There are five types of labels that are the most popular with parents. These are DIY labels, write on labels, customized name labels, name tags and name stamps for clothes. All of these have pros and cons, depending on what you wish to use them for. So, up next is a list of the top 5 most popular name labels to help you choose one. 
Cricut is the most popular method to create DIY labels. Cricut is a company that makes cutting machines that work with an app. You can personalize almost anything with them, from everyday items to custom cards. This method is fast, easy and customizable. Besides making your own design, it's practical in the sense you can make it at home and skip a trip to the store. It comes with two types of paper and ink to make labels. The first type is produced to be durable and made to be waterproof, dishwasher safe and microwave safe. While the other type is made with regular paper and ink and can be used for pantry items. Be aware these labels don't work on clothes. 
Write-on labels feature a blank space where you can write your children's names. It's very convenient because you can use the same pack for all your children as you are the one filling in their names. It's a very cost-efficient way to go for name labels. The only downsides are that you'll have to write the names with waterproof ink, and of course, you'll need to have good hand writing. Keep in mind most write-on labels won't work for clothes as most are designed for plastic and hard shell items.
Customized name labels are a great alternative, albeit pricey. You'll have labels with a unique design and guaranteed to be more durable than the others, as the quality of the materials they are made of ensures  the labels and the names on them stay on. Another advantage is these labels are sold in packs of different sizes and materials. This means you'll get labels you can put on clothes and will stay on in spite of washing and drying. 
There are name tags that have no adhesive and can be put on clothing, shoes, and bags. This is great because you can wash these items and not worry if the name will fade. Also, because of their hanging design, they might be uncomfortable for children to wear on their clothes. These name tags are also pricier than the regular ones, so it's important to consider this factor.
If you are looking to label clothing, name stamps are the way to go. They go for reasonable prices and won't wash out easily. Bear this in mind if you want to sell or donate your children's clothes once they've outgrown them. Also, when you use the name stamp for clothes, make sure you adjust the lid on properly, so they won't dry up. Once you own name stamps, make sure to check them before the beginning of every school year in case they're dry, and you'll need to buy new ones.