More and more often, plastic surgeons have started to advertise certain procedures or even offer packages aimed at mothers. These "mommy makeovers" are aimed to improve facets of your appearance that you may feel have taken a hit after your pregnancy.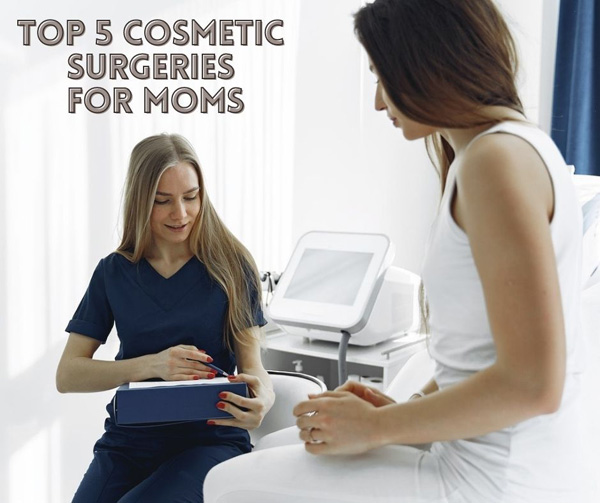 They tend to focus on contouring and tightening your existing features rather than artificially augmenting or changing them. They tend to follow the words of Dr. Michael Zenn, a Raleigh plastic surgeon, when he suggests that cosmetic surgery "does not seek to change your appearance, but to refine and rejuvenate." With that in mind, here are the top 5 cosmetic surgeries popular with moms. 
1: Breast Augmentation
One of the areas of your body that sees the most change with pregnancy and potentially breastfeeding is, of course, your breasts. That is why several of the procedures on this list have to do with restoring your pre-baby breasts. Breast augmentation is probably one of the first procedures you think of when you think about plastic surgery, but it doesn't have to be obviously artificial or tacky. Breast augmentation can help if you feel that your breasts have lost volume or shape post-pregnancy and can restore them to their previous size and shape.
2: Breast Lift
A less drastic procedure that is also commonly performed is a breast lift. If you're still happy with the size of your breasts but feel that they sag or hang unevenly, this is the procedure for you. The excess skin caused by your breasts growing larger during pregnancy is removed from the bottom of your breasts, causing them to lift and appear more firm. This is an excellent option for people who want a less invasive procedure but still want to improve their breasts.
3: Liposuction
Liposuction has been given a bad name by gossip magazines. While it is certainly true that it's often used by celebrities to appear unnaturally thin in the places where they want to appear thin, it's also a useful tool for anyone who is recovering from a pregnancy. You won't have to worry about fitting into your pre-baby clothes at all, since liposuction can extract the adipose that tends to gather in natural fat deposits of your body. These areas include the belly, thighs, and bottom, but liposuction can help anywhere that your excess baby weight is stored.
4: Tummy Tuck
Another option for getting your pre-baby body back is investing in a tummy tuck. No matter how much you diet or exercise, the incredibly elastic skin of your stomach may never go back into place. This often leaves people with excess skin that hangs from your stomach and is unsightly to look at. A tummy tuck tightens that excess skin so that your stomach is tight and smooth once more. This also often has the advantage of ridding you of stretch marks and C-section scars.
5: Thigh and Butt Lift
Mothers of multiple children have probably noticed the loose skin or adipose that's accumulated around your lower body over the course of their pregnancies. In a similar way to how breast lifts perk up sagging breasts and tummy tucks make your stomach smooth once more, a thigh and butt lift will remove the excess skin from your lower body. This will make your lower body appear smoother and thinner. Many people have success with this procedure and look far more like they did before they had children.
The reason why these "mommy makeovers" have exploded in popularity is obvious. Cosmetic plastic surgery can increase your confidence and allow you to look and feel like your best self. Whether you're a new mother or have been struggling with accepting your post-baby body for years, you can find plastic surgeries and plastic surgeons who will help you find out what will work for you.