If you live in a cold environment where the air is constantly dry, you probably know the importance of a humidifier, more so for a baby. Dry air can cause a lot of difficulties in your baby's breathing system and eventually lead to chest and nasal problems that could be avoided. Baby humidifiers are becoming quite the popular additions in baby nurseries and if you are wondering if you should get one too, here are some of the best ones in the market. They are still in stock at selected retailers despite the recent buy up for humidifiers and baby thermometers: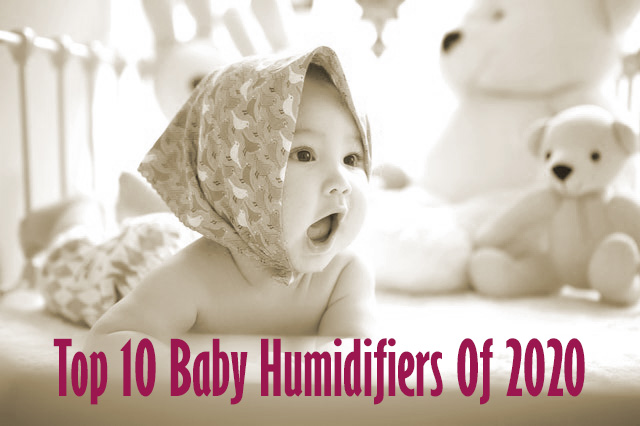 LEVOIT HYBRID ULTRASONIC HUMIDIFIER
The translucent humidifier is made with modern technology for the best results and added convenience. It is available in six litres to last up to thirty-six hours between refills and a remote control panel for easy operation. You can switch it on, off and adjust it with a push of a button. It also features a sensor that shows your current humidity levels on an LED screen. 
You can use it for your baby's aromatherapy needs while enjoying a stylish and convenient addition to their nursery. It is also useful for improving conditions such as dry skin and stress symptoms in your baby.
URPOWER ESSENTIAL OIL DIFFUSER HUMIDIFIER
Without delving into the features, we are almost certain that you will love the wood grain finish. It is attractive and will blend well with most baby nursery designs. To add to this, it comes with a rotating LED light display with seven colours.
The URPower is a two-way assistant that helps you control the humidity levels in your baby's room while also enabling you diffuse essential oils for your baby's aromatherapy. It also features four timer settings that let you customize the durations.
iTVANILLA ULTRASONIC HUMIDIFIER AND OIL DIFFUSER
The winning feature of this humidifier is its humidification. It can disperse humidity in your baby's room in just a few minutes.
The humidifier also works as an essential oil diffuser. You can disperse different essential oils in the baby during aromatherapy session to help treat certain problems such as dry skin and breathing difficulties.
It is a great choice for babies with sensitivity to noise and light when sleeping. It has a sleep mode which allows it to work quietly with the indicator light off. It also features a large five-litre tank that lasts up to thirty hours between refills.
MIRO COOL MIST HUMIDIFIER
The best feature about this particular humidifier is its ease to clean. It is completely washable, that is, can easily be dismantled, cleaned and reassembled. It is tankless and comes in a variety of vapour caps. It can be refilled when in use with the floating mist maker. It is easy to use, convenient, affordable and nursery friendly in terms of use and appeal.
PURE ENRICHED MISTAIRE ULTRASONIC HUMIDIFIER
The Pure MistAire humidifier features a nightlight feature that works great for babies who are used to falling asleep with one. It automatically shuts off when the water levels are low, sparing you the need to keep checking.
The humidifier is also small and well-themed to fit most nursery styles. It has a 1.5-litre water bank that lasts up to 16 hours. It also boasts the ultrasonic cool mist technology that has high and slow humidification speeds. It works great in reducing and treating dry skin, stuffy nose, breathing difficulties and some viral infections.
HONEYWELL COOL MIST GERM-FREE HUMIDIFIER
The Honeywell humidifier has amazing antibacterial properties that help remove impurities from water and reduce white dust. This also helps prevent the growth of mould which could not only be hard to remove but also cause a musty smell. The germ-killing technology wipes off up to 99.9% of contaminants such as mould and spores.
The humidifier also features a three-speed system to adjust the moisture level and sound output.
It is reasonably priced with a tank capacity of one gallon that lasts up to 24 hours. In terms of size, it is perfect for small and medium-sized rooms.
VICKS WARM MIST HUMIDIFIER
This humidifier is perfect if your baby constantly struggles with coughs or has a stuffy nose. It comes with a medicine cup that you can use with liquid inhalants.
Apart from adding some moisture to the dry air in your baby's nursery, the humidifier also cleans the moisture and removes up to 95% of contaminants such as germs and bacteria which can collect in the nursery and o your baby's play mat.
The container comes in a pleasant container that is translucent to allow you to see the water levels. While it is not exactly marketed as an oil diffuser, you can also add some Vick's oils into the water for some mild aromatherapy to help treat your baby's flu and coughs.
It tanks a gallon of water to last up to twelve hours. It also produces warm mist which is perfect for the cold seasons and weather.
CRANE FILTER-FREE HUMIDIFIER
The kid's humidifier is available in a playful penguin shape that is meant to fit in your baby's nursery. It boasts a filter-free operation with microbial material that helps to trap mold and other contaminants in the water.
The tank an hold a gallon of water which allows up to 24 hours of use.
URPOWER AROMA ESSENTIAL OIL DIFFUSER AND HUMIDIFIER
This can be used to add humidity in your baby's room while also diffusing essential oils for aromatherapy. It features a seven-colour changing LED light set for visual appeal and your baby's entertainment. This also helps it serve as a great night light.
The humidifier comes with four timer options and light dimming options. The 300ml tank works for up to eight hours.
VICKS FILTER-FREE ULTRASONIC COOL MIST HUMIDIFIER
The filter-free humidifier produces a cool mist that is useful for relieving colds and coughs. It can hold two VapoPads at once; you can use menthol for colds and rosemary and lavender scents for a relaxing effect during bedtime.
The tank can hold 1.2 gallons that can be used for up to thirty hours.
In conclusion, a good humidifier has many benefits for your baby's health. It helps them relax and sleep well while helping you relieve conditions such as dry skin, colds, flu and a stuffy nose.