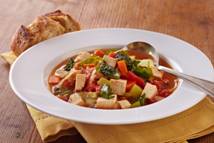 Do you like to create recipes with tofu? Here is a recipe for Tofu Ribollita that was created by Debi Mazar & Gabriele Corcos, stars of Cooking Channel's show Extra Virgin.
Tofu Ribollita Recipe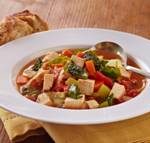 2 Tbsp. extra virgin olive oil (plus more for serving)
1 red onion (diced)
1 carrot (peeled and diced)
2 stalks celery (diced)
2 cloves garlic (diced)
1 small bunch Tuscan kale (stems removed, chopped)
½ head savoy cabbage (chopped)
1 14.5 oz. can whole tomatoes, with their juice
4 cups vegetable broth
½ 14 oz. pkg House Foods Organic or Premium Tofu Firm, drained and diced
4 oz. stale bread (cut into ½ inch slices)
Kosher salt and freshly ground black pepper
Heat olive oil over medium high heat in a large heavy soup pot. Add the onion, carrot, and celery, and sauté until very tender, about 6 minutes. Season the mixture with salt and pepper and toss in the garlic. Sauté until the garlic is fragrant, about 1 minute.
Add in the kale and cabbage and sauté until the greens are wilted and soft, another 4 minutes. Stir in the tomatoes, and break them up with a wooden spoon.
Add the broth and bring up to a boil, then reduce to a simmer and cook for 35 minutes, stirring on occasion.
Stir in the tofu and crumble in the bread and cook for 15 more minutes.
Serve in warm bowls drizzled with olive oil.