The days of summer barbecuing and poolside drinks have given way to crisp autumn air and early sunsets. When the weather starts to cool down, you may want to invite everyone over for a seasonal dinner party. It's the perfect time of year for your first autumn get-together, so learn how to throw the ultimate party. This is the best way to host a dinner party this fall and use the season to inspire everything from decor to ingredients.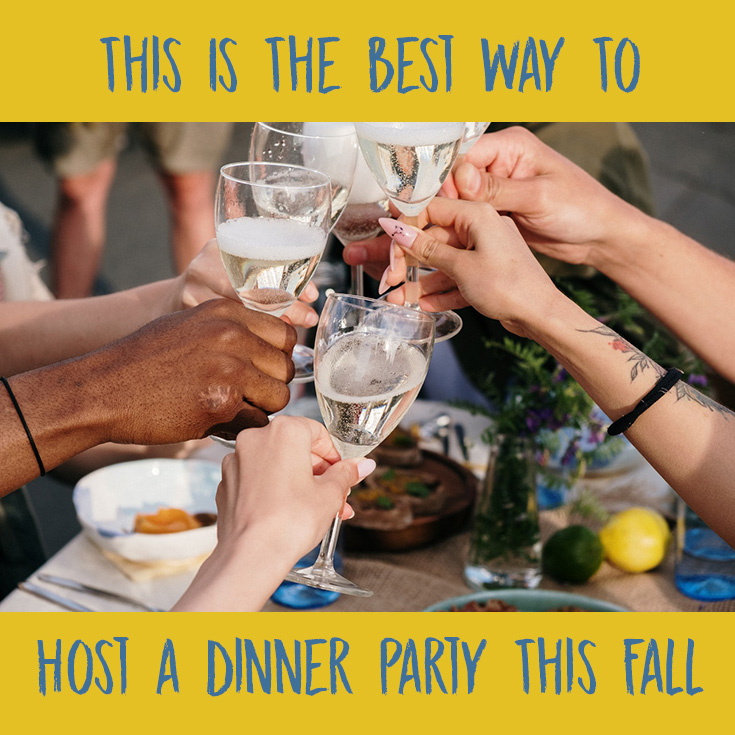 1. Create Your Guest List
You won't know how to start planning your dinner party if you're unsure about who's coming. Draft a guest list that includes everyone you'd love to invite. Send invitations early so people have time to RSVP. Their RSVP notices will determine things like how many meals you'll need to serve and how much seating should fit around your table. 
2. Set Your Budget
How much can you spend on groceries, drinks and decor? Determine your budget before you go shopping so you don't accidentally overspend. It helps to categorize each party element and set a max amount of spending for each detail. Even though your fall party will be a blast, it shouldn't cause additional financial stress.
3. Think About a Theme
Fall parties naturally have an autumn theme, but you can take it a step further. Consider fun themes that play off fall motifs or holidays, such as:
Oktoberfest

Halloween

Pie bake-offs
Deciding on a specific autumn theme will help you decide on the more minor details. Instead of setting up a few fake pumpkins in your dining room or hanging fairy lights, use the theme to drive your menu choices and dress code.
4. Decide on Your Decor
Household decorations set the right tone for dinner parties. They turn a meal into a celebration, especially if the decor matches your theme. Use fall elements like orange and wreaths, seasonal flowers and thematic images like pumpkins. The right decorations will invite everyone inside and keep things fun throughout the night.
5. Establish Your Menu
It wouldn't feel like an autumn party if you served a Mediterranean salad or pineapple grilled chicken. Your food and drinks should match the time of year while working together for the ultimate flavor fest. 
Look into making foods like pumpkin soup, butternut squash salad or pork ramen with curry-roasted acorn squash. The latter would pair well with a beverage like Junmai sake, which reflects the 17th-century original blend that created its rich, earthy flavor.
Figuring out a menu with autumn ingredients is the best way to host a dinner party this fall. Your guests will celebrate the season with every bite and enjoy foods they likely haven't had since last year.
6. Play With Lighting
The sun sets earlier in fall, so it's a great time to play with lighting for your next party. Set the evening mood with soft fairy lights or Halloween-themed string lights around your front porch. Battery-powered candles will also create a relaxing mood so everyone's ready to sit back and have a great time after they arrive.
7. Pick Your Background Music
Everyone's been to a dinner party where they don't know other guests. It's painfully awkward to sit in silence while waiting for the host to finish cooking in the kitchen or greeting guests, but you can avoid making anyone feel uncomfortable by playing background music. Create a playlist of relaxing autumn instrumental songs or your latest favorite bops that just hit the radio.
8. Make a Kids' Zone
Your guests may bring their kids if they can't find a babysitter, so make a kids' zone within eyesight of your dining table. Set up a place where they can sit down with coloring books or puzzles. They can use the same table to eat their child-friendly dinner foods. Older kids will appreciate not feeling stuck with adults they don't know and younger kids will have more fun in a special zone with toys or activities.
9. Use Your Backyard
Get outside and take advantage of the cool evening weather for your next dinner party. Your guests could relax with tea and coffee after the meal or start a bonfire. If it's a small group of close friends or family members, play a few games around a campfire or reminisce over pictures. They'll love the change in scenery, especially if your dining room gets a bit stuffy after a while.
10. Remember Household Supplies
There are specific household supplies you'll need before a dinner party besides the pantry essentials like spices, flour, and canned goods. You'll also need things like extra blankets if you sit around a bonfire or matches if you want to light candles. Don't forget essentials to keep your guests comfortable, such as:
Toilet paper

Bathroom soap

Napkins
You shouldn't have to worry about going to the store in the middle of your party because no one can use the bathroom. Add these essentials to your grocery list to make your home ready for everyone's arrival.
Host a Dinner Party This Fall
Invite your loved ones over to celebrate the autumn season in style. Using these planning tips is the best way to host a dinner party this fall because you'll prepare for your guests' needs and create an event that everyone can enjoy.