Everyone has dreams and aspirations for how they want their lives to pan out. From a very young age we get asked what our dream job is, and while being a princess or football player might be amazing, these answers usually change as we get older. Often, you have a different dream job throughout your teens to when you reach your mid-twenties, and it has probably changed a couple more times since then too. As we get older, our interests and passions alter, and just because the idea of your dream job is different now than to ten years ago, it does not mean it is out of reach. Lead your life in the direction you want it to go and follow this guide to help land your dream job.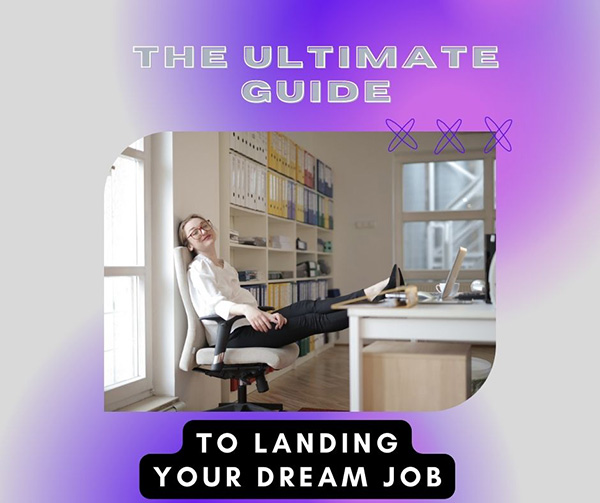 It is Never Too Late
Firstly, you have to get out of your head. Many people are still conditioned into thinking that the path they chose for themselves when they were in high school is the one that they are destined to stick with for the rest of their lives. But this just isn't true. Once you have started your career path, it can be scary and daunting thinking about removing yourself from it and starting all over again. But it is never too late to make any changes that are going to improve your overall quality of life. Get out of this mindset and go after your dreams. Remember, there is a very big amount of quality resources on the Internet, where you will be able to come across delightful and lucrative job positions whenever you want.
Know Your Strengths and Desires
To be able to land your dream job, you need to have a clear idea on what that job actually is. There is no use just saying that you want to work with children, because there are so many different professions that work closely alongside young people but not all of them will be the right fit for you. Get to know yourself thoroughly and know what drives you. Think about what you would be happy doing even if you didn't get paid; be clear on what your strengths are so you can work these to your advantage; know your value as a person and as an employee.
Don't be Put Off by Lack of Experience
You see so many job advertisements that want two to three years of experience in a similar role or field. You see the on-the-job requirements and immediately discard it because you don't have the experience. Stop right there. This is not the only thing employers are looking at. If you can showcase that you have transferable skills from other jobs that would be useful in the role, make it obvious how passionate and eager you are to excel in the field and clearly apply your current skills and talents to the role when applying, you will definitely still be considered as a candidate. The saying goes you miss all of the shots that you don't take.
Get Experience in the Field 
If you really feel like getting relevant experience is the leading cause of you not being considered for roles in your dream career, then make the effort to get this experience. If you have spare time, then great – use this to intern, shadow or volunteer to get your foot in the door within the sector. Life is busy and it can be a struggle to find this time, but if the end result is ultimate job satisfaction and overall improvements in your mental health and quality of life, forfeiting one day of pay at your current job to get you this experience will definitely be worth it.
Set Clear Goals and Ambitions
Knowing where you want to be and when gives you something to work towards, and this can be a huge motivating factor to get you moving towards achieving your dream. Set out goals for the year, and break this goal down further into months, weeks and even days. If you are making steps each and every day that are pushing you closer to getting your dream job, no matter if it is as small as sending an email or doing some research, the quicker you will be waking up each and every day knowing you have made it.
Sell Yourself in Your Resume
Your resume is the first impression employers get of you, so they have to stand out. Unfortunately, these days a lot of resumes aren't looked over by actual human beings, but there are a few tricks to get yourself noticed. Your resume needs to be short and simple, using a clear structure and focusing on your achievements, not just listing all the job requirements. But the key to getting yourself through to the interview stage is using the same words that have been posted in the job advertisement. It seems like a lot of effort and it is easy to get lazy with it, but you must completely tailor your resume to each and every position that you apply for if you are going to get an interview. It is the golden rule of resume writing. 
Excel in the Interview
Everyone gets those pre-interview nerves; it doesn't matter what job it is, where you are, whether you know the interviewers or not, or even whether you actually want the job or not. Nerves are normal. One way to help guide you through the experience is being properly prepared. Interview prep is vital if you are going to land your dream job; you've got this far, now is your time to shine! You may have heard the saying fail to prepare, prepare to fail, and this is definitely true with interviews. You need to be in the know and ready for anything that gets thrown in your direction. Career coaches, like those at Placement, are experts in helping people level up their careers and land their dream jobs. If you aren't sure how to begin preparing for your interview, take a look at this guide to interview prep which has been successfully used by Placement clients. By using this advice and being totally prepared, you'll be strutting out of that interview oozing confidence and just waiting for that job offer to come in. 
Landing your dream job isn't always going to be a clear, direct journey. There are going to be bumps and cracks in the road. But don't let them dampen your spirit and keep on going because you can make it!