Baton Rouge, Louisiana, is a city full of history that's fascinating to explore. It's also home to Louisiana State University, great food and many historic landmarks. 
If you're a coffee lover planning to visit the city, skip the national chains and visit the local shops to indulge in some fresh brews and tasty treats.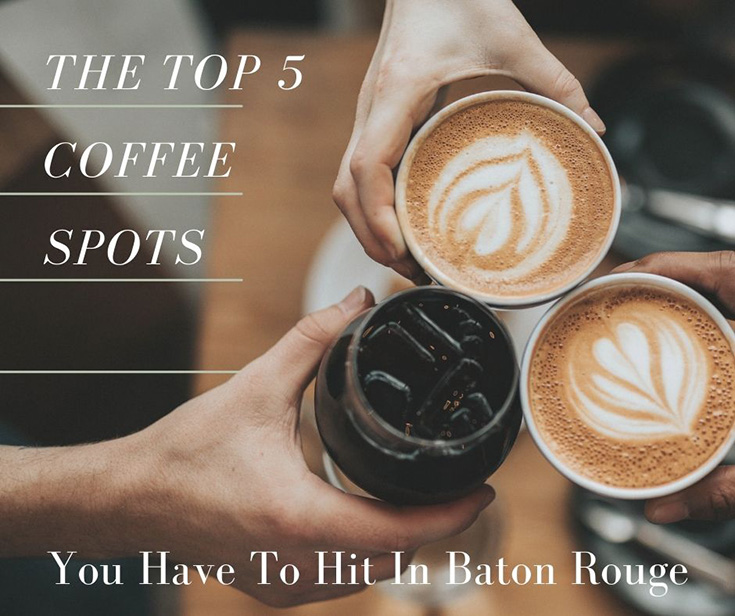 Here are the top five coffee spots you must hit while in Baton Rouge. 
Magpie Cafe was opened in 2012 by James and Lina Jacobs after their 15th anniversary trip to Italy inspired them. They noticed how the cafes they visited had locally sourced ingredients, which amplified the freshness and taste of the coffee and food. 
After learning more in the United States, the Jacobs studied the model on the West Coast before bringing it home to Baton Rouge. They renovated a cottage on Perkins Road at the overpass and opened one of the first farm-to-table cafes in the area. 
The cafe is known for its craft espresso bar and filtered coffees. It also offers teas, lemonades and hot chocolate. All food is made from scratch, ranging from cookies and pastries to heartier meal options. 
The cafe offers vegan, gluten-free and paleo options and frequently features products from other local businesses. 
CC's Coffee House opened in New Orleans in 1995 as a spinoff of Community Coffee. The Saurage family owns both shops and founded the original in 1919. 
They have since made CC's Coffee House into a brand and expanded it to various locations, including multiple places on Louisiana State University's campus. 
The shop features coffee from around the world and is famous for its Mochasippi frozen drinks. 
It also offers pastries, cakes, pies, smoothies, breakfast sandwiches and egg bites. You can also enjoy a selection of their popular green and black teas.
The cafe prides itself on having a relaxing atmosphere with friendly baristas and smooth jazz music to wind down from the stresses of the day. 
CC's Coffee House has a mobile app for easy ordering and is beloved by students and the public. 
Milford's on Third focuses on providing a New York-style deli experience with the Southern charm you expect in Baton Rouge. 
The delicatessen features fresh ingredients and sources locally whenever possible. Milford's offers various breakfast and lunch options to satisfy any craving.
The breakfast menu includes New York-style bagels, eggs, bacon, sausage, smoked salmon, burritos, melts, oatmeal and assorted pastries. 
The deli also offers several specialty coffee drinks and features teas from Community Coffee. 
The lunch menu features cold-cut sandwiches, salads and signature soups. The coffee shop also offers various "hot handheld" meals, including a hot sausage po'boy and a pulled pork cochon. 
A unique feature of Milford's is its Wall of Chill, which includes grab-and-go options for people with busy schedules. It also features a wall full of groceries with snacks, energy drinks, wines and some specialty options.
Coffee Call touts itself as the "original homegrown coffee shop," and there's a good reason. 
Vincent Cannatella Sr. founded the cafe in 1976. It's a local hangout famous for its coffee and fresh beignets. The staple New Orleans pastry is served hot in "finger" form. 
Coffee Call grounds fresh beans throughout the day to make its signature cafe au lait and freshly brewed coffee. 
Aside from its coffee and beignets, Coffee Call also offers muffins and a full lunch menu featuring homemade soups and po'boys. It features ice cream, gelato and shaved ice for a cold desert. 
You can visit the soup and salad bar when you stop in the store. If you're short on time, the shop also offers a drive-through. 
The shop is located on College Drive in Village Square and sells its coffee grounds and merchandise online to enjoy when your visit is over. 
Highland Coffees prides itself on a friendly, casual atmosphere at Louisiana State University's North Gates, where students and the public can read, work and relax. 
The specialty coffee and tea shop first opened in 1989 and roasted green coffee from around the world. It's brewed there and is also available to buy inside the shop and online. 
You'll find various coffee options, including espresso and frozen. It also offers freshly brewed tea, hot chocolate and Italian soda. 
Along with its drink options, the cafe also provides homemade cookies, granola bars, cheesecakes, and assorted bagels, breads and muffins. 
The cafe also offers vanilla bean ice cream from New Orleans Ice Cream Co. as the perfect end to your visit.
Indulging in Baton Rouge Coffee
Baton Rouge has many amazing coffee options for you and your friends to enjoy while visiting the city. No matter what you're looking for, these shops have something for everyone. 
Whether you're a first-time visitor or call the city home, you won't regret indulging when you're in town.