When you take higher tuition fees, course shortages, and budget cuts into account, it's no wonder that many students are searching for alternatives when it comes to furthering their education. With close to 3 million students already enrolled in a fully online program, not to mention 6 million others taking at least one other online course as part of their degree, studying online over a brick and mortar establishment has become one of the most popular alternatives. No matter what type of course you pick, here are just some of the benefits of studying online over a face to face environment.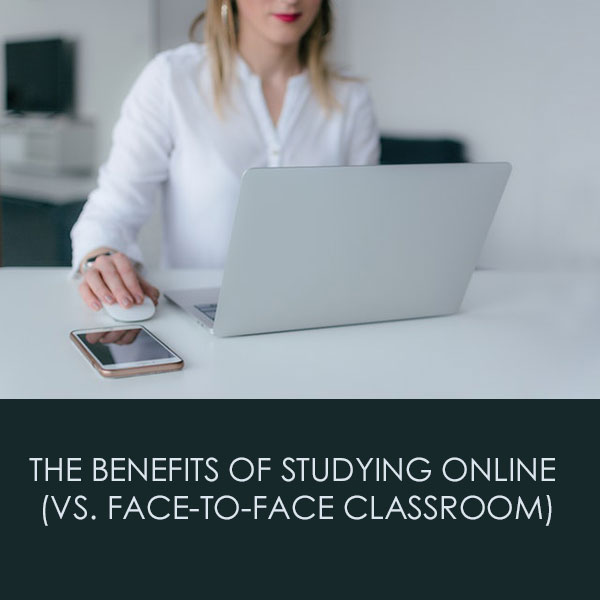 Variety of Courses and Programs
With more and more students shunning traditional colleges in favor of online courses, you will be happy to know that there are plenty of courses and programs available that span a wide selection of fields. Whether you're hoping to go into business, health and social care, construction, or computing, there are tons of online courses that may spark your interest. With so many options to pick from, it's important that you make the right decision, so doing your research into course specifications, duration, and cost can help.
Flexibility
Many students don't have the time to commit to a traditional college. With lectures and seminars taking place throughout the week, this can be difficult for those who are in full time employment. If you can't afford to take time off work, studying online gives you the flexibility you need, enabling you to create a schedule that works best for you. To get the most out of your program, make sure that you allocate time to solely focus on your education.
Lower Total Costs
When you factor in accommodation costs, tuition fees, and transportation, the overall cost of further education can be enormous. If you're hoping to further your career but don't have an endless pot of money, choosing to study online may be the perfect option for you. Not only are course costs considerably cheaper, you won't have to worry about finding somewhere to stay.
More Comfortable Learning Environment
It's only natural that you will want to flourish in your course, so finding somewhere to study where you feel relaxed and comfortable is crucial. For those who don't like the idea of working alongside others in a classroom, being able to work from the comfort of your own home may be your best bet. If you can't concentrate at home, there are plenty of other areas that you can study at, such as your local park, or a coffee house. 
Expand Your Network
Throughout your online course, you will have the opportunity to engage with other students from across the world. Many people make the misconception that studying online is isolating, however, that couldn't be further from the truth. There are lots of programs and software that you can use to communicate with others on your course, such as Google Hangout or Skype. Speaking to those in the same boat as you can not only help you make virtual friends, but network with people who may come in use once you finish your program.
Career Advancement
Understandably, one of the main reasons why students choose to study online is to further their career. With the job market being more competitive than it's ever been, candidates are having to do all that they can to impress employers. Having an online course on your resume can give you a boost and show that you're willing to work hard. 
Avoid Commuting
If you're not a morning person, the chances are you won't like the sound of a 9am lecture. Instead of having to get out of bed and elbow your way through the rush hour crowd, why not study from the comfort of your own home? We all know how expensive travel can be, and the nuisance that delays can bring, so rather than arriving late for a lesson, you can be sure your punctuality won't be compromised if you choose to study online.
Understanding Time Management
Just like you would at a brick and mortar establishment, online courses have a range of modules that all come with deadlines, meaning it's up to you should you complete your work on time. As you will be studying virtually, you will need to learn self-discipline, especially if you want to excel in your studies. It can be all too easy to shut down your laptop and go out with friends and do something fun, however, factoring in time where you can concentrate is crucial. 
Study at Your Own Pace
Every student is different. While some may be able to retain information right away, others may need a bit more time to process what's going on. If you're in the latter category, being around others who seem way ahead can feel daunting. As human beings, it's only natural that we compare ourselves, however, if you want to solely focus on your work, you may benefit from picking an online course instead. In a real-life classroom, you may not feel confident enough to ask the teacher for help, so having all your resources available 24 hours a day will mean you can access any information that you need. What's more, many people prefer to communicate via email, meaning there are no awkward face to face exchanges.
Picking Your Course
While an online course may be the cheaper alternative, you are still forking out your hard-earned cash, so choosing your course wisely is important. There are several things that you need to think about before you make your final decision, such as whether the course will benefit you in the long run, and whether you meet the entry requirements. For example, if you are thinking of becoming a nurse, you may be interested in looking at these RN to BSN programs in Michigan, which can provide you with all the skills, experience, and techniques you need to excel.
There are all sorts of reasons why students prefer to go online for their education. Studying online can provide convenience and flexibility, with the ability to study at your own pace. It also means lower tuition fees, as well as a more comfortable learning environment.