Summer is here, and a lot of people are gearing up for a vacation. While there are numerous options for your next getaway, the one crucial factor you should be thinking about is sunglasses. During summer, you should make sunglasses a daily accessory to protect your eyes.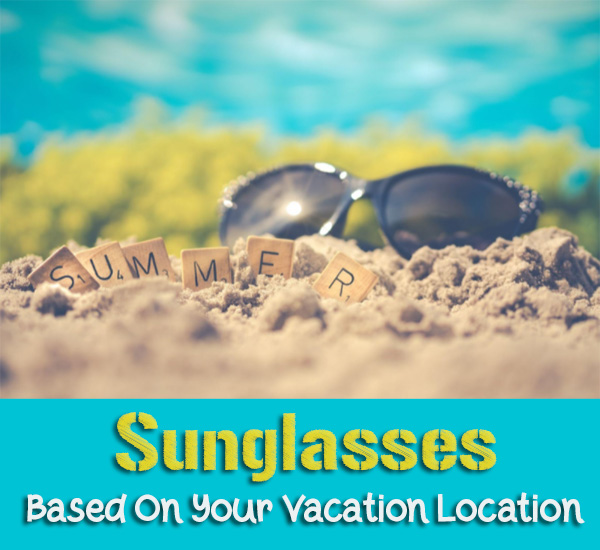 When you are bringing your sunglasses along on vacation, ensure they are up to the task. The best travel sunglasses come with special features that keep your eyes and the skin around your eyes protected and comfortable. Polarized, anti-scratch, or ultraviolet (UV)-protecting lenses are ideal alongside other qualities like a reasonable price, lightweight, and superior durability.
Beach Vacation
Regardless of your travel destination, a beach vacation means a lot of time in the sun. Hence, you must protect your eyes when lying on the beach or indulging in water sports. Polarized sunglasses are an ideal option. They come with an invisible shield that filters out light entering the eye.
Polarized lenses also reduce glare, making things appear sharper and clearer, increasing visual clarity and comfort. These glasses also offer UV protection which is crucial for maintaining healthy eyesight. They can be stylish while allowing you to enjoy outdoor activities safely.
Mountain Cabin
If you plan to spend your summer in a mountain cabin, your vacation might involve hiking, climbing, backpacking, and many other outdoor activities. Such activities call for a durable pair of sunglasses. They need to hold up throughout outdoor excursions while protecting your eyes from UV rays and hazards like strong winds, flying debris, and small insects.
Oakley sunglasses are both stylish and great for outdoor activities. A few models, like the Oakley Radar EV Path, feature resistant polycarbonate lenses in a unique, contemporary design. You can also find lightweight, comfortable, flexible, and durable models, making them the perfect option for all kinds of outdoor sports.
Resort Style
To enjoy a resort-style summer vacation, don't forget to pack the essentials: a swimsuit or two, plenty of sunscreen, and a fabulous pair of shades to make a fashion statement. If you are in the market for the latter, then consider the most iconic sunglass style of all time—the aviator. Aviator sunglasses are classic yet look chic. While their frames were traditionally made of metal, you can presently find many options in plastic or acetate for a more rigid structure.
If you plan to indulge in outdoor activities, consider reaching for a pair of polarized aviator sunglasses to eliminate the glare. When it comes to styling aviators, pair them with a flannel shirt or a canvas jacket. Built to be durable, aviators make an excellent choice for camping, hiking, and kayaking.
City Escape
After months of staying indoors, you are finally ready to step into the light, but before you do, ensure you map out a protection plan for your screen-fatigued eyeballs—a pair of oversized dark sunglasses. Whether you are heading out to enjoy the local cuisine or take in the vibrant atmosphere, make a statement every time you step out. A pair of oversized, dark sunglasses can help achieve this while also transitioning well from day to night. Furthermore, it will also help you show off your personality.
Staycation
This year many people are opting for a staycation. After all, it is always fun to explore local areas. To protect your eyes as well as look stylish, opt for classic square and rectangle shapes. As a '60s-meets-'90s throwback, these growingly trendy sunglasses will help you walk in style through the sunny months.
When on a staycation, bring along an extra fun pair of sunglasses as you won't have to pack light for the trip, so space isn't an issue. Consider taking along a pair of Oakley sunglasses, aviators, or polarized sunglasses. This way, you can ensure you have options to switch into based on the events for the day.
Make Eye Protection Your Priority
During the summer months, a pair of sunglasses is a must-have accessory. Thanks to the numerous brands designing unique sunglasses, you have a wide array of options when it comes to eyewear. However, besides how they look on you aesthetically, your ultimate goal should be protection for your eyes from UV rays.